India – Africa Summit
Published on 8th April 2008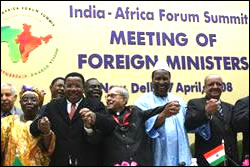 Participants at the India-Africa Summit
The first-ever India-Africa Forum Summit that began on 8th April is expected to create a closer partnership between India and Africa. The partnership will help address common goals and challenges. Wide ranging issues including agriculture, trade, industry and investment, peace and security, good governance and information and communication technology are being discussed. At the end of the two-day summit, a Delhi Declaration and Action Plan will be adopted. The summit is structured as a three-tier interaction between senior officials on April 4, foreign ministers on April 7 and heads of government on April 8-9. South Africa, Uganda, Ghana, Ethiopia, Nigeria, Burkina Faso, the Democratic Republic of Congo, Algeria, Senegal, Zambia, Kenya and Tanzania are participating
Rwanda Buys Safaricom Shares
The Safaricom Initial Public Offer (IPO) share purchase has taken a regional spin. Several Rwandese are scrambling to get a piece of Kenya's largest telecom service provider, Safaricom. Kenya's CFC Financial Services will this week deliver the said IPO purchase service to Rwanda to counter Dyer & Blair Investment Bank, which also launched the service in the country last week. Since the opening of the offer, Rwandese individuals and institutions are flocking Kigali to participate in the Safaricom IPO. Analysts say the shares are likely to be highly oversubscribed as indicated by big demand not only in Kenya but the entire East African region mainly because they are priced at a significant discount.
War Veterans Break Ranks
A faction of Zimbabwean war veterans broke ranks on Monday and demanded that President Robert Mugabe be sent packing and Members of Parliament and senators - who won in the past elections be sworn in immediately to oversee the possible presidential rerun. The Zimbabwe Liberation Veterans Forum, which claim to represent 60 percent of the 'genuine' war veterans has also attacked the Zanu-PF aligned War Veterans Association. "We side with the people of Zimbabwe, the MDC, civil society and all progressive forces against Mugabe", said Secretary of the forum's board of trustees, Wilfred Mhanda.
Lagos to Have the Deepest Port in Africa
Lagos, is set to have the deepest port in Africa in 2009. The port, which will be constructed by Lagos Port Enterprises along the Atlantic coast at Ibeju-Lekki area of Lagos will cost $700 million to build. It will handle about 8,000 containers at the completion of the first phase and 1.05 metric tons of bulk cargo in the second phase according to Mr. A Sivaram, Managing Director of Lagos Port Enterprises. The port will allow Suezmax (the largest naval carriers) ships to enter Nigerian waters and serve as a commercial hub to the West African sub-region.
UNCTAD XII to be Held in Accra, Ghana
The Twelfth session of the United Nations Conference on Trade and Development (UNCTAD XII), will be held between 20 – 25 April 2008 in Accra. This year's theme "Addressing the opportunities and challenges of globalization for development" will among other issues focus on sustainable economic development, poverty reduction, trade and development, new realities in the geography of the world economy and UNCTAD's role in development, impact, and institutional effectiveness.
India Ready for Mining Investors
The government of India is currently putting final changes to its mining legislation to make the country more foreign investor-friendly. An amendment to India's Mining Act is due to be passed this month. It would speed up the granting other countries mining leases to about six months from a year at present, and change the basis for calculating mining royalties from a tonnage to a value formula. India is estimated to have 2,92-billion tons of bauxite, or 10% of the world's reserves, 23-billion tons of iron-ore, 276-billion tons of coal and 14000 tons of gold reserves, although it mines only three tons of gold a year. The country also has substantial reserves of diamonds, zinc, manganese and chromites.