External Pressure Unnecessary On Kagame
Published on 14th April 2008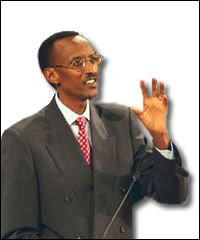 Paul Kagame
The recent attack on the Rwanda Patriot Front (RPF) by a Spanish judge is draconian and intrusive to the Rwandese government. Following a similar attack in 2006 by the French on the RPF, the West seems to have peculiar interests on Rwanda and the 1994 genocide.
Sovereignty demands that a state be free from interference from external.If  Rwanda is a sovereign state, does a Spanish judge or other players have the right to interfere with its politics?
This debate comes right after a Spanish judge, Andreu Fernando Merrelles, indicted forty officers of the liberation army- the RPF on genocide related crimes committed during the genocide of a million Tutsis and moderate Hutus in Rwanda in 1994.
Rwandan president Paul Kagame was however not amused by the allegations and backed the RPF as the force that stopped genocide in Rwanda. He saw the move as 'an unfriendly attitude of the West towards the developing nation and as such would treat it as aggression.'
The President wondered why the same judge did not indict people from other countries who participated in the genocide in Rwanda. He read malice in the direct attack on the RPF and a deliberate attempt to hold Kigali leadership as an accomplice the 1994 genocide.
President Kagame in fury found it unacceptable for a judge sitting in a Spanish village to indict the leadership of another country. Said he, "In the West, people have carved themselves into supernatural beings. They have put themselves in the place of God." This kind of attitude, noted the president, shows the depth to which African countries can be invaded by those who see themselves deemed to do so.
The president openly protested the Spaniard's move to try top Rwandan army officers and said that the issuance of indictments had something to do with the relationship between the developed and developing states in the world today.
According to judge Andreu Fernando Merrelles, the RPF is also linked to the death of nine Spanish nationals during the 1994 genocide. He also claims to be in possession of evidence implicating Kagame who is also the former commander of RPF in the atrocities but cannot indict him because of his immunity status as the Head of State.
In a retaliation mode, president Kagame said the judge 'can go to hell' and that he would not hand over any of the indicted persons as Spain has no jurisdiction over Rwanda.
Amid the confrontations, lawmakers in Kigali said the indictments should not affect Rwanda's relations with Spain. "We hope that the bad actions of the Spanish judge will not damage the already existing cordial relationship between Rwanda and Spain."
According to the Rwandan Government, the Spanish government has already distanced itself from the judge, ending speculation that Rwanda would retaliate by ending relations with Spain.