John Mahama and Ghana's Democratic Enrichment
Published on 18th April 2008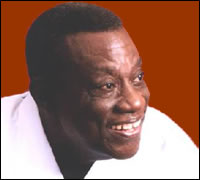 John Mahama
The newly elected Vice Presidential candidate for the main Opposition National Democratic Party (NDC), John Mahama, is no novice in the rough-and-tumble of the Ghanaian political scene. Affable, handsome, eloquent, cunning and compassionate, it appears Ghana is yet to know the true political-cum-intellectual Mahama, the MP for Bole-Bamboi,in a political dispensation clouded by the "Big Man/Woman" syndrome.
In Mahama, the irrationalities within the NDC, which ruled Ghana for eight years are being subjected to democratic scrutiny as Ghana's democracy deepens. The NDC's internal contradictions wheel around Rawlings, unquestionably power drunk,  big talker, dictatorial , narrow and intellectually weak.
Rawlings would have preferred Mrs. Betty Mould Iddrisu, a constitutional lawyer. For the past 16 years, Rawlings has stage-managed most internal party elections against majority wish.Although he ordered the NDC apparatchiks to front Mould, the big-wigs however picked Mahama for obvious strategic reasons, against Rawlings' whims and caprices.
Rawlings, ever temperamental was angry, and told the BBC that he thinks Mrs. Mould should have been the running mate to Prof. Atta Mills. Political maturity demands that after a party has picked a candidate(s), top officials of the party do not make contradictory statements as happened within other Ghanaian political parties such as the National Patriotic Party, the Convention Peoples' Party and the Peoples' National Convention.
By his behaviour, Rawlings, once again, demonstrated his undemocratic characteristics. Mahama, running mate of the NDC flag bearer, Prof. John Evans Atta Mills, although not known for political bravery  in his three terms as an MP responded brilliantly that although he respects the rights of the former President, the founder should have expressed his opinion through established channels within the party.
Within the NDC circles, and the larger Ghanaian political scene, Mahama's response to the much feared and rough Rawlings is a populist action that increasingly helps enrich the budding Ghanaian democracy against traditional paternalism, the "Big Man/Woman" syndrome, the 21 years of mindless military junta and 6 years of the suffocating one-party system. It has opened the democratic process for more discussion without fear or threats of reprisal.
More telling is Prof. Atta Mills, who, for the past two years  has gone through political "abuse," deadly internal intrigues and all sorts of propaganda.By agreeing on Mahama and letting Mahama respond to Rawlings, Prof. Atta Mills repudiated the image that he is a yes-man, "not his own man," "intellectually weak," "a disgrace to academia," a "coward," and easily manipulable.