Blending Traditional Institutions into Government
Published on 5th May 2008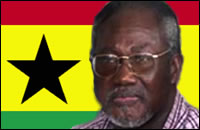 Dr. Obed Asamoah
Part of the complications of Ghana's development is that its elites who are expected to know better appear wanting.It is when they are out of power, as former President Jerry Rawlings will tell you, that they realise they neither thought well nor understood what they were doing.
That's what comes to mind when Dr Obed Asamoah, a former Minister of Justice and Attorney General and currently patron of the newly formed Democratic Freedom Party, stated at various parts of Ghana's Upper East Region that traditional chieftaincy institutions be incorporated into the local government system to aid progress.
Jerry Rawlings started with them. Partisan politics aside, incumbent President John Kufour does recognise this. But if what Asamoah said at Upper East is anything to go by, as the Accra-based Daily Graphic reported, then by failing to effectively blend the decentralization program with Ghana's traditional chieftaincy institutions, as the Ghanaian reality wisely calls for, Asamoah and his associates thought very poorly in relation with Ghana's progress.
The World Bank will tell them that despite the hype of the global decentralization architecture, proper decentralization should be informed by one's history and culture – and in Ghana, one cannot forget about traditional chieftaincy institutions as key component.But Asamoah and his associates didn't do that. Today,  Asamoah is thought to be one of the brains behind the Rawlings' long-running regimes. Said he: "... the government does not have representatives in every community and if chiefs are adopted as local representatives of the government, it would enhance the implementation of polices and programmes in every community."
The reality is that all Ghanaians are the government. The government isn't any leviathan object that does not have representatives in every community. The challenge is how to empower the communities though their traditional institutions via local governance and decentralization as a development fodder.
The central issue is Ghanaians' immense knowledge of their cultural traditions and understanding of their environment in midwifing development policies. Botswana has been able to combine their chieftaincy institutions (or general traditional resources) into their local government system to facilitate growth and prosperity nation-wide.