Is America Double Faced?
Published on 12th May 2008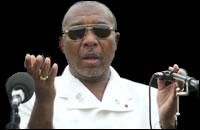 Charles Taylor
Damning revelations that Liberian tyrant, Charles Taylor stashed over $ 5,000,000,000 in two US Banks are yet another slap on the face of America after that of keeping Mandela's name in the list of terrorist.
Who'd think, the US, all-time-human-right enforcer, would collude with thieves to rob the continent that's already poor thanks to colonialism?
Africa has lost much to Europe and US though the duos have maintained silence when it comes to addressing this crime. Now that Taylor stashed such mammoth amount of money from the country where over 90 per cent of the citizens are living under a dollar per day, what can US say about this? Didn't the US know Taylor's money was bloody ? What of his blood diamonds? Who'd care if at all predatory West has permanent interests when it comes to making money? Isn't this itself crime against humanity? Many innocent people are perishing everyday thanks to this deadly sin-cum-crime as the Vatican would categorise it.
When one looks at the amount of  money that is stolen by African rulers and stashed  in Western Banks, he wonders what all braggadocios of human rights really mean for Africa!
"We've certainly found evidence of hundreds of millions of dollars taken by Charles Taylor illegally in various banks at different times," prosecutor Stephen Rapp told the BBC's Focus on Africa programme recently. "We have evidence of two accounts that were maintained in his name in the United States during his presidency," he said. What is this if not conspiracy? For the accounts were "legally' operated in the eyes of the US, without even hiding the name of the owner! The sum of transactions of the two accounts over time totaled $5bn, he said.
As the West and China strike business deals to better their people, Africa is still in its sleep! Our Attila like mumbo jumbos in expensive state houses rob us by conspiring with developed countries.No wonder we're now wasting a lot of our precious time on bovine politics in The Comoros, Zimbabwe and of late in Kenya!
There are times when it becomes difficult to differentiate between our rulers and looters. Such myopic and egoistic thinking, will never pull Africa out of the debacle it is in.
Now that it's an open secret that current African regimes have failed, what should the hoi polloi do? Methinks.  It's right time to give them hard time so that ruling us becomes difficult and impossible. This will enable us to get reasonable and insightful leaders as it happened in Kenya recently where the-all time fighter, Raila Odinga set a precedent by bending down the all-time corrupt regime under Mwai Kibaki.
In Tanzania, if things stay the way they are, chances are the hoi polloi will dictate the show that, for long, has been dictated by the ever-corrupt Chama Cha Mapinduzi. They have already axed four corrupt most senior ministers including the former PM, Edward Lowassa.
Africa ought to define its relationship with foreign countries in a manner that will make it strike a win-win situation. Although the Chinese have their shortfalls in that most of their products are cheaper and fake, they don't tamper with our brain  as America and Britain. If we smartly deal with them, we can contain them as far as fake products are concerned.
Revelations that Taylor stashed billions in American banks strip the veneer of civility to expose the core of hypocrisy, complicity and duplicity America fights to conceal.