Bakili Muluzi: A Disgrace to Malawi
Published on 20th May 2008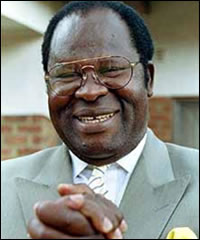 Bakili Muluzi
Wa Mutharika's suavity is costing him dearly looking at what has been going on in Malawi. Recent news that there was a foiled coup d'Etat in Malawi can adumbrate this. If you microscopically examine Malawi, you'll agree that the main cause of all this instability is none but former president Bakili Muluzi whose hunger for power is destabilizing this young and poor nation. I am trying to imagine what would have become of Muluzi if this had been committed in Ethiopia or Uganda.
That Muluzi is directly linked with the coup attempt was divulged by Wa Mutharika while briefing the nation on what transpired.
"Malawians, let me tell you," he said. "This was their plan: That Bakili Muluzi would come back home [from London] on 16th and that he would not be leader of his party, but president of Malawi after removing me from power."
Behind the coup were former army commander Gen Joseph Chimayo, former Inspector General of Police Joseph Aironi, UDF Secretary General Kennedy Makwangwala and former Blantyre Mayor John Chikakwiya among others.
President Bingu wa Mutharika at the weekend accused his predecessor Bakili Muluzi of being behind a plot to remove him by Friday 16 May. The media in Malawi was quoted as saying. Wa Mutharika whom Muluzi has taken for a punching bag did not nonetheless keep mum or swallow his pride. He ridiculed Muluzi for being a coward that could plot a coup and travel abroad.
Muluzi however denied the allegations on his private Joy Radio. "I am not a violent person," Muluzi said. But looking at how Muluzi has been sabotaging wa Mutharika, chances are, if he is not dealt with, he will cause mayhem in Malawi.
What makes everybody dress down Muluzi is the fact that the only agenda he has for Malawi is to serve his vendetta against Mutharika's refusal to act as his stooge and protégé to shield him from corruption allegations! Muluzi has been looking for a leeway to avoid being brought to books for felons he committed when he was president.
If possible Muluzi should be booked and made to pay for his sins resulting from corruption, sabotage and abuse of office. In 2003, he even tried to ameliorate the constitution so as to run for a third term in office as opposed to the provisions of the constitution.
For the person contemplating to topple the government at this time is a political waste. Does Muluzi aim at creating yet another Burundi under Dictator Pierre Buyoya? Africa needs to take a note and do something to avoid the unthinkable in Malawi.