Health: We Have What it Takes
Published on 27th May 2008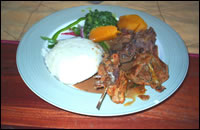 A plate of traditional food served at Amaica Restaurant
If the current attention by the media and the general public to traditional cuisine providers in Kenya is anything to by, then the African continent should brace for a new dispensation in food choices. Traditional foods have in the past become victims of modern and western food varieties.  Cultural aspects are also being inculcated to restore the original touch of food and tradition.
Since the launch of Amaica, a restaurant serving exclusively Kenyan traditional cuisines, last year, the Kenyan population has literally been on a wakeup call to embrace their traditional cuisines.
"Western culture and urbanization are seeing majority of Kenyans drifting away from eating quality nutritious indigenous foods to fast foods," says Pamela Muyeshi, Amaica Restaurant's Proprietor. "Due to this lifestyle, diseases such as diabetes and obesity among others have become a common occurrence in every Kenyan household," she adds.
However all hope is not lost since the restaurant is creating more awareness through periodical food festivals in partnership with the government and will soon be expanding into the East African region.
Lack of knowledge is to blame for the falling interests in the traditional foods and on how they are prepared or a misconception among many people that these foods involve tedious preparations procedures. Yet these foods have innumerable advantages. They not only benefit you as the consumer, but also alleviate poverty and boost the incomes of farmers who grow these foods. Through the cultural preservatives, the foods can be preserved for a long time making it possible to use them in times of hunger.
Healthy lifestyles could only be achieved if we shunned processed and fatty foods and instead eat traditional vegetables, meats, tubers, grains, cereals, beverages, legumes and nuts. Reviving interest and appreciation of traditional foods may seem far-fetched, but if we all put in our efforts, we will definitely end up with healthier and more productive continent.