Zimbabwe: Grace Mugabe Speaks Out
Published on 3rd June 2008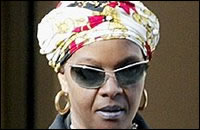 Grace Mugabe
The conflation of boring, routine palatial chores, misplaced political aspirations and an imminent fear of loss of power seem to be getting the better of Zimbabwe's First Lady Grace Mugabe. In a futile attempt to follow the footsteps of Sally her more aristocratic Ghanaian predecessor, the current occupant of Number 1 Borrowdale Road has ventured into the sinuous terrain of political commentary, a realm only few African women like Ellen Johnson-Sirleaf of Liberia and Helen Zille of South Africa have successfully maneuvered.
Being a gender activist myself, I harbour no grudges against African ladies who seek legitimate political recognition and control. It is their right, a universal one for that matter, but my preferred style is that of suave feminine persuasion, rather than crude, four-wheel drive machismo. The 'so and so will never occupy State House even if he wins' approach falls well below my league of modern-day, high velocity intellectual broadband politicking. It reminds me of the day the Magna Carta was signed. I never bothered to attend the predictable Runnymede ceremony. Frankly, King John was such a big yawn, like ZANUpf's 'Zimbabwe will never be a colony again' nauseating campaign baseline. Who wants such a bankrupt colony like Zimbabwe with ten million impoverished billionaires, anyway?
During the weeks preceding the March 29 plebiscite, Luta Shaba, executive director of Women's Trust, unleashed a torrential campaign for women to be voted into Parliamentary and Municipal positions. Strategically, the campaign shied away from zooming onto higher political office in the person of national president, because there exists in Zimbabwe an invisible covenant with fate that the top job is an arena of masculine activism.  An obscure woman called Gogo Madangure has perpetually been caught up in a cycle of deranged self deception and partisan appeasement that she deserves to be president of Zimbabwe, but no one, even the Women's Trust, have bought into her delusions. The question being, if  Lady Grace has what it takes to make serious political material, why does she not step out of her husband's shadow, take on the grime and grit of political competition like Hillary Clinton instead of cowering behind a smokescreen of palatial protection?
I can see feminists like Jessie Majome, Ennie Chipembere, Priscilla Misihairabwi, Grace Kwinje, Yvonne Mahlunge, Netsai Mushonga, Rudo Gaidzanwa, Hope Chigudu et al placing my 'patriarchal' view on an elevated pedestal and playing target practice with it. Women, they will insist, now have as much chance of taking part in future presidential races as their male counterparts, especially were the 27 June presidential run-off to yield a more sane constitutional dispensation.
I need not be reminded that most, if not all man-made world disasters were presided over by men, including the world's latest tenth wonder, Zimbabwe's two million percent hyper-inflation! If women of corporate steel like Charity Jinya, Sue Peters, Mara Hativagone and current MDC vice president Thokozani Khupe were in a 'normal' democracy, argues feminists, they might just fancy their chances in real political contestations than just being palatial decorations pampering the whims of a fading political genius.
Never mind NEPAD's utopic quota system that substitutes merit and competency with constitutional benevolence. Exactly! Political credibility is not gleaned from a 'my husband will never give up power' stance, but from an 'if my husband looses, you will have to face me in 2013' position. If  therefore I were to rate our first lady's political aptitude on good democratic practices on a scale of one to ten, my best bet would be to toss the scale aside and shake my head with despair.