Tanzania: Is Mkapa Ready for a Public Probe?
Published on 3rd June 2008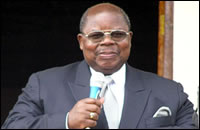 Benjamin Mkapa
At last the embattled former president of Tanzania Benjamin Mkapa has decided to come to the agora and be counted. He has for long been facing allegations of corruption involving him and his family and friends. Addressing a rally at his home village of Lupaso in Mtwara: Mkapa said that those alleging he misused and abused the office of the president and the country altogether are those he denied favors!
Mkapa was quoted saying, "Do not listen to their lies…there is no truth in the allegations.I am not that financially well-off…although I know that you hear and read a lot about this…I live on my pension benefits from the government."
Mkapa is right on some facts and wrong on others. It is true that his rule was shaped by favoritism. Refer to the appointing of the all-time-inept premier Fredrick Sumaye for a good ten years. Another thing, hon. Mkapa should shed light on is the mystery surrounding the establishment of ANBEN, Tanpower, Fosnik and Kiwira mine companies. Aren't they owned by Mkapa and his family? Weren't they set up using the office of the president?If Mkapa  wants to cleanse his name, he should either admit or repudiate by adducing reasonable and sensible answers in lieu of political gimmicks-cum-ballyhoos. Isn't ANBEN the initials of Anna (his wife) and Benjamin (the man himself)?
Mkapa should not have us believe that those alleging he misused and abused the office of the president are those he did not favour. Recently, Fredrick Sumaye, Mkapa's longtime premier alleged that investors are but thieves who loot us and our resources thanks to illegal deals among which are the contracts entered under Mkapa's watch. Is Sumaye geared by the hatred Mkapa is saying? How and why? Essentially, those alleging Mkapa abused their office and country are Tanzanians. Not favour seekers as Mkapa wrongly puts it.
What has he to say with regards to mansions in Lushoto and Dar he did not declare when he exulted to power? Why didn't he re-declare his wealth as per the requirements of the law? Why didn't he officially hand over power to his successor as the norms and laws say?
There are those thinking: Mkapa can offer any far-fetched reasons without fear just because Kikwete assured him of protection as it is opposed to premier Mizengo Pinda's writ that Mkapa is to be investigated. Was it a time buying statement intended to get rid of us so that we can forget or what?
By the way, when will Pinda's words be put to actions? Mkapa seems to be out of touch. I still remember how he used to jeer and ridicule Tanzanians saying they are lazy at thinking without knowing!
If Mkapa knows and believes those pointing fingers on him are geared by hatred, he must seek remedy before the court. Mkapa must re-declare his wealth and clarify the alleged involvement of his family and friends; sue those tainting his name; issue the report of his performance he failed to give when he left the state house and agree to be publicly investigated. In neighbouring Malawi and Zambia, former rulers-cum- looters are facing the music.