Hillary's Endorsement of Obama: Lessons for African Leaders
Published on 10th June 2008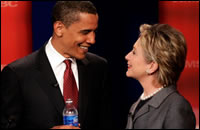 Obama and Clinton at a past meeting
Senator Hillary Rodham Clinton has just suspended her presidential bid by boldly endorsing Barrack Obama as the Democratic Presidential nominee.The two candidates clearly indicated that the nation is greater than individuals.
Although Americans  fought hard to win in their campaigns,  they neither physically fought each other nor destroyed each others' property. This clearly indicates that Americans have good governance and electoral systems and structures in place.These structures ensured that the campaigns, though nasty at times, did not degenerate into physical wars.They ensured that business was not disrupted as campaigns went on.
Can we also fight hard politically and fail to engage in fist? Can we hold opposing views but still maintain sanity? Will the Kenya and Zimbabwe sagas  be the last ones we witnessed in our great continent?
We need to evolve to this level. We need leaders who have the grasp of issues at their finger tips.Time has come for Africans to create a new wave of politicians who love Africa, just like their American counterparts love America. They always end their speeches with 'God bless America!' God bless Africa!