What Aileth Uganda's Hospitals?
Published on 16th June 2008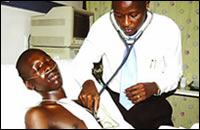 In some hospitals, the doctor to patient ratio is nearly 1-1000
President Yoweri Museveni recently castigated the Minister of Health, Hon. Stephen Malinga for the gross mismanagement, moral decay, structural and sanitation filth that has left health institutions in Uganda in a deplorable state. Just last year, Uganda lost a brilliant young leader in Col. Noble Mayombo to pancreatitis, a condition that could have been controlled were proper equipments available in the country. The deceased, who was taken to International Hospital Kampala (IHK) and later flown to Aga-Khan hospital (Nairobi) died of organ failure due to delayed treatment.
This is just one of the sad occurrences that this country has experienced as a result of the inefficiency that characterizes health institutions today besides the near closure of the Cancer Institute (due to under-funding) and the shameful Global Fund scandal (that saw millions of shillings meant for HIV/AIDS and malaria control) in private bank accounts of the then Health Ministers and project employees.
In some hospitals upcountry, the doctor to patient ratio is nearly 1-1000. A majority of the rural folk cannot afford medical expenses in private health centers. They rely on government controlled health institutions characterized by long queues, waiting lists, restrictions on physician choice and drug rationing. Even with the current introduction of numerous health schemes, rising costs make them unaffordable. The various health schemes that have been made available by private health care providers like International Air Ambulance, Savannah Sunrise Clinics and Medicare are expensive, unaffordable and mostly available as health insurance packages to the working class.
Moral decay has marred operations in government hospitals. Despite the fact that doctors and other health workers are under oath to save lives, they withhold their services if  not bribed. Many patients expire as a result of negligence, which stems from their poor financial status. Doctors abandon accident victims in critical condition simply because the victims have no 'kickback' but attend to a financially able and generous patient with a simple cough.
There are many cases of drug theft and diversion of drugs from government health facilities to private clinics. District health directors, medical superintendents, doctors and other health officials make off with tones of hospital drugs to run their own private clinics. Ironically, drugs also expire in stores as health centers complain of lack of drugs and send patients to buy them from private drug shops.
Reports from the Anti-corruption Coalition Uganda reveal that nearly 38.3% of the health centers lack essential drugs and other equipments required in medical centers. The reports further reveal a problem with management of distribution of medicines; an absence of inspection to ensure that that they reach the lower health centers and leakage rates of up to 76% from the health centers.
In his letter to the Ministry of Health, President Museveni questioned the Minster how far the ministry had gone with the labeling of drugs provided by the government and establishing mechanisms of accountability for the drugs in health facilities. The president also demanded that local councilors be informed about the amount of drugs sent to their areas and whether the current drug budget would be enough if there was no theft.
Uganda needs numerous health care systems in private hands but within a level playing field to curb the high costs of health care charged by private individuals. In this way, individuals will have a choice of insurers within the regulated market and a choice of providers. this will ensure that although a standard benefits package is set, insurers have the freedom to compete on price, cost sharing and other additional benefits.