2008 Kenya Budget and Its Investment Implications
Published on 17th June 2008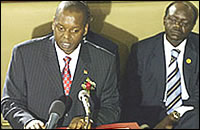 Amos Kimunya at a past budget
Staple foods such as bread, milk, rice, flour will be zero-rated. This implies that the cost of living will decrease as food prices will cease to escalate. This will increase investing rate as Kenyans will have more disposable income to save and invest.
Displaced Kenyans are to receive 500 million shillings in favor of resettling them. The fund dedicated to resettlement implies that more of the displaced people will possibly return to the source of their livelihood which is mainly agriculture. This will further contribute to the decrease of food prices as the supply will improve against the demand.
This increase in tax on sin goods (alcohol and cigarettes) will see the average entertainment establishments increase the prices of alcoholic beverages and cigars. Since Kenya's social culture still embraces alcoholic consumption as a favorite pastime, East Africa Breweries Ltd may pass the extra tax to the consumer and maintain profitability levels. The tobacco industry sales will suffer due to government and health regulations on cigarette smoking and the increased tax.
Stockbrokers and investment banks have three years to increase their capital. They will also be required to inject more capital to Sh50 million for brokerage firms while investment banks will need to increase to Sh250 million. Banks are to increase capitalization to 1 Billion. This amendment is a welcome relief to the many investors who have lost their savings to banks and stock brokerage firms that have collapsed in the last few years.
More capitalization leads to increased investor confidence as they are assured that the chances of a company folding and going under are reduced and that their investments will be much safer. The industrial players also stand to benefit because the increased capital rate will deter new entrants to this competitive field.