Kenya: Grand Corruption catches up with Grand Coalition
Published on 30th June 2008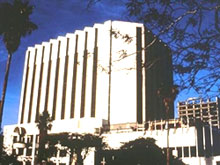 Grand Regency Hotel, Nairobi
With the revelations that the Director General of Kenya Anti Corruption Commission Mr. Aaron Ringera, the Governor of Central Bank Mr. Njuguna Ndungu and the Finance Minister Mr. Amos Kimunya have conspired to sell Grand Regency Hotel to the Libyan Government, all that Kenyans can do is to immediately boycott doing business with Grand Regency Hotel immediately.
This is what all those who do not believe in corruption must do. It is very sad that the person we are paying so much to fight graft has become an agent of corrupt mandarins. By the way, Ringera was a thank you token to the lords of graft for having purged from the Judiciary people who could stand firm against the corrupt tendencies of that government that was incoming.
Things get tricky when the Governor of Central Bank and our Finance Minister decide to become less truthful about the whole saga. The question is, if these guys can be this bold to sell Grand Regency Hotel like they have done, then what can't they do?
The trio was summoned by Hon Chris Okemo to shed some light to the parliamentary committee and they played games, all the time saying that nothing was amiss. Now that all has been amiss, can we continue to trust these people with their sensitive dockets?
The answer is no. These are thieves, pure and simple. Kenyans must demand the return of Grand Regency Hotel to the Kenyan Government. If the hotel must be sold, the law must be followed. Not a deal. It was sad watching Kimunya explaining that it was such a sweet deal they could not leave it. 
No. It must be the law, not the deal. If the Hotel is to be auctioned, then it must be so advertised in at least two major mass circulation dailies. If it must be sold otherwise, the government must still invite bids from interested parties, and still place the invitation for bids in at least two major mass circulation papers.
But if we have to cut deals as a government, then we are surely headed in the wrong direction. Government building will be sold to the best deal cutter, because the deal will be too tempting to be refused, according to Kimunya.
In the whole, this thing stinks, and Kimunya, Ringera and Ndungu have all fallen short of the glory of Kenyans. They must be sacked, arrested and charged accordingly.