China-Africa Ties: Europe Should Not Panic
Published on 15th July 2008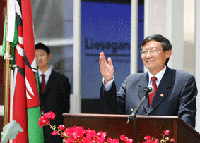 H.E. Zhang Ming, Chinese Amb. to Kenya

The Heinrich Boll Foundation recently held a public lecture on China-Africa Relations. In attendance was the Chinese Ambassador to Kenya, H.E. Zhang Ming. Josephat Juma of The African Executive caught up with him at Nairobi's Safari Club and asked him questions on topical issues.  
Q: Why do you have trade deals with Sudan in spite of its alleged poor human rights record? 
Our bilateral relations with Sudan date back to the 1950s. Our corporation with any country goes in line with UN requirements. Who has the right to tell us who the 'good' or 'bad' guy is anway?  It is true we make investments in Sudanese oil fields but we stress to the government that the revenue should benefit the locals.  
Q. Why has Sudan warmed up to China but not, say, the US? 
President Bashir is suspicious of the West's agenda in Darfur which is being encroached through the AU and UN. China has however made effort to persuade Sudan to accept hybrid peacekeeping forces. It is however beyond Chinese mandate to dictate events in Sudan. The western media- such as the CNN is deliberately portraying China as bad. One time it showed 'Chinese' police torturing people- when investigations were carried out, it was Nepalese police! 
Q. Non interference in internal matters of a country is one hallmark of China Africa policy. Why was China shipping arms to Zimbabwe when the country was in turmoil before the general elections? 
We don't sell arms to any troubled state. In the Zimbabwe case, the Chinese shipping company that was shipping the arms had been contracted long before the tension in Zimbabwe.  This was normal trade – the weapons deal had nothing to do with the latest development in Zimbabwe as the deal had been signed in 2007. 
Q.  It is alleged that during the post-election crisis in Kenya, China shipped arms to Kenya in support of a particular party. 
No arms from China were brought to Kenya during the crisis.  In fact – why did the story die naturally? Why wasn't the allegation pursued? It was because the arms (if at all there were any) were from another country. My government is never irresponsible in matters to do with arms trade. 
Q  Why does China allegedly flood African countries with low quality goods? 
I walked along Kenya's River Road and found low quality goods being sold-not by a Chinese. I asked one man who was selling low quality shoes why he was doing so. What did he say?   "If I don't make and sell such cheap shoes, many people will walk barefoot. Due to my business, people can wear shoes. It is a matter of segmenting the market." Why isn't someone complaining about this Kenyan? Why only China? We can produce good quality products, and Chinese businesses sell them. Good products are plentiful in China, so why buy low quality? 
Q. How should  Mugabe and Bashir be dealt with? 
How do you engage with a "bad boy"? Do you isolate him or engage him? Isolating him will make him worse. The Chinese way to Darfur resolution for example, is by engagement – making stakeholders to trust each other.
Q.  How sure are we that China is not coming to re-colonise Africa? 
We should look at things optimistically. India held the India – Africa Summit. Japan has arrived. Russia is planning to approach Africa. This should be good news to Africa. We won't join military competition in Africa. China buys natural resources from Australia, and Canada among others but nobody raises eyebrows. Why are fingers pointed at us when we buy goods from Africa?
Over the past 50 years, China and Africa have exchanged sympathy, support and assistance to each other in national liberation; maintaining peace and promoting economical and social development. Now, especially after the Beijing Summit of the Forum on China-Africa Cooperation(FOCAC), which was held in Beijing in November 2006, China and Africa have established and are constantly developing a new type of strategic partnership, featuring political equality and mutual trust, economic win-win cooperation and cultural exchange.
Q.How do you feel after addressing a European NGO sponsored event? 
I liked the event because it might help China, Africa and the Western world to understand each other deeper and better, so that they could work together for maintaining peace and promoting development in the continent.  
Q. What message do you have for our European friends?
I'd like them to know that China- Africa cooperation is an important component of international cooperation for development. It is neither targeted at any third party nor threatens the interest of any country. China takes an open, constructive and inclusive attitude to work together with the international community, including America, EU, India and Japan, among others, towards the peace and development of Africa.