School Violence: Why we are Fire-Fighting
Published on 29th July 2008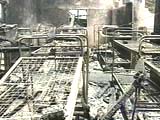 Remains of a burnt-dormitory
The manner in which the wave of violence that is rocking Kenyan secondary schools is being handled and interpreted is simplistic. Bifwoli Wakoli, Assistant Minister for Lands, attributes the school strikes to the prohibition of caning. "Why are we treating our children like eggs?" he asks.
"If a student has an expensive cellphone like this one of mine," says Prof. George Magoha, Vice Chancellor (VC) of the University of Nairobi (UON), "How do you expect him to learn?" He asks.
Mrs. Rose Cheptenget, Principal, Sing'ore Girls High School in Kenya's North Rift attributes it to students having a lot of pocket money.
"In my school, we have limited the amount of pocket money a student should have. We allow a maximum of Ksh.400 per student," she says.
Kenya's basic Education minister, Prof. Sam Ongeri  frantically blames it on parents, DVDs in school and drugs among other factors.
"If we don't apply the rod now, we are making our children sure candidates for the baton wielding general service unit," says a School Principal who does not want to be named. "When I was a student at the UON," the educator says, "our VC (then Prof. Gichaga) used to engage dialogue whenever there was a crisis. You can be sure that during his tenure, we had as many as three strikes in a semester. However, when Prof. Magoha took over, he was extremely rough. He would draw his pistol and threaten to shoot us. Do you ever see strikes at UON again?" He asks.
Speaking to K24 TV channel, Nobel Laurette, Prof. Wangari  Maathai decries learning by  instilling  fear.  She is supported by Father Paulina Njoroge in his interview with Nation TV who says that there is need to find out what values our society is having.
"The unrest is a social problem. You don't counter a social problem with intimidation. We involved our children in burning, looting and killing and maiming during the post-election violence. They have seen us steal and get away with it in Anglo leasing, Goldenberg and election scandals. The cost of living is very high- the gap between the rich and poor is ever widening. What else do we expect from the students? He asks.
African intellectuals, business people and policy makers need to soberly seek ways to stem the academic problems bedeviling the continent instead of resorting to short term fire-fighting methods. If we accuse students of having money and expensive phones- which orientation do we want them to have? An orientation of poverty? An orientation of fickle technology?  Shouldn't we instead teach them how to prudently manage money and technology? Children don't import drugs. Grown ups do. There's no way the government can say it doesn't know who brings drugs to the country. What is national intelligence all about?
It is time Africa broke free from colonial education. It served its purpose in the 50s and 60s but is now overtaken with time.It is exam oriented instead of enabling learners to solve societal problems. "No wonder," laments a Tanzanian citizen, "We have professors of Engineering in Tanzania who can't even construct a wooden bridge to access their homes." It does not free the mind. That is why African experts can't think for themselves and decide what is good for Africa. We are subject to dictates of foreign experts and NGOs which prevent us from using DDT –as mosquitoes decimate our population and pesticides while 30% of our harvest is destroyed by pests. Our education system still preaches that youths are the leaders of tomorrow. Why then need they to be responsible today?
Our education system needs a total overhaul. Whereas industry is rolling the workload back onto the consumer, our schools are trying to give full service to the largest group of consumers. The education customer still expects to drive in, plug in, and have education thrust into the tank and drive out. While the teacher scampers around to pump the education, check the oil and tyres, the student sits relaxed, a spectator to his education. Making students participate will create a nation of powerful, effective citizens with the key to unlock whatever they want in life.
Schools must stop operating like jails which only serve those in charge. They ought to operate like business enterprises. Let us have as many schools as possible. Schools for math, music, football etc. This will enable students to sign up for classes they really desire and shun any they find to be of no value.
In places where individual interest and choice is limited, absent and people are being forced to learn, boredom and violence results. Businesses can't afford to bore customers because if they do, they go out of business.  This will take care of school heads who collude with their spouses at the Teachers Service Commission to run schools like personal property and frustrate teachers. What we are witnessing is African experts not knowing what to do with the high energy in our schools. High energy in an environment of poor strategic direction will always breed chaos!