Nigeria: Obasanjo's Critics Should Shut Up!
Published on 26th August 2008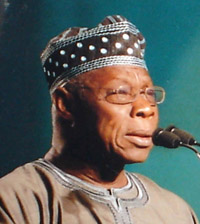 Olesegun Obasanjo
In the early years of his presidency, I was President Obasanjo's supporter. After the calamity that was Ibrahim Babangida, and the iniquity that was Sani Abacha, I believed Obasanjo could do no worse. Although he was neither a Yakubu Gowon, Obafemi Awolowo nor a Muhammadu Buhari, still, I was confident he was the man to Nigeria on the right path. He had the credentials and the disposition; and unlike some before him, didn't seem power hungry.
The preceding decade-and-a-half was a telling time for the country -- a country that was grinding to a halt and falling apart at the seams.To be sure, Nigeria is not an easy country to govern. There are too many cleavages, power-centers, primordial challenges and exogenous tentacles interfering with the internal affairs of the country. Adding to the tempest was the nation's weak institutions, rotten political culture, competing regional egos, and a populace that was, for the most part, indifferent to the lot of the country.
So, taking into consideration all that Nigeria was, it was perceived that General Olusegun Obasanjo would take the country to the Promised Land. But he failed and fell. President Obasanjo's fall from grace has been stunning, painful, and sad to watch. Oddly enough, his fall has been instructive; a lesson to all who think and behave as though they are mightier than Kilimanjaro. The saddest part is that he was the architect of his downfall and disgrace.
The question for history and for posterity is this: how did a military general, a diplomat, a well-regarded citizen of the world, a confidant and adviser to eminent personalities around the world, and a well-referenced former head of state became a domestic and international pariah within a year of leaving office? How and why? I can think of no other situation (within the Black world) where a man of his status self-destructs, this fast. Personally, it brings tears to my eyes.

I cry for Obasanjo much the same way I cry for Bayelsa State whenever I think of what Governors Diepreye Alamieyeseigha and Good luck Jonathan did to the economy and to the social, cultural and political climate of the state. Bayelsa State is not likely to recover from the licentiousness and criminality of both former governors for 16 or more years, just as Nigeria may not recover for 20 years or more from the bastardizing actions of Obasanjo.
He acted and spoke as though he was God: above reproach, and above the law. He took and he gave. He built and he destroyed. He praised and condemned. For eight long agonizing years, Obasanjo was the state and the state was Obasanjo. Few, very few, had the courage to challenge him. Most who did, had thunder and lightning striking them. The vast majority kept quiet and or praised him. Cowardice and sycophancy became a big and profitable business.
Nigerians from all religious, ethnic, economic and social background were falling over one another to be in the President's good book. They wanted to wine and dine with him. Dream merchants, ex this, ex that, ex nothing and the wannabe were all on their knees, genuflecting. Aso Rock and Otta Farm became circus headquarters. These freaks and vagabonds saw no evil and heard no evil. From 1999 until the summer of 2007, they were dumb and deaf and sissified.
Then... two seasons into Yar'Adua's presidency, things began to change. Suddenly,  it is now fashionable for beneficiaries of the Obasanjo regime to criticize Obasanjo, attack, abuse and vilify their once great benefactor. How shameless! How ironic that they all now make Orji Uzor Kalu look like a gallant soldier, saint and prophet!
Nigeria is a strange place! The Daily Sun (Friday, May 30, 2008) reported that "Kalu, one of the few, who looked Obasanjo straight in the face and told the retired general all he did not want to hear, expressed concern over the number of allies who are turning renegade of late." He admonished "Those who tied their tongues in silence in the past should not turn heroes overnight." and so he is asking them to "Shut Up!" It is an irony of fate that Wayowayo Kalu now has the ammunition with which to rubbish the EFCC and Mallam Nuhu Ribadu.

I have read many reports pertaining to Obasanjo's downfall; but none was as poignant as the brief report in the Punch newspaper (Thursday, May 29, 2008), captioned "When Obasanjo, Fashola ignored each other." The pithy account was accompanied by an evocative picture. According to Punch, "Obasanjo appears to be the favorite whipping horse of everybody these days. His ministers and other political officers have dissociated themselves from him...at the burial party of the Ogun State Governor, Otunba Gbenga Daniel's mother…the Lagos State Governor, Mr. Raji Fashola came in, greeted his Osun State counterpart, Olagunsoye Oyinlola…Sitting side by side with Oyinlola, however, was Obasanjo…the Lagos State governor ignored the ex-president…"

Granted President Olusegun Obasanjo brought it all on himself, still, he deserves to be greeted and approached in a respectful manner. We all know what he is, but as a two time head of government, a military general, a chief among his people, and a grandfather, he should not be abused and disrespected in public the way Babatunde Raji Fashola has done and others are doing.
Does the Lagos State Governor have any common sense and decency? To go into a community of mourners and flagrantly disrespect a man older than his own father is uncalled for. No one should rejoice in Fashola's blunder. Come to think of it, is Fashola's former boss and benefactor, Bola Ahmed Tinubu, any better than Odili and Ibori and a thousand other crooked politicians in Nigeria? And is Fashola himself any better than any of the known crooks in post-1999 Nigeria?

History and posterity will most likely condemn Obasanjo. That said, we cannot allow our judgment to be clouded by hate and hypocrisy.Those who didn't raise their voice when Obasanjo was in power do not deserve to criticize him now. They were cowards then, and are cowards now.

Mr. Sabella Abidde, a PhD Candidate & SYLFF Fellow, is with Howard University, Washington DC. He can be reached at: Sabidde@yahoo.com