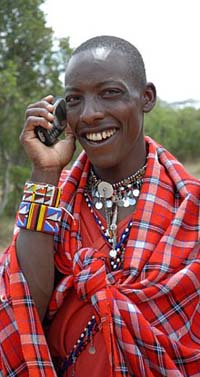 A Villager on Phone
Home to nearly a billion people, the 54 countries that make up the African continent are ushering in an era of liberty, democracy, and robust economic development. An important partner in this growth is mobile telephony.

The mobile phone is having a dramatic effect on the lives of Africans and is proving to be a life transforming device.
Limited by weak physical infrastructure and supported by their ingenuity, the people of the continent are turning to the mobile phone to improve their living standards. From a mere 1 million cellular phones in 1996, Africa is now estimated to have over 278 million subscribers.

The mobile phone is a key economic driver and the people use it to make several things possible – everything from getting buyers for produce to obtaining information and from reducing travel time to enabling access to banking. The latter is an important point. Despite the growing prosperity (Africa is clocking a healthy economic growth of nearly 7%, the best so far in 25 years) - only 25% of the populations have bank accounts.

Traditional banking remains out of reach for most due to factors such as logistics, cost, and lack of financial literacy and compatible products.
Needless to say, the unbanked millions – Africa has 230 million unbanked households – constitute an enormous profit potential for banks.

However, the cellular handset is becoming a way to extend financial services to the unbanked. Banks are recognizing the potential of the unbanked and are introducing resourceful methods of bringing them into the formal economy on the back of mobile telephony.
Through innovative and hugely successful new services such as M-Pesa in Kenya, Wizzit in South Africa, and the GloFirst card in Nigeria, the unbanked in Africa draw cash, transfer money, make purchases, and even check their bank statements through the mobile phone.

If unbanked Africans cannot go to the bank, it is the bank that must reach out to them. The task may not be as formidable as it appears – many are just an SMS away. As with their disadvantaged counterparts across the world that make up a growing market of a billion people who need banking services, unbanked Africans are not among the poorest of the poor.

The unbanked can include owners of micro-businesses, traders, tradesmen, workers, and employees of state or private sector organizations, who do not have a bank account and have unmet needs for financial services. If tapped, they represent a significant growth opportunity for banks. The gravity of the situation can be gauged from poor countries such as Ethiopia that have less than one bank branch per 100,000 people – a developed nation like Spain has an average of 96 branches. South Africa, the largest and richest economy in the region - ringing up a quarter of Africa's GDP – has a well-developed financial sector.

Yet, only 40 percent of South Africans have bank accounts. The unbanked remain so due to geographical inaccessibility, lack of infrastructure, high cost of banking services and lack of financial understanding. These people, however, clearly represent a market that is under served - one that can prove to be profitable if banks can tap the opportunity.

Banks need to, however, understand the special needs of this market. The unbanked often require: These needs may seem like a tall order because of the high economic cost of servicing these demands within the traditional banking structure.

However, a little out-of-the-box thinking in devising products – and delivery tools such as the now-ubiquitous mobile phone – that are simple and accessible could prove transformational. Banks are increasingly adopting innovative methods to reach out. South African banks have physically taken branches to the unbanked, either as prefabricated units, or in vans in remote areas.

Flexibility in savings and repayment schedules for want of a steady income simplicity and speed in processing small product sizes when it comes to loans and low balance savings accounts. Proximity and ease of access to basic financial education or information since the unbanked may not understand even elementary concepts of banking machines in shops lets customers print out a slip and present it to the shopkeeper for a cashless transaction.

Solar energy is used to power the satellite phones that connect these locations. The 'Big Four' banks (ABSA, First National Bank, Nedbank Group and Standard Bank) with the government of South Africa launched the low-cost transaction Mzansi account in 2003. Targeted at the low-income market, it now has more than 4 million subscribers. Banks in other parts of Africa too are offering innovative services, flexible credit, and other financial services.

By far the most appealing means by which to reach the unbanked is the mobile phone. Let us examine why it is emerging as a powerful tool for delivering these services.

Cheaper infrastructure and wider regional penetration, cheaper handsets, competitive markets and business models oriented to the needs of the poor, such as affordable prepaid cards have resulted in a mobile boom in Africa during the last decade.

Taking advantage of this growth, mobile banking is emerging as one of the most effective means of reaching the unbanked in Africa. Few Africans may have bank accounts, but more than one fourth of the population has mobile phones. In 2006, Africa had a penetration of mobile cellular subscribers per 100 inhabitants of 22. The growth of mobile telephony – from a base of 1 million in 1996 – is not merely enabling communications. It is also empowering low-income groups with information and services that were unavailable to them, to date.
Further, with operators like Celtel and MTN offering transnational zero-roaming plans across parts of Africa, the barriers to communication are fast disappearing. Celtel's One Network aimed to cover 15 countries while MTN had targeted 9 nations under its plan last year, according to the International Telecommunications Union.

Let us examine mobile banking in a few countries in Africa - the strategies adopted, the policies followed and the market realities.In Kenya, the banking sector is in a period of transition, adopting more modern methods and embracing technology and processes that ensure improved efficiency, more transparency, wider access and consolidation.

There are about 45 banks in Kenya. Most banks are small to medium-sized and locally owned. The industry is dominated by three large banks – Kenya Commercial Bank, Barclays Bank and Standard Chartered Bank. The latter two are foreign owned.
In many African economies, mobile usage is growing at a much faster rate than banking services. As many or more people have mobile phones as compared to bank accounts. A study by the Financial Sector Deepening Trust in Kenya estimated that 54.4% of the adult population owns a mobile phone or has access to it. It estimated that only 18.9% of the adult population has access to formal bank services.

The high mobile phone penetration offers a way to cheaply and rapidly provide financial services to the unbanked, something no other technology offers. Mobile banking is increasingly being seen as convenient, fast, simple, and secure.
In banking, where margins are low – which is especially the case with banking the unbanked– financial service providers need to keep their fixed costs low. There is no higher cost than the one that involves setting up and running branches and ATM networks. Mobile baking's branchless advantage can help banks provide cost-effective services and accelerate access to their products.

Mobile banking uses the existing mobile communications infrastructure which already reaches unbanked people. Thus a bank does not have to invest time, money and effort in setting up a new infrastructure. It offers a physical proximity those other methods, such as the internet or ATMs, cannot match. With mobile phones, customers do not have to walk miles to find a branch - they are instead carrying the bank with them.

Cost Infrastructure: Kenyan banks have limited infrastructure. The number of bank branches (542) is increasing only recently. The number of ATMs has doubled in the past two years to more than 700, but the figure of two ATMs per 100,000 people reflects the sector's narrow outreach.

However, the number of mobiles in Kenya has grown to 11.44 million. As many as 17% of the unbanked own a mobile phone, according to the FinMark Trust. Hence, the mobile phone offers both banks and users a tremendous financial opportunity.

Safaricom, one of Kenya's leading mobile operators has launched an m-commerce payment service, M-Pesa, aimed at the unbanked in March 2006. Within three months, it had 150,000 customers, with 2,500 new users signing up each day. As many as 1 million Kenyans use M-Pesa. 35 % of M-Pesa is owned by Safaricom which in turn is owned by Telkom Kenya (60 %,) and Vodafone (40 %).
M-Pesa is a non-bank service: Customers exchange cash at an agent in return for an emoney account. This virtual account is stored on the server of a non-bank, such as a mobile operator or an issuer of stored-value cards. The balance can be used for making payments, storing funds for future use, transferring funds or converting back to cash.

Another entrant in providing branchless banking services is K-Rep Bank, a partnership between mobile service provider Zain (formerly Celtel) and software provider Packetstream. Its money transfer service is facilitated by point-of-sale (POS) terminals and with mobile phones for data transfers.

The Kenyan government and Kenya Central Bank have shown an interest in branchless banking and have expressed their commitment to putting in place regulatory changes to support technology based services and enable increased outreach.Clarity on the legal status of e-money is lacking in Kenya and much legislation in e-commerce areas is at the draft or bill stage.

Thus, the branchless banking forays have been undertaken with the tacit acceptance of the regulators. The nonblank based model is free of financial regulation as long as services provided are not deemed to fall within the definition of banking business under the Banking Act.
The government is aware that the existing legal and regulatory framework does not offer an optimal situation for branchless banking. It is now working on a Comprehensive Financial Sector Reform and Development Strategy. Improving access to finance will be one of the strategy's main pillars and it will also strive to ensure safety and efficiency.

This is important considering that many banks expressed in a survey that by 2010 they would be dealing with a more demanding and better informed retail customer seeking mobile services among other things.

There are 36 banks operating in South Africa, including 20 registered banks (of which 5 are foreign-controlled). There are 14 branches of foreign banks. As at the end of March 2007, the five largest banks held approximately 90%, the foreign banks 8% and the other local banks 2% of the assets.

Banking assets have grown  by 21% to R2177 billion over 12 months to March 2007. In studies conducted by Genesis Analytics for the Finmark Trust in 2004, it was estimated that around 14 million adults in South Africa did not have access to banking services. These include the most basic of services, such as deposit facilities, cash withdrawal, and credit and payment facilities. Moreover, bank accounts are expensive – as much as 2% of a person's gross income is paid toward the account. Moreover, most South Africans live in rural or semi-urban areas where access to a bank is very limited or non-existent.

All these factors point to the importance of mobile banking in meeting the needs of the unbanked. In South Africa, there are 30 million cell phones compared with about 13 million bank accounts.

Wizzit (a financial service provider), First National Bank (FNB) and MTN Banking (a joint venture between Standard Bank and a mobile-phone network), are targeting the 14 million unbanked South Africans.

Wizzit operates as a division of South African Bank of Athens. Customers can use their mobile phones to make payments, transfer money, and pay utility bills. They also get a debit card with which they can make purchases. Wizzit does not have a minimum balance requirement and has no fixed monthly fees. Customers can open a South Africa account in just two minutes.
Since its launch in December 2004, Wizzit has acquired more than 50,000 customers. In recent years, there has been an increasing recognition of the need to deliver basic banking products. Thus the Mzansi account; and, building on its success, banks have launched a money transfer facility in September 2005.

This product enables people without an account to transfer up to R5, 000 per day. In 2003, in line with the government's Black Economic Empowerment strategy, members of the financial services sector have signed the Financial Service Charter. Among others things, it aims to address the issue of the unbanked.

Consultative Group to Assist the Poor (CGAP) undertook a study on the South African market which showed that mobile banking was cheaper than other methods. The annual cost of Wizzit transactions represents 7.5 days of income per year. Transactions at Mzansi represent 10 days of income. The same transactions with any other Big Four South African banks are estimated to represent 11 days. It is estimated that transactions carried out by mobile phones cost 10% of those taking place at branches.

In South Africa, only a bank can participate in the national payments system. A non-banking operator must either obtain its own license or form an alliance with a bank.Nigeria has overhauled its banking system, reducing the number of banks from 89 to just 25, but the number of branches has increased by over 600. The Central Bank has also increased a bank's minimum capital requirement from Naira 2 billion ($15 million) to Naira 25 billion ($190 million).

There are four foreign-owned banks in Nigeria, namely Citigroup, Standard Chartered Bank, Stanbic Bank and Ecobank. The Central Bank has limited government ownership in banks to 10%. The banking sector can look forward to tremendous opportunities in Nigeria, with the Central Bank of Nigeria stating that about 70 per cent of the nation's citizens do not have access to banks.
But with government encouragement for telecommunications, the country now has more than 30 million cellular subscribers. Attracted by the market potential, several mobile banking in Nigeria services have started up, changing the way people exchange money and buy goods and services.

For instance, a Nigerian company, MoneyBox Africa, has announced that it was going to expand the financial services beyond the 4,200 bank branches, 4,000 ATMs locations and 9,000 PoS access available in the country. Its strategy was to unleash a new scratch card-based savings payments system to help unbanked Nigerians to open a bank account on the street, save money into such an account, pay utility bills, buy insurance policy, send money, make cash withdrawal at agent locations or any bank branch and ATM.

In the past, Nigerian banks were focusing on industry consolidation, and mobile operators were taking the lead in promoting mobile payments.Now, banks have started taking an active interest and are forming partnerships, such as First Bank's link-up with Nigeria's second biggest mobile operator, Globacom.

The partners introduced the GloFirst card with switching company Interswitch. The prepaid debit card allows users who do not have bank accounts to perform electronic transactions via the Glo Mobile network. Launched in 2003, Nigeria's second biggest operator says it has nine million customers. It offers a range of services, including mobile banking, and is gearing up to launch its 3G network.

First Inland Bank, which was formed in 2006 as a result of a merger between First Atlantic Bank, Inland Bank Nigeria, IMB International Bank and NUB International Bank, is also active with its FlashMeCash product. This allows account holders to send and receive money using their phones. Zenith Bank's Zenith MobileLink enables customers to carry out transactions through SMS. This infrastructure provides the key to mobile banking development in the country.

However, although all large urban areas have good network access, some of the more remote parts of the country are still not connected.But there are many reasons to be optimistic about the potential of mobile banking in Nigeria. The falling cost of handsets is encouraging usage of mobile technology, which in turn is driving a desire for convenient services such as mobile banking.

Egypt has a very fragmented banking system, with over 42 licensed banks. The government wants to see a reduction in the number of banks to around 25 by 2010. Banking in this North African nation is dominated by four institutions: National Bank of Egypt, Banque Misr, Banque du Caire and Bank of Alexandria. They represent half of the banking system's assets.

Egypt is a cash-based society and no more than 10 percent of Egyptians have a bank account. However, Egypt's cellular market is experiencing unprecedented growth, a phenomenon that BIS Shrapnel forecasts will result in the number of mobile subscribers in Egypt reaching 21.1 million by the end of 2008.

This offers a huge window of opportunity for banks, which have started offering mobile banking services. NSGB was the first bank in Egypt to offer mobile banking options, starting in May 2000. Around 4,000 NSGB customers receive SMS alerts on their account balances, as well as foreign exchange and stock prices.

European-based ATM provider Euronet and, more recently, local IT conglomerate Raya have entered the mobile banking market, with Euronet operating a similar service for Arab Bank and Egyptian American Bank. Raya works with Commercial International Bank.

When MNS started in 1998, it focused on applications for Internet-related banking services. The company shifted its strategy in mid-1999 to cater to a market where mobile penetration far exceeds personal computer use.

Egyptian mobile banking has already taken its first steps from mere notification to actual transactions. NBE customers can now pay for their MobiNil bills using their phones – the first time a bank has offered bill payment using SMS. EAB offers a similar service for Vodafone bills.

The current number of people using mobile banking in Egypt is estimated at less than 200,000, but bankers believe there is considerable growth potential. The key is to push the use of the technology beyond banking transactions and into everyday retail use. Some banks have reduced their mobile banking overheads by outsourcing their IT hosting requirements.

To enable banks with increased agility and flexibility to respond to the business rigors of catering to this emerging segment, a mobile and e-banking solution built on open standards, would be invaluable. This will allow flexible extension of the product portfolio and customization of the solution. The architecture of the solution must enable banks to write business rules once and deploy them anywhere, add new rules, modify existing ones or integrate them with other applications seamlessly.

The solution must offer key banking functionalities such as balance checking, cash withdrawals/ deposits/ transfers, utility bill payment, purchase and sale transactions, etc. It must offer features such as SMS alerts, voice-over confirmation of transaction, biometrics, etc., with multi-channel, multilingual abilities. Above all, it should also be user-friendly and easy to navigate.

The humble mobile phone is becoming much more than a phone to poorer and unbanked users in Africa. It is a bank in their pocket The challenges involved in meeting their needs may seem daunting, but in reality they represent an enormous opportunity for banks – considering that only a quarter of the population has bank accounts.
Sensitivity to the needs of the unbanked, sound business strategy, the right technology framework, and an integrated mobile banking solution could see banks creating a profitable market, gaining early mover advantage, and transforming the lives of millions of Africans.

Gautam Bandyopadhyay
Principal Consultant
Infosys Technologies Ltd.
Bangalore, India