Mbeki's Exit: a New Dawn for Africa?
Published on 26th September 2008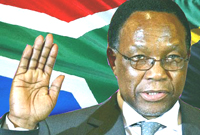 Motlanthe is sworn in
Despite the fact that Former South Africa's president, Thabo Mbeki isn't a bad guy at all, many South Africans say that he was out of touch,  aloof and cared much about foreign matters but less about home. Consequently, he was caught off guard as his party ousted him.
Mbeki fired his deputy Jacob Zuma after being 'implicated' in corruption. This awarded him many accolades internationally. The world did not know that this was done to settle personal scores in a titanic power struggle. It came to light, as per the ruling of the high court, he fabricated charges against Zuma just like Rwandan dictator Paul Kagame did to his predecessor and stooge Pasteur Bizimungu or  Ugandan tin pot dictator Yoweri Museveni to his rival Kiiza Besigye. But is Zuma clean?
Mbeki proved his democratic savvy and maturity by not refusing to step down. What an ideal and exemplary sense of democracy! Mbeki will be remembered for his relentless efforts that ushered in a Government of National Unity (GNU) in Zimbabwe among others.What is unclear with this vindictive ouster is: how will ANC unify or divide the party and the country altogether? What if Mbeki's supporters stay put to see to it they avenge their fallen leader?

His was country first and party last. In the same footing, the ruling party African National Congress (ANC) recalled its boss for the good of the country though this is subject to discussion.
What a lesson for countries like Kenya, Tanzania, Uganda and others where the gang of looters hide behind parties to cling unto power. Rulers and their outfits in Tanzania (CCM), Uganda (NRM) and now Rwanda (RPM) have been ruining the countries thanks to their party conspiracy. In the trio, the party comes first and the country- God knows. What even adds up is the fact that these dare-devil outfits have become illegal states with others.

Mbeki "did not display shock" at the decision of stepping down and agreed to participate "in the process and the formalities". How many African parasites would take this shocking news without any modicum or squiggle of fear and frustration? This can truly show you the lion of a man that Mbeki is.

Mbeki had what it takes had he wanted to flex muscles and cling unto power.But he didn't apply them for the good of the country. He fully understood what ripping all rules of the road would sire as far as in-party political struggles and cannibalism are concerned.

True, he'll be remembered as a true leader that enhanced economic growth that ushered in the emerging of middle class black South Africans that used to be suffocated by apartheid regime.

Despite all accolades on the man, Mbeki failed in one test. He didn't live up to his promises of stamping corruption and poverty for all. He failed to convince trade unions and the poorest South Africans that the government was acting  in their interest - providing space for Zuma to mobilise a powerful constituency. Zuma grabbed and capitalised on his failure to stem vilent crime among other factors to turn tables against him.

Interestingly, Mbeki did not jump the smoking gun. He admitted, "Abject poverty is coexisting with opulence". And this is economic south Africa Mbeki leaves behind.
 
This is a remarkable warning to African potentates that cling onto power depending on party-pseudo protection. When the hoi polloi become tired, any person can lead that to thwart whoever they think is their obstacle to reaching their goals as in the case here. Hither is whither Zuma's competence will be put to test. If there is any foul play in these defeatism, cynicism and opportunism time accurately will tell. And anybody behind it will face the same. He who lives by the sword dies by it.Though Mbeki's mantra against his arch foe sounds giddy and awkward, it is a wake up call for those who use their powers to vindicate others.

But again, the man exits without being implicated in any economic corruption. May be, this is another asset Mbeki goes down with. And indeed, this is why Mbeki did not barge when he was told to answer the call and face the moment of truth.Mbeki's frumpy and tragic-comic long journey may seem to have ended. But Zuma's has just started. Will he be a magic bullet or a let down just like Jakaya Kikwete (Tanzania) or Mwai Kibaki (Kenya) that exulted to power backed by Wananchi that they've completely let down?
 
The big lesson that SA has offered after xenophobic attacks on the foreigners is that power can change hands bloodlessly.Is Mbeki's exit opening Pandora's Box the move which pro-white parties will use to regain their lost morsel on power? Will this be like Gorbachev's kaput perestroika for ANC, that will usher in division in the party so as to weaken country's solidarity? Much remains to be seen.

Mbeki will soon be gone from Africa's political landscape as Motlanthe enters. Differently from betes noirs like Benjamin Mkapa, Fredrick Chiluba and Bakili Muluzi, Africa has a lot more to learn from the man. Fare thee well Mbeki for the job well done. To date he may be lampooned, in the near future; the stone that builders rebuffed will be the best. Nonetheless,  the challenge remains. What in-puts do an over touted Zuma have to the building and unification of South Africa? Time will accurately tell.