The Global Entrepreneurship Week
Published on 18th November 2008

Most youths have not channeled their energy, creativity and enthusiasm into business.The few who have tried have failed as a result of neglecting the simple and basic principles that make an entrepreneur.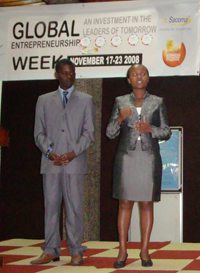 UoN SIFE's Presentation at the Event
Youths have to invest their time in understanding entrepreneurship by participating in this year's Global Entrepreneurship week that runs from November  17 – 23, 2008 if they are to empower themselves financially and stop depending on the government for employment.

Although unemployment, rise in commodity prices and increase in the cost of production as a result of the rise in oil prices early this year have impacted negatively on the economy, entrepreneurs can  convert the challenges into business opportunities.
An etrepreneur places more emphasis on innovation: new production methods, new products, new markets and new forms of organization.Wealth creation results when new forms result in demand.
 
In Kenya, the Entrepreneurship Week was officially launched by Hon. Uhuru Kenyatta, Deputy Prime Minister and Minister for Trade. Kenya is just one of the 95 countries across the globe currently hosting this event.

Hon. Uhuru challenged all stakeholders to be innovative and productive through enterprise. He encouraged the youth to get the government's assistance through the National Youths Development Funds. Also present in the launch was Dr. Eng. Cyrus Njiru, Permanent Secretary in the Ministry of Trade.

The event which was hosted by SACOMA (K) and KPMG (K) witnessed a powerful presentation from Students in Free Enterprise (SIFE) University of Nairobi. SIFE University of Nairobi team defined entrepreneurship and demystified the notion that entrepreneurship is the preserve of the few and is subject to failure. To them, entrepreneurship ranges in scale from projects started by one person to big businesses that create many job opportunities.

They gave a thirty minute presentation of entreprenuership projects the team carried out in 2008. They also gave detailed updates of their current project designed to teach entrepreneurship not only in Nairobi where their campus is located, but in Ugenya, located in western  Kenya. Their projects have positively transformed lives and given hope to people by empowering them financially.
SIFE projects are designed to teach financial literacy, business ethics, success skills, environmental sustainability, entrepreneurship and market economics.
Overall, Global Entrepreneurship Week will tap into a culture with a passion for networking. It will blend into the fabric of everyday life, engaging young people in school, at home, on the web and at work. Through this initiative, the next generation of entrepreneurs will be inspired and emerge. In doing so, they will begin to acquire the knowledge, skills, networks and values needed to grow innovative, sustainable enterprises that have a positive impact on their lives and the lives of those around them.  

By John Awuor
Deputy Program Manager, SIFE Kenya.