New Results in NEJM of World's Most Clinically Advanced Malaria Vaccine
Published on 8th December 2008
New results on the world's most clinically advanced malaria vaccine candidate to be  reported in  The New  England Journal of Medicine 
Results from two new studies on the efficacy of the world's most clinically advanced malaria vaccine candidate in infants and young children in Africa was  announced on December 8, 2008. The first study, conducted in  Tanzania with infants, examines the efficacy of the RTS,S/AS malaria vaccine  candidate when co-administered with other childhood vaccines such as polio,  diphtheria, pertussis, tetanus, and Haemophilus influenzae type b; the malaria vaccine was  given to infants at eight, 12, and 16 weeks of age. The second study, conducted in Kenya and Tanzania, examines the efficacy of the RTS,S malaria vaccine on children 5 to 17 months old.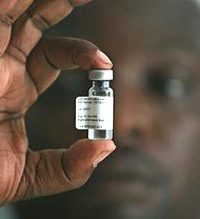 Sample of a Malaria Vaccine
The data, which was published online in The New England Journal of Medicine on December 8, 2008, will be presented at the American Society for Tropical Medicine and Hygiene (ASTMH) annual meeting in New Orleans, Louisiana.   
RTS,S/AS—created by GlaxoSmithKline  Biologicals—is the leading clinical candidate in a global effort led by the PATH  Malaria Vaccine Initiative (MVI) to develop a malaria vaccine. An earlier phase  II trial, published in The Lancet in  2007, demonstrated "proof of concept" that RTS,S/AS could prevent malaria  infection in infants. Half of the world's population is at risk of malaria, and an estimated 247 million cases led to nearly 881,000 deaths in 2006.     
To access the live audio conference, RSVP to Preeti Singh at +1 301 652 1558 ext. 5722 or +1 703 862 2515  (m) or psingh@burnesscommunications.com. An  embargoed online press kit is available at: www.EurekAlert.org/RTSSmalariavaccine.