President George Bush's Legacy: A Hollow Shoe?
Published on 16th December 2008
Shoe throwing out of anger is not strange in Iraq. It happened during the 2003 US led invasion that toppled Saddam Hussein when his statue was brought down and all the people present started throwing shoes at it. It is a sign of anger, disrespect and an embarrassing form of insult in the Arab world. Being hit with a shoe lowers one to the dirt underneath its sole.
Bush's farewell visit to Iraqi was met with the same mettle. Muntazer al Zaidi, a reporter with the Cairo-based al-Baghdadia television network, was courageous enough to hurl two shoes, one after the other and an abuse at the president during a press conference that was also attended by Iraqi's Prime Minister Nouri al-Maliki.
"This is a gift from the Iraqis; this is the farewell kiss, you dog!" hurled Zaidi before he was restrained by security agents.
Al-Baghdadia television network immediately demanded the release of Zaidi in accordance with "the democratic era and the freedom of expression that Iraqis were promised by US authorities (during the 2003 invasion)".
After eight years at the helm of the world's only super power, the shoe and dog incidence beg more answers on the legacy president Bush is leaving behind.Put into perspective, a shoe is hollow and empty, ready to collect any form of dirt the wearer steps on. Bush's foreign policies over the last eight years have failed in many parts of the world - questioning the thought and reasoning behind his actions during his reign as president. For instance, the 2003 Bush led war in Iraq that saw a rise in insurgency and global terrorism is seen as a huge mistake made by his administration. Such mistakes created by thoughtless actions can only compared to an empty and hollow object such as a shoe.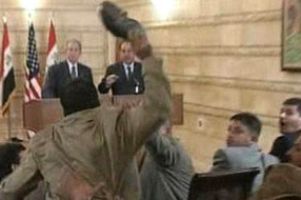 Bush Prepares to dodge the Second Shoe

While a dog is traditionally regarded as unclean, calling someone a dog is even harsh. Of course President Bush is not a "Dog" or doesn't look like one, but his deeds as president has disgruntled much of the Arab world that he is now regarded as one. 

 

The events that followed the shoe throwing incidence point to his global unpopularity. In Sadr City, the sprawling Baghdad suburb that has seen some of the most intense fighting between insurgents and U.S. soldiers since the 2003 US led invasion, thousands of people marched to defend Zaidi's action and demand his release.

 

Various news media reports indicate the Zaidi is now regarded as a hero following his 'act of courage.' Moreover, the shoe throwing incidence has become a viral hit on the internet and a television sensation, with its video attracting millions of views from all corners of the world.

 

Already several online games have been built around the incidence where players assume the role of President Bush and earn points based on how they dodge the shoes flying rapidly towards their direction. The players are embracing a rare chance to poke fun at the outgoing president just because his policies over the last eight  years do not resonate well with them.

 

Speaking to Washington times, David Burch the marketing manager for YouTube tracker TubeMogul said: "People are uploading videos of the incident to YouTube at an average rate of 209 per hour. Currently, there are over 5000 versions, totaling over 8,145,000 views."

 

Despite all these, I congratulate President Bush for gracefully dodging the shoes and ignoring the "dog" abuse. African presidents must keep themselves fit to handle the impending salvos as a result of the high cost of living. Will they dodge? Will they face the issues head-on?

 

By Ken Teyie

Editor, All Times Media