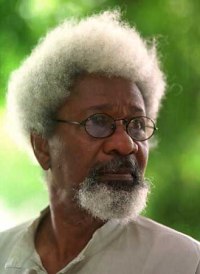 Wole Soyinka: A Self Brand
Your tie resembles that of James Bond in his first movie in 1965. The sound from your old school shoes resonates with the strong words of barrack Obama ... we want change!!! We want change!!! Now is the time for change!!!
You look so unkempt. Your jaws are full of hair; all in the name of a single line of beard that will give you a crispy look. Nice Afro you wear, but you have the resemblance of an old school professor of arts... a bad personality you have.
In fairness, you are a man of values, a woman of substance and a personality built on strong philosophy, ethics and good moral standards.You have energy, are immersed in beauty and your molten dark hair seems as though it was soaked in a deep pot of natural honey.
What else can a man be? You have Bsc, Msc or PhD. You are a nice chap and look beautiful in every single way: petite, Monalisa, daughter of the goddess and your loins look more fertile, than the front bank of river Nile.
But wait!!! What happened to your image? What about the wrong perception people have of you, caused by your unconscious attitude and lack of consistency? Your voice is so loud that the gods get angry whenever you speak. Common etiquettes he no dey, good communication skills nko you no get.
When it comes to dressing, you are less concerned, just because you have no time. You cack up in your nondescript top and your G-string pants that pop out every now and then.
Is that what you are made of ? A personality that stinks? You can't solve an ordinary problem. A common goal- you can't set, humility nko you can't have, but at the next election you must contest. The next promotion at work is due to you. You are an aspiring entrepreneur, a business owner and in fact a seasoned professional at what you do.
Image matters...Re-invent you.
Your image and personality is your brand. Your brand is a composite of your traits and the sum total of your characteristics including your intellectual, physical and behavioural capacities.
Bernstein (1984) wrote that `image is a reality. It is the result of our actions If the image is false and our performance is good, it's our fault for being bad communicators.'
Your brand is how you are perceived by outsiders. Great brands achieve extra ordinary accomplishments. Your brand  sets you apart. It is the supreme realisation of your innate idiosyncrasy; the absolute affirmation of all that constitutes you and the greatest possible freedom of your self determination.
Managing your brand means monitoring your attitude, dressing consistently in your own chosen way, communicating effectively, maintaining good moral standards, upholding normal etiquettes, relating with the right sets of people  and developing yourself. It calls for no rocket science to build a good personality brand. You don't need to carry coal to Newcastle or take sands to the Arabs; you can start by gradually taking the following actions.
Be consistent in everything you do by ensuring that your message is not erratic, from the way you talk on phone to the way you write your email. Be authentic by being original and don't try to copy someone else.
Learn more: An empty mind has nothing to offer, read books and practice the art of writting, attend workshops, sign up for seminars and stop the (ITK) 'I too know attitude.' Develop your communication skills by learning to negotiate, speaking eloquently and succinctly, while you practice listening.
Mix substance with style by aiming to be unique. Command attention and don't demand it. Walk with poise and maintain a good look.Learn to influence others by using your personal power, charm, position, knowledge and strength to lead and carry others along. Be visible by building your profile internally and externally.Seek feedback and  keep checking your market value.
Oprah winfrey, David Beckham, Wole Soyinka and Michael Jackson, among others, are living examples of strong personality brands. Branding yourself can enhance your career, help fulfil a destiny. We all have a purpose to achieve, so we sell one thing or the other:  knowledge, creativity, strength, ability and contact among others. It is important however to package whatever we sell in a good way, thus the need for branding.
To build that brand, (kiss) keep it so simple and don't get confused with the conventional way of things. Dare to be innovative and unique.
Re-invent you...
Ola Onikoyi Jr.
(London) United Kingdom