Kenya Airways: A Deaf Airline?
Published on 3rd February 2009
I am writing this column from Bangkok, Thailand. It is not the spas and wonderful tourist attractions that have brought me here. I am with other colleagues in the United Nations Millennium Campaign attending our Global retreat which this year is being hosted by our Asia team. However two of my colleagues with whom we were supposed to have travelled on Kenya Airways Flight KQ 0234 from Nairobi on Sunday are still stranded in Nairobi. Two other colleagues and I had checked in Online otherwise we could also have been bumped off the flight that evening.  
My stranded colleagues were at the airport on time, over two hours before the scheduled departure. However Kenya Airways refused to honour their confirmed ticket because 'we are overbooked.' To be precise, they were overbooked by 39 passengers, they were informed. 
Long suffering KQ passengers know these most hopeless of excuses routinely dished out by KQ staff. Often when you challenge them why they would overbook and confirm tickets beyond the number they could reasonably carry, you get no explanation but another grand excuse: all airlines do it! Bad manners and offensive and offending behaviour remain what they are regardless of the number of people, companies or institutions that practice them.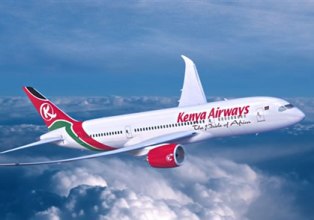 A Kenya Airways branded jet
As a KQ passenger, it is not my business what other airlines do but how I am treated by KQ that claims it is THE PRIDE OF AFRICA. If Africa's pride is like this, I wonder how bad THE SHAME OF AFRICA could be. 
Even though I had my boarding pass, it did not deter a KQ staff at the ticket desk in front of the security check before boarding to make another preposterous request : ' can I have your seat.' I can assure you that I was not gentlemanly in my response! They even offered cash bonus to two other colleagues if they agreed not to travel that night! 
If you think that the woes would be over once I boarded, you are failing to appreciate that flying KQ is a series of obstacle crossings of Olympian proportions. On entering the aircraft, I found somebody seating on my seat with the same number on his boarding pass! There were other passengers in similar situation. 
KQ not only overbooks, it also double books its boarding. May be it is hoping that some passengers will not board. I am a regular traveller therefore know that some of these things happen but with KQ, it is not only regular, but  it has also become the house culture. If I had a choice, and I am sure if many other regular victims of KQ's cavalier attitude and serial breach of contract towards its passengers have a choice, we will not travel by KQ even for free. 
Its announcers, without any sense of irony churn out greetings that neither the listeners nor the announcers know to be true and thank you without choking or chuckling 'for choosing Kenya Airways' when in reality we did not choose it but circumstances chose it for us and make us its self-financing prisoners. 
Kenya Airways is supposed to be one of the leading National Airlines still surviving and commercially viable in Africa. The others are the Ethiopian (ET) and South African Airlines (SAA). Of course there are other pretentious national carriers many of them with wretched leased planes that are more or less like aged Kenyan Matatus. The high mortality of African airlines has given the few surviving airlines with vast continent –wide connections virtual monopoly. This means that for travelling within Africa, your choice is narrowed down to ET or KQ because SAA marketing essentially remains in its apartheid vision of the world and in any case Jo'burg or Cape Town are far from almost everywhere on the continent except Southern Africa. So for most people Nairobi remains the hub for connecting to other parts of the continent. 
This is why KQ treats us with levity and impunity. It can cancel flights, bump confirmed passengers off flights, overbook, double book and delay with nothing more than perfunctory excuses passing for apology knowing that no matter how angry you are, you do not have an effective choice. Even the normally grumbling Nigerians have resigned themselves to the situation. They protested and shouted so many times with no improvement and now accept to shut up and put up with Kenya Airways bad manners. 
I do not even know why Kenya Airways pays people to run its PR department when its long suffering passengers know that KQ means: KEEP QUIET and take whatever it does on the chin and turn the biblical other cheek . Indeed flying KQ is akin to being addicted to an abusive partner. Our keeping quiet is making KQ to continue to trample on us. It may begin to treat us with more respect when more of us stop keeping quiet and also if enough angry passengers can organize themselves into active consumers to engage it in a Class action that will hit its bank balance through punitive fines in as many courts as it has landing routes across this continent. 
Dr Tajudeen Abdul-Raheem writes this syndicated column in his capacity as a concerned Pan Africanist