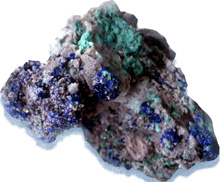 A Mineral Extract     Photo:Courtesy
The Oxford Dictionary defines "environment" as "physical and social conditions in which people live, especially as they influence their feelings and development." So, what conditions does business need to help improve the mining industry in Africa?
The mining industry consists of a whole range of activities—prospecting and exploring, for the mineral, exploiting, marketing and using it for the benefit of society. The necessary and effective institutions, like a geological survey body, up-to-date mineral data bank and technologies, education, training, research and development, regulatory bodies, legal and policy-making systems, human resource, banking and financial institutions (among others) must be in place, if the mineral-rich countries in Africa, like South Africa, Ghana, Botswana, Mali, Tanzania, Zambia, Zimbabwe, DRC, Kenya, Mozambique, Guinea, Uganda, Malawi, Angola and others intend to improve the mining industry, in order to realize the full benefit of their minerals.
For purposes of this discussion, I intend to look at expectations of prospective investors (business) into mining; expectations of the Government/policy-makers and expectations of civil society organizations (CSOs). At the end of the day, it is when these expectations coalesce to culminate in the right business environment that the mining industry in Africa can be improved. In this regard, sustainable, deliberate, well thought-out collaboration among the stakeholders, that is, the State, Business, and Civil Society is paramount. I shall also look at some of the challenges posed by these expectations and what could be done about them, so that Africa could move forward in the continent's strive for development and poverty eradication for the well-being of its peoples.
Ideally, most investors who may be considering entering the mining sector in  mineral-rich African nations need to find the following conditions prevailing:
An environment that inspires confidence and trust in the macro-economic and political environment to such an extent that a business venture in the country will prove to be reasonably profitable and at a risk which can be contained.
Availability of natural and physical resources, land, mineral concessions, road/transport networks, social services, healthcare, housing, water, energy supplies, natural raw materials (minerals), ICT infrastructure, law and order, telecom facilities, cutting-edge technology, service providers and suppliers of equipment and intermediate inputs, ports and harbours, among others.
Quality productive, safety-conscious labour force, with positive attitude to work, high level management skills, a fair wage and compensation system, educational and training institutions, peaceful industrial relations, educated union that works with management as part of the team, acceptance of mining, recognition of its benefits, positive attitude of NGOs and the general population towards mining.
Favourable regulatory environment, transparent, consultative and stable regulatory institutions. Competitive mineral law and environment regulation, attractive incentives, protection of the investor, reasonable time and cost of acquiring and registering property, ease of registering business and licensing procedures, cost-effective procedures, affordable fees, expeditious bureaucracy, fair and competitive tax regime, absence of corruption, reasonable time and cost of contract enforcement, reliable dispute resolution systems and duration for resolution of commercial disputes in courts, independent and credible judiciary, rule of law, good/corporate governance, reasonable time and cost of closing a mine/business.
Sustainable and reliable market for the product, potential for markets to grow/expand, acceptable size of the market, good facilities for export, expeditious customs procedures, fair port charges, and so on.
Security of assets. It is important that law and order prevail to ensure that illegal miners do not trespass into mining concessions to look for minerals. This is a big issue in Ghana as the mining companies continue to spend huge sums of money to hold trespassers at bay.  In local parlance, such illegal mining is called "Galamseys"—a corrupted word from "get them and sell". There have been instances of serious clashes between the mine security personnel and galamseyers.
Availability of finance and support for the private sector. At this point, to illustrate the need of government support when the situation demands it, I would like to talk about Ashanti Goldfields (AGC) which, in the early seventies, suffered from economic mismanagement and lack of support from the government of the day.
According to Sam Jonah, who once headed the AGC, wrong economic policies had resulted in a severe lack of new investment in the economy of Ghana; infrastructure was in a state of disrepair, industrial and agricultural output fell significantly. The impact on AGC was very serious as the mine was severely constrained from optimizing its resources apart from other headaches. In 1983 after years of economic decline, the government embraced an IMF/World Bank sponsored Economic Recovery Program (ERP). A new regulatory framework (Mining and Minerals Law) and financial support from outside sources, which became possible because the government of the day intervened, helped to turn the fortunes of AGC around. We all know how the company grew from that time to become a world- class company. (AGC is now part of AngloGold Ashanti).
Accountability by the government. Operators would like to see that office holders account for the taxes they collect, so that the proceeds do not find their way into private pockets. Sanctions put in place to deal with corrupt officials must be implemented and not just gather dust. The need to have in place a system of monitoring and evaluation of contributions by the mining companies is important for purposes of accountability.
Controlled hostility on the part of NGOs Operators. At least in Ghana, some of the activities of NGOs are too extreme, hostile and damaging to the image of the mining industry.
Effective Voice of business. The role of trade/business associations. The role of business associations, like Chambers of Mines, is important. In Ghana and elsewhere, Chambers are image builders for the mining industry; they do advocacy to influence policies and thereby promote the interests of their members. They dialogue with the regulators to promote the industry and adopt a common front for dealing with labour,  occupational health and safety, environmental and community issues. The chambers also  encourage their members to take corporate social responsibility (CSR) seriously.
The Ghana Chamber of Mines has a Trust Fund which supports social projects in virtually all sectors. It has endorsed the UN Global Compact which, among other things, encourages good-practices in the area of environmental discipline, corporate governance, occupational health and safety at the work place and human rights. The Chamber also supports the tenets of the Millennium Development Goals. It is a member of the Coalition to Fight HIV/AIDS, initiated by the Ghana Employers' Association. At the regional level, for example, "the Mining Industry Association of Southern Africa (CMSA) plays a role in generating ideas and formulating policy to encourage and facilitate investment in mining, mineral beneficiation, human capital development, infrastructure development, health and safety, environment, etc., through SADC and directly with the NEPAD Secretariat"
Expectations of State/Government/Policy Makers
One major concern of governments is the issue of disclosing information on the operations of the mining companies. Just as the companies abhor corruption on the part of bureaucrats, so do governments abhor concealment of information with the intention to cheat the nation. The regulator would also like to see the industry use good and globally competitive practices, respect for human rights, fair labour practices, conformity with good environmental practices and support for the communities in which the mines operate.
Governments would like to tax the industry to support their budgets. However, the cow must not be milked to death. They would also like to encourage the industry to add value to the raw local minerals; for example, alumina from bauxite for an integrated aluminium industry and refining of gold. In order to reduce importation of spare parts to save foreign exchange, the industry is being encouraged to manufacture parts locally.
Expectations of Civil Society Organizations (CSOs)  
Most of these organizations expect that the communities affected by mining investment should necessarily be the main beneficiaries of the abundant and proven mineral resources through direct benefits, such as, revenue accruing from equity participation, royalty and taxes, as well as, indirect benefits through employment, skills, technology transfer, growth of subsidiary industries and services, development of economic and social infrastructure, such as, education, health, water and sanitation, resettlement, fair compensation for lands and crops—the catalogue could be longer than this. The communities demand an improved system for the management and distribution of revenue due them.
The CSOs feel that low royalties are not in the interest of the communities as they protect the commercial interests of investors. They contend that the human rights of the communities are sometimes abused as restrictions are imposed by state policy and corporate practices on the people. They feel compensation payments are unfair and hardly adequate. They have indeed called for a national forum on revenue sharing and an integrated and national strategy, with rural development as key element. As for the damage, both real and perceived, that is being done to the environment, more often than not, complaints are routinely made to the Commission on Human Rights and Administrative Justice (CHRAJ), which carries out investigations into them and rebukes the mines whenever necessary.
Challenges
In an Executive Opinion Survey 2008, carried out by the Ghana Association of Industries (AGI) in cooperation with the World Economic Forum, 101 CEOs who were interviewed ranked the following five as the top challenges to business: Access to Finance; Infrastructure; Bureaucracy; Work Ethics Labour and Corruption.
For the mining sector in Ghana, one may add the challenges posed by illegal mining on legally established mining company concessions, the pro-environment/anti-mining caucus, resentment on the part of the communities in which mining takes place, excessive demands on the companies for infrastructural and social services and disagreements over compensation payments by the mining companies to the communities for lands, buildings, crops, etc; which may be affected by mining operations. The Ghana Chamber of Mines has taken this issue up and has called for a forum to look at the idea of standardization of compensation rates.
Conclusion
In his paper on the Mining Sector which appears in the NEPAD BUSINESS FOUNDATION-THE OFFICIAL NBF BUSINESS GUIDE 2007, the Chief Executive Officer of the Chamber of Mines of South Africa, Mzolisi Diliza, sums it all up aptly when he outlines the objectives of NEPAD in relation to mining: -To improve the quality of mineral resource information -To create a regulatory framework that is conducive to the development of the mining sector -To establish best practices that will ensure efficient extraction of natural resources and  minerals of high quality.
NEPAD envisages measures such as harmonization of policies and principles of value addition to realize the above objectives. I believe the stakeholders, namely the private sector, government/policy makers, and civil society, recognizing the important role of mining in socio-economic development, have to dialogue and work towards achieving measures that would promote good governance, appropriate economic and financial policies, strong institutional and human capacity that engender the development of the industry. The challenges are many and formidable.
However, having been spurred on by the fire of the Obamian spirit, Africa will overcome. In Africa's effort to take advantage of its natural endowment, the issue of potential damage to the environment, global warming and climate change will have to be seriously addressed.
By Sam Poku

CEO, West Africa Business Association