It's a Looting Spree for Africa's First Families
Published on 23rd March 2009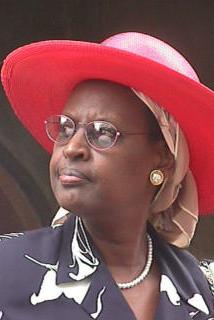 Mrs. Museveni       Photo:Courtesy
I saw red when Janet Keinembabazi Kataha Museveni, the wife of Ugandan despot was appointed a minister in charge of the historically impoverished and semi-arid north-eastern Karamoja region that her husband ruined. I sensed something nasty because Idi Amin never attempted this mania.    
The husband is President. Sadly, the wife is First Lady, minister and an MP! To add insults to injury, the son's an army commander of his elite group! Museveni's younger brother, Caleb Akandwanaho, is senior presidential advisor on defence. His daughter Natasha Karugire, is private secretary to the president. This, among others, is an inner-inner sanctum of Museveni.    
Hold your breath.There are still other surprises of other swindlers. When asked why he appointed his wife to ministerial position and if this was not nepotism, Museveni gave hoo-ha and hogwash that no person was ready  to take up this post! This is Museveni position. Mrs Museveni, on the other hand says she's sent by 'God' to fulfill this 'difficult role that others fear'- to serve Karamoja! This is the second time 'God' has sent Mrs. Museveni. The first time was when she was running for Ruhaama consitituency. She alleged that she was sent by God to serve the people of Ruhaama. In other words, Museveni is 'God' and Uganda is the kingdom of 'God' on earth.
In future, she'll say that she's been sent to serve the whole country. This is possible. Maybe, this aims at preempting the whole plot. Currently Yoweri and Janet are like yin-yang to Uganda. They are everything and everywhere.   After turning Uganda into his private estate, Museveni by appointing his wife, broke the record. Methinks, this is paving the way to appointing his soldier son major Muhoozi to take over as it happened in DRC, Togo and will soon happen in Egypt.                                                                  
Museveni must have appointed his wife to measure the waters. He wanted to assess the reaction of Ugandans and the world on this. This, though, seems. It's likely that  Muhoozi and his step-mother might be in a power struggle. Maybe, Museveni appointed his wife to assure her of his support or to tell his son: his time is still yet to come.    
The story of family empires by African leaders does not end up with Museveni. In Kenya, Kibaki's empire is in tussle with Paul Muite, a former MP. The game goes on. In Tanzania , Salma Jakaya Khalfan Kikwete, first lady and member of ruling party central committee of CCM and the chair person for WAMA is stealing thunders. Since her husband ascended to power, she has been using her NGO to mint and print money just like her predecessor Anna Mkapa who's currently under fire thanks to amassing ill-gotten  riches.     
Like Museveni, Kikwete's greed for power is an open secret. His son Ridhiwan Kikwete is openly groomed to rule. He is among the top people in the Youth wing of ruling Chama Cha Mapinduzi (UVCCM). He's also a member of ruling party central committee. Ridhiwani like Muhoozi, Gideon Moi and other sons of dictators, has already proved to be a power to reckon with. Recently his law partner, Lawrence Masha, was appointed minister for home affairs without any gist of experience. Their firm is alleged to have benefited from T Shs 8 billion from the bone-chilling theft at the Bank of Tanzania (BoT) known as EPA. Other kids of biggies in Tanzania currently serving in upper posts are Emanuel Nchimbi (Deputy Minister son of party cadre), Dr. Hussein Mwinyi (Full Minister, son of former president), Amani Karume (President of Zanzibar, son of former president) to mention but a few.   
In the president-first-lady-and-kids axis of evil, Anna Benjamin Mkapa scores high marks. She amassed wealth by abusing her husband's power. Tanzanians are agitating that she should be brought to books. She purchased many government houses at throw away prices. There are unpaid loans involving millions she got from public banks. Some of the banks like National Bank of Commerce were sold to investors. The national power utility TANESCO is bleeding to death after Mrs. Mkapa's brothers ushered in a bogus company from South Africa-Net Group Solution.   
Different from other first ladies, Mrs. Mkapa did not vie for any public office. Instead she used the state house and NGOs to solicit money. Recently one senior former minister, Prof. Simon Mbilinyi and other CCM supremos came forth and required that Mrs. Mkapa be held responsible in lieu of her husband reminiscent to sabotaging the nation.Were it not for the fact that   president Jakaya Kikwete has questionable deals too, the Mkapas would be behind the bars.
Azeb Mesfin Meles Zenawi (nicknamed Queen of Mega thanks to heading mega corporations in Ethiopia  wraps up our list today. Others call her the Queen of Mega Corruption), a first lady, business woman and an MP representing her home district of Wolkait. Like Salma Kikwete, most of her fortune is made by using the office of her husband. 
Conclusion: Although African potentates seem to be smarter and are feared by their people, behind the curtains, they are mere babies before their spouses! Guess what? After former Zambian first lady, Vera spilled the beans; many African thieves-in-chief decided to conspire with their wives in order to avoid this Vera danger. Others are 'in hand' just because they are unfaithful in their marriages. So, to calm down their wives, they just allow them to do whatever they want to avoid squabbles at home.