I am certain that all of us fully recognise the historic importance of the Sudan Comprehensive Peace Agreement, the CPA, and the framework it set for the resolution of other conflicts in Sudan. Again as we all know, the late and outstanding African patriot, Dr John Garang de Mabior, was one of the principal architects of the CPA.
I would like to cite some comments that John Garang made. Speaking in Nairobi on June 5, 2004 at the ceremony held to sign the Nairobi Declaration on launching the Final Phase of the North-South negotiations, he said: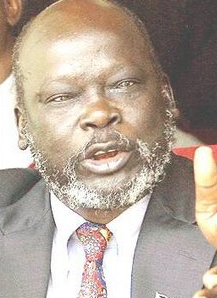 Dr  Garang               Photo: Courtesy
"Sudan's fratricidal wars, you all know, have been going on for 38 years of our forty eight years of independence since 01/01/1956. At certain points of time, it appeared as if the whole country - not only North and South, but also East and West – was about to be engulfed in a bottomless pit of conflictual hatred. I must at this point tell you, that nobody abhors war more than those who lived through its horrors, ordeals, pains and tribulations. The civil war in Sudan not only ravaged the resources of the country and sapped national strength, they, if continued wantonly, would have ended up impoverishing the nation's soul and causing a total national moral collapse and final disintegration of the country. All these wars will now be behind us as a new era of peace is about to dawn in a New Sudanese political dispensation….
"We believe also that we can not talk about peace and development in the Sudan while some regions in Sudan are bleeding with civil strife. Darfur is a case in point and the situation in that region is a classical case of marginalization and exclusion. The parties must denounce and avoid the use of military force in Darfur or any other part of our country, for no amount of military force shall be enough to address such problems, as we have seen in the case of the South.
"Only through political dialogue can the problem in Darfur be resolved. Indeed this is the meaning of the preamble to the declaration which we have signed today that the Parties: "reiterate their determination to continue resolving the root causes of conflict and violence in Sudan which inflict hardship and suffering on the people and seriously hamper the prospects for economic development and the attainment of social justice in Sudan".
Just over a year later, on July 9, 2005, speaking in Khartoum during the Inauguration of the Sudan Collegiate Presidency, John Garang said:
"Sudan's independence on 1st January 1956 was not complete because there was war in the South. By the same token the CPA will not be complete and comprehensive for as long as there is war in Darfur and Eastern Sudan, and the SPLM and NC must do everything necessary to bring a fair and just political settlement in Darfur and Eastern Sudan in the shortest time possible…
"I appeal to all Sudanese for reconciliation, to forget past grievances and rebuild trust. Let us reconcile across the lines particularly ethnic, religious, cultural and political. Let us have continued South-South dialogue, North-North dialogue, East-East dialogue, Center-Center dialogue, Darfur-Darfur dialogue and Sudan-Sudan dialogue…
"Let us work for peace and stability all over our country. We must address immediately five political and security concerns to achieve this. We must achieve a fair and just political settlement in Darfur and Eastern Sudan…"
I am certain that when Dr Garang spoke as he did, about a "just and honourable peace (which) shall heal all the wounds that we have inflicted on ourselves on both sides," about regional and national reconciliation, about ending marginalization and exclusion, about development and social justice for all the people of Sudan, he reflected the deep-seated hopes of the overwhelming majority of the Sudanese people. I know also that he spoke for all of us as Africans, who share a common resolve to end all violent conflicts not only in Sudan, but also everywhere else on our Continent.
It was important that John Garang, having spent 22 years "in the bush" as he put it, leading a guerrilla war, should have spoken as he did, because of his direct and intimate knowledge of the terrible cost of war and therefore the immeasurable value of peace.
Indeed, as he said, "nobody abhors war more than those who lived through its horrors, ordeals, pains and tribulations."
It was important also that when Dr Garang spoke on July 9, 2005 to welcome the formation of the Collegiate Presidency, he said:
"I greet you on behalf of our fallen martyrs on both sides. I greet you on behalf of the injured, the orphans and widows on both sides, and on behalf of all those Sudanese who perished in the war, and those who lost their loved ones and property in the protracted and violent conflict."
These are the victims of war, some of whom would have been casualties during the commission of war crimes, crimes against humanity, and other abuses that violate international humanitarian law, conveying a humiliating image of Africa as a barbaric continent.
Our continental organization and our Mandating Authority, the African Union, has taken the clear and unequivocal decision that the Continent must act not only to end war and violent conflict in Africa, but also to ensure that where war does anyway break out, all belligerents must know that war crimes, crimes against humanity and other abuses will be punished resolutely, and that a culture of impunity will not be permitted to take root and entrench itself.
In this regard, one of the Principles contained in the Constitutive Act provides for "the right of the Union to intervene in a Member State pursuant to a decision of the Assembly in respect of grave circumstances, namely: war crimes, genocide and crimes against humanity…"
On July 5, 2005, in Abuja, Nigeria, the Government of Sudan, the Sudan Liberation Movement/Army and the Justice and Equality Movement signed a "Declaration of Principles for the Resolution of the Sudanese Conflict in Darfur." 
In this Declaration, the signatories "stressed the need to reach a political solution in order to bring the conflict in Darfur to an end", indicated that "the core of the current conflict in Darfur is political and socio-economic…(and) can only be resolved through peaceful means", stressed their "commitment to respect international humanitarian law and promote and protect human rights, including the rights of women and children, as part of the efforts to address the prevailing situation in Darfur", and underlined that "the promotion of reconciliation, the restoration of the traditional and time-honoured peaceful coexistence among the communities in Darfur, based on the principle of mutual respect, and the commitment to prevent future divisions are essential to restore and sustain lasting peace and stability in Darfur."
The AU High-Level Panel has been charged with the task to advise the African Union about what should be done urgently to realise the objectives which the belligerents in the Darfur conflict had set themselves almost four years ago.
However, in a September 14, 2007 article in the US Washington Post, the UN SG, H.E. Mr Ban Ki-moon, advised against a simplistic approach to the conflict in Darfur. He wrote:
"We speak often and easily about Darfur. But what can we say with surety? By conventional shorthand, it is a society at war with itself. Rebels battle the government; the government battles the rebels. Yet the reality is more complicated. Lately, the fighting often as not pits tribe against tribe, warlord against warlord…
"Darfur is also an environmental crisis – a conflict that grew at least in part from desertification, ecological degradation and a scarcity of resources, foremost among them water…
"There can be no single solution to this crisis. Darfur is a case study in complexity. If peace is to come, it must take into account all the elements that gave rise to the conflict…We need a social contract for peace…
"Solutions cannot be piecemeal. The crisis grew from many causes. We must deal with all of them – security, politics, resources, water, and humanitarian and development issues. 
"Dealing with complexity makes our work more challenging and difficult. Yet it is the only path to a lasting solution."
I believe that we, the AU High-Level Panel on Darfur, would do well to pay close attention to the important observations of the UN Secretary General, as I am certain we will.
In the July 9, 2005 speech which I have cited, John Garang said: "I want to say to all Sudanese that you are free: the CPA and the Interim National Constitution contain a bill of all your rights, human, political, social, religious and cultural. You are free. So, oh Sudanese open your wings and fly, fly and fly to more freedom, to the New Sudan of freedom and justice for all."
The High-Level Panel will do its best to help bring Darfur into the New Sudan of freedom and justice for all.
By Thabo Mbeki,
Chairperson, African Union High-Level Panel on Darfur (AUPD)