Coalition Government: Are Youths Bracing for the Riot Act?
Published on 5th May 2009
Just who is to blame for the endless bickering and impasse between Kenya's so called 'Principals'?  The uprooting of a section of the Kenya-Uganda railway by Kibera youths and threat to forcefully evict Uganda's envoy to Kenya in protest of Uganda's encroaching on Kenya's soil is a reminder to Kibaki and Raila to pu their house in order.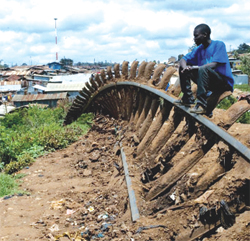 An uprooted railway line in Kibera   Photo:Courtesy
As 10 million Kenyans continue to face starvation unabated, KSh.140 million is being dished out by the treasury in aid of establishing who the true owner of Migingo Island is. This is in spite of the fact that colonial maps are  very clear on the issue. This may not help much since the die is already cast. 
The government should come to terms with the fact that the frustrated youths (most of them jobless) aren't just protesting about Migingo, but the deplorable social and economic decay facing the country.  Firstly, the size of the young population is daunting. People below the age of 35 make up about 75% of our population. People above the age of 55 make up only 6% of our population yet the 75% population is disempowered and unemployed. Nearly all policies formulated by the government (including the raising of the retirement age from 55 to 60 and extending contracts of people living in their sunset years) are geared towards the comfort and convenience of a minority and ageing generation.
Retired military officers, diplomats, NGO operatives and Politicians are applying for jobs in the many commissions that have sprung up in the last one year.  Kenyans' future cant be secured if the recourse is always to appoint older Kenyans to fix the mess of their peers. Kenya is not a gerontocracy- a system of government in which elders are chosen as rulers.
The government's answer to youth empowerment has been to give 30 000 youths out of a million-plus who are unemployed loans to start small enterprises.
The protests in Kibera should be a wake up call to the two Principals that we have a young population that has refused to accept the status quo and will do whatever it takes to change it themselves.
Given the historical wars between Uganda and it's neighbours in the recent past, it's obvious that Museveni has realised there's a power vacuum in Kenya.Having come to power himself through waging war, his advances on Migingo should not be wished away as a storm in a cup of tea.
Can we entrust our safety to Kenya's Executive? That's a question that many Kenyans are panicking about. If  the ongoing ethnic massacre in the country  is anything to go by, one doubts the credibility of the government with all its instruments of power. Who is in control?
By Khaemba Situma
The author is a Kenyan Based Journalist and comments on topical issues