The first time you meet Derek Bbanga, the African Representative of Public Image Inc., you see refinement, finesse and gentility. Derek is going an extra mile, realizing that Image and Etiquette are unfamiliar concepts in the local business scenes. He is taking it upon himself to impart knowledge to local professionals and entrepreneurs. He not only talks about etiquette but walks the talk. Janet of The African Executive magazine had the privilege of talking to Derek about Public Image and its impact on this continent and beyond.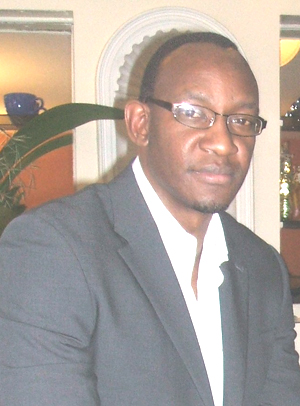 Derek Bbanga                           Photo:Courtesy

Janet: What was your experience at SIFE Kenya competition?
Derek: It was great to see young people coming up with innovative ways of helping their communities. During my days in the university, I did not have such an opportunity to make such a difference. It was well worth my Saturday.
Janet: Tell me about Public Image's origin and target clients.
 
Derek: Public Image provides a whole range of services including international protocol, image building, public relations, media management, communication skills and management training. Public Image was founded in 1982 in the UK.  It was the first organization in the field of image building to achieve approval by the British House of Commons for advising Members of Parliament on how to present themselves publicly and on television when cameras were introduced into the House  Public Image clients hail from all over the world. They range from politicians, CEOs, lawyers, academia, accountants, TV presenters, PR, HR, marketing professionals, customer service representatives, government agencies, small business people to international organisations.
Janet: What makes Public Image Inc stand out in the market?
Derek:  No one does the training Public Image does by blending business management with international etiquette, deportment and protocol. Public Image is much in demand as governments and businesses alike realise the importance of good communication and a properly delivered message when it comes to politics, commerce or international etiquette. 
Janet: What motivated you to bring this business to Africa?
 
Derek:  Upon returning to Kenya after spending some time living abroad, I  realized that business etiquette and protocol has not been taken seriously in this region.  Companies will either live or die  by the way they treat their customers. This is about leveling the playing field so that no-one is at a disadvantage when it comes to business. I realized that international etiquette is relevant for the local market.

Janet: So there is a link between business and etiquette?
Derek: Yes. Managers require a certain amount of polish, which means being familiar with the social graces.  A good sense of dress and knowledge of how to use their voices are also essential tools.  They should know how to conduct business abroad and how to navigate office politics that puts them at ease in any company. Public Image gives people the confidence to focus on their core business. 
Janet: What kind of reception is Public Image getting in the African Market?

Derek: The business is gradually being introduced in the East Africa region and the reception is positive as most people are willing to learn. Presently we are in Kenya and there are challenges which are not unique for any new business for instance structural challenges.
Janet: What would you advice African owned businesses if they are to fit in the global economic sector?
Derek: They should keep abreast of latest trends (technology) and do a lot of research on their business. They should make sure the business is relevant and up to date since we are living in the Information Age. The onus is on these businesses to make sure they keep up.
Janet: Should Africans adapt to western styles to be presentable ?

Derek: Public Image trains people in the international standard of doing business which is applicable   in most countries.  But where appropriate, we encourage adapting the cultural practices of the locals and to conform to their ways of doing business to make them (the customer/client) feel comfortable or feel at ease.
Janet: How are you coping with the economic meltdown?
Derek: Well fortunately, the meltdown hasn't hit this region as hard as in the West. However, I believe  during times of economic uncertainty or shrinking budgets customers will be much more demanding and training staff to be polished and deliver superior customer service will encourage repeat business and customer retention. 
Janet: Where do you see Public Image in Africa in 2020?
Derek: I believe we will be part of a booming and thriving industry. It will be the norm for companies to put all their employees through this type of training and also have schools adapting it as part of their curriculum. I'm hoping that this sort of training will become de rigueur  for governments and businesses alike. 
Janet: How would you explain Africa's poor image abroad? Is it Africa's own making and how can it be reversed?
Derek: Africa's poor image boils down in large part to poor leadership. The leaders have not taken advantage of the vast resources (natural or human) the continent is endowed with.
The way Africans communicate success stories also leaves much to be desired. We need to do a better job of using our media in Africa to showcase a positive image of Africa abroad.
Janet: What is your parting shot?
Derek: In this increasingly competitive global world , even the smallest business will most likely have to meet or correspond with business people from around the world.  With today's advanced communication technology and global marketplace, the workplace is becoming more international in nature.
Everyone, from business executives to corporate presidents and  business owners have at some time in their life to present themselves in situations that make them uncomfortable – and often the business occasions can be quite daunting. Part of making Africa a player on the world's stage comes from knowing the "rules" when it comes to doing business internationally. As I recently heard in an inspiring speech, it is essential for Africa's future to produce leaders who will contribute to the global economy and enable the continent to be a 'giver rather than an extractor.' 
 
Contacts
Public Image
+254 230 1879
+254 724 416 442
+254 770 112 257
derek.bbanga@publicimageafrica.com
http://www.publicimage.co.uk/