Value Addition: Key to East Africa's Growth
Published on 3rd August 2009
All of us know about the economic downturn the world has suffered in the past few months. Despite the consequences other economies suffered, East Africa remained unshaken, which is cause enough to show that this is the ideal region to invest in. The current global economic crisis is an opportunity for
East Africa
to fill the global void left behind.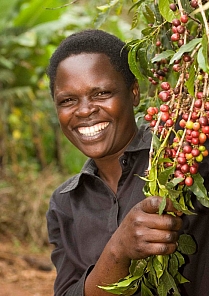 Ugandan coffee farmer    Photo courtesy
All the five Partner States are committed to boosting investments and opportunities in this region. At national and regional level, we have undertaken policy measures and infrastructure improvements to make a conducive environment for business to both local and international investors. 
At the time of the 1st Investment Conference, the EA Partner States were just two months into negotiating the EAC Common Market Protocol. Now we are two months to the end.  The Common Market will further present a bigger opportunity with easy access to factors of production and a market of 140 million. This shows that my colleagues and I are strongly committed to an economically powerful region to increase investments across the region as well as lift our people out of poverty.
East Africa is a very wealthy region whose resources have not been optimally exhausted for economic gain. Agriculture and value addition through Agro processing, tourism, water resources, minerals, infrastructure, energy and trade in services are potential areas for investment with high returns.
Economic gain in value addition
Figures can go up 10 times if you add value. For example, unprocessed coffee beans fetch US$ 1 per kilogram yet processed coffee, when exported, fetches US$ 20 per kilogram. Value addition on exported produce will help develop our economies more than foreign aid could do.
Here in East Africa, we are aware that in order to realise a successful degree of investments and trade development, many issues have to be addressed. The policies and infrastructure must be improved to make it easy and less costly to do business.
There are already ongoing efforts to put additional measures, to improve the investment climate.  These include: Amending and instituting new laws and policies geared at easing the cost of doing business and introducing new bills like the insolvency bill; company bill, free zones bill & Mortgage bill, just to mention a few.
We will put effort to make our Investment Promotion policies more conducive in both accessing information on investment areas and procedures. The red tape and corruption tendencies will not be allowed to cripple the region by scaring away investments. The EAC endeavours to put up mechanisms to regularly update on any challenges to be addressed and on emerging investment opportunities in the region.
Investments areas
Transport service and energy infrastructure are part of the cornerstone for accelerating regional growth and sustainable development. Access to markets is greatly facilitated through improved transport. At this point I would like to congratulate the EAC Secretariat for the Athi – Namanga road project. The EA region needs better roads, efficient railway and reliable water transport.
Of all infrastructure sectors, road and water transport have for long attracted the least private investment in developing countries.  Public – private partnership is particularly rare in the road sub-sector, notably due to highly perceived risks. Going forward, governments need to play a central role in planning, safety, security, competition and regulations. We need to take this seriously and agree as a region to prioritize rail, road and energy.  This will greatly lower the cost of doing business in the region.
The East African region has tirelessly worked to maintain a stable macroeconomic environment characterized by security of person and property. To date, instability in East Africa is defeated and no one will be allowed to destabilise the region.
EAC will undertake policy decisions to open up opportunities for the private sector investors to invest freely and make profits. These include liberalization of the production sector and encouraging investments in areas such as telecommunications and banking.
We need to put in place specific measures to attract foreign Investments and enact an EAC investment code. There is need to establish a Regional Promotion Investment Authority whose mandate should be to Promote the EAC as one Investment Destination and coordinate its programmes with the individual Partner states Promotion Authorities. However, I am glad that these initiatives already taking place given that this kind of forum serves the same purpose.
We also need to introduce tax incentives or tax relief initially to attract investments in specific strategic sectors of the economy. These will develop EAC and provide employment for East Africans.
It is our challenge to make our markets competitive if we are to develop. We need to steer our regional policies to encourage competitiveness and Investment friendly climate.  There are many untapped potentials in East Africa region.
H.E. Yoweri Museveni
President of the Republic of Uganda