Torrential Rains: When will Kenya Learn ?
Published on 22nd September 2009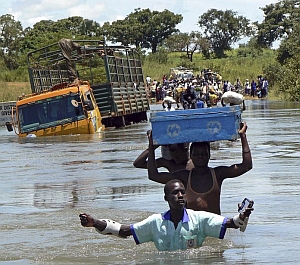 Floods wreck havoc                      Photo courtesy
This past week, the town  (or should I call it City) of Kisumu has been pounded by rains nothing short of those akin to the El-Nino periods seen not only in East Africa in the past, but also seen along the tropical belt earlier this year in the Asia Pacific region.
In the August 19-26th 2009 issue of  The African Executive (El-Nino is Coming : Is Kenya Ready?), being privy to some climatic change articles and mathematical modeling, the author wrote a warning about climatic conditions and put forward three areas which would be of benefit to cities and town in terms of heavy rain preparations. 
One of the areas was cleaning drainage systems which are present but clogged with slit, waste and grass in most if not all towns. Kisumu has only got a taste of the heavy rains and reading the final paragraph of the article in the East African Standard of the 22nd of September 2009 Four drown, millions lost in heavy downpour, one is treated with a feeling of déjà-vu! It was said, nothing was done, and so let's gear up for losses, death and destruction, many of which were avoidable.
Don't be fooled, the rains in Kisumu are only a taste of the havoc nature is sending our way, we have a couple of options: leave the status quo and look forward to more destruction, or get our act together and start behaving like we are in the land of the living.
Let us get ready to bury more people who have drowned, loose more property which is swept away by floods, and accept damaged good which have been submerged because of poor drainage systems. That of course does not include the diseases which will follow from sewage systems that will be overflowing into the very fresh water of Lake Victoria. Wake up Kenyans! This is not only going to hit Kisumu but all other towns as well.
This is exactly the kind of planning developed countries undertake to manage disasters and plan to minimize destruction and possible death. Why is it so difficult to plan in Kenya? Failing to plan is planning to fail! Let us wake up because mapambano (struggle) is right on our doorsteps.
By Isaac Choge
Director: Epidemiology,
Department of Health,
KwaZulu-Natal
South Africa.