Airport, Cairo, Egypt --Waiting for the connection to Sanaa, Yemen.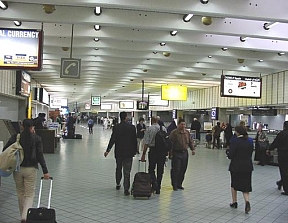 Inside Cairo Intl. Airport            Photo courtesy
I'm traveling with an Italian friend: he's white, I'm black. He talks, people try to listen and respond. I talk, people look the other way, pretend to listen, tell me to wait a minute and then they simply disappear. I decide to let him do the talking then. I've been here before.
We're sitting in the transit area. At one point, my friend eager to find a Lounge room to get a decent internet connection, leaves me and goes looking for it. He says he might have seen it one somewhere. After ten minutes, an airport staff member comes back with our passports telling us to proceed to the gate. So, I go looking for my friend. The transit area is small. I was in this airport few months ago; the only room where he might be is a small room with the sign: "VIP". I'm not sure he's there but I ask around.
Same looks, same indifference. I'm black. I'm talking, they pretend to listen. I've been here before. I ask:
"Sorry, is this the VIP area?"
They look at me, stare for a second and then ask me what I want.
"I think I have a friend in there, may I check, please?"
"Which friend?"
I'm now talking to one of the four people guarding the VIP area. The guy is small, has a green jacket and a pair of glasses.
"My Italian friend. He's white, tall. He told me he was going to look for a place where he could get an internet connection. I think he might be in here, may I check please?"
"I don't think you have any friend in here, this is the VIP. Are you flying business class, first class?"
 "No, but neither my friend..."
My blood starts...throbbing:
"O.k. Is there any other area where you could get an internet connection around here?"
"I don't know, ask the information desk."
I leave the guy with the green jacket, and his colleagues. I'm kind of used to this...I've been here before.
I go to the info desk, but they say there's no other area, so I walk around, ask around, and as I do it, I go all over the place trying to find my friend. We have a plane to catch. We have to change gates and I have his damned passport. As I go around, always more pissed off, I pass a few times by the small-brown door with "VIP" on it, and try from the distance, to peep in to see whether my friend is actually there. I find myself a bit stupid going back and asking again the same question. But nothing, I can't see too much from the outside.
After a few minutes, I decide that it might be a good idea to call him on the loudspeaker of the airport. Explaining my problematic predicament, I therefore ask to the info-desks and the airport-staff if they can call my friend.
Always the same looks like: "What does this (black) man want?".
"So, can you call my friend?" I ask one of the people behind the desk.
"Where are you coming from?" He asks while getting the passports from my hand.
I repeat the whole thing, "I'm coming from Nairobi, I have to go to Sanaa, I lost my friend, I need to call him, we need to change gates."
Finally he says: "Wait a minute..."
He literally goes away and starts talking to a colleague of his. Silly me, I think that he's discussing the matter with him. Arabic, I don't understand a word, but I slowly get the disturbing feeling that he's not really interested in helping me. I wait for a minute, then two, then three, looking at him, at his indifference...my blood is always throbbing, pumping in my veins. Jerk.
At one point, paradoxically, is the colleague of the jerk that is actually turning around to ask me what I want, since I've been standing there for five minutes, waiting for news. I tell him that I asked the person in front of him to help me find my friend by calling him on the loudspeaker (I'm becoming mad, I know what's happening, but I can't go away with my friend's passport).
I wait for another two minutes, always there, in front of the jerk and his colleague. The colleague turns around again and asks me for the second time, if I needed any help, while the jerk is talking to a lost Somali client, treating him the same way he's just treated me: complete indifference.
The colleague tells me to ask to the VIP room staff. I tell him that I did that already and that they wouldn't let me check if my friend is there. So, he comes with me and I'm back, right at the beginning. He explains my situation to the four guys in Arabic. This time, they listen. He talks to the guy in the green jacket, this time he listens. They ask me my friend's name and surname, they call the loudspeaker-girl by phone. With a soft voice, after a few seconds, she  pronounces my friend's name.
Now the whole airport listens. I'm discouraged though. I feel like he'll never hear that, the voice is too soft. But I also feel that if he did hear that, grab his laptop and get out of the VIP room, I'd probably storm the airport down. My blood is pounding; the veins in my head are trying to limit its flow. I'm staring at that VIP sign, at that little brown door that I can't enter, and just like in a fable. My friend appears.
"So you've been here the whole time" - I ask... - "I've been looking for you for half an hour, they gave us our passports, now we can go."
He says: "Ok, sorry, let's go!"
I can't. This time I can't. In Italy I got used to let it pass. But not today.  Not now.  Not in an African airport. I can't just let it pass like that.
I look at the guys in front of the VIP door and try to control myself, as I always do in these occasions. I look at the guy with the green jacket and I feel like I have only one question to ask him. I start approaching the counter and I ask to all of them, but actually just looking at him:
"Why you didn't let me check?" The guys stare at me, speechless, motionless.
We all know the reason why, except for my friend maybe. I ask him again:
"Why you didn't let me check. Why you didn't let me check, why you didn't let me check, WHY YOU DIDN'T LET ME CHECK!"
I stop and stare at him, in his stupid little pair of eyes, just for a few seconds. I'm angry and I don't enjoy what I see.
He mumbles something and I go away, to write and catch my flight.
By Matteo Fraschini