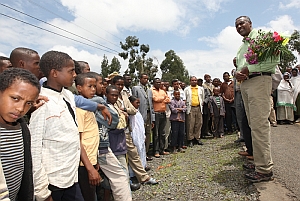 Prof. G. Ejeta in his home village    Photo courtesy
Ethiopian sorghum breeder and 2009 World Food Prize Laureate Professor Gebisa Ejeta was awarded the National Hero Award, his nation's highest honour by Ethiopia's president, H.E. Ato Girma Woldegiorgis. This is the first time the award has been given to an Ethiopian for work in science and technology.  
Prof Ejeta received the honour at a 'Dialogue on Agricultural Development in Ethiopia' organized by the Ethiopian Ministry of Agriculture and Rural Development and supported by the International Livestock Research Institute (ILRI) and other organizations in his honour. The Dialogue was opened by H.E. Ato Girma Woldegiorgis, President of the Federal Democratic Republic of Ethiopia. 
President Woldegiorgis called Ejeta, "an Ethiopian champion whose prize is a commitment to others." 
"Through much of our history, we have made scientific discoveries. With this recognition of Dr Gebisa, we reclaim that history," said President Woldegiorgis. 
In his welcome address, H.E. Ato Teferra Derebew, Minister of Agriculture and Rural Development, noted how much the Ethiopian Government has emphasized agriculture in its development program and said, "Gebisa represents a new generation of agricultural researchers. The farming and pastoral societies of Ethiopia are grateful." 
In response, Prof Ejeta announced that he will use his USD250,000 World Food Prize award to establish a foundation that will help meet the educational needs of Ethiopian and other African children and to establish an annual dialogue in honour of his friend and mentor, Dr Berhane Gebre-Kidan, formerly of Ethiopia's Alemaya College of Agriculture, which is now Haramaya University.  
At his palace reception, Ejeta was visibly moved by his country's honour. "To receive from my country the highest recognition any Ethiopian can receive is overwhelming," said Ejeta. "All other recognitions I have received I have taken on behalf of the causes I have served. But I am happy to take this particular recognition personally." 
The 2009 World Food Prize was presented to the Ethiopian-born plant scientist, now an American citizen conducting research at Purdue University, at a ceremony in Des Moines, Iowa, on 15 October 2009. The prize, which comes with a USD250,000 award, is given annually to people who have helped address the world's food needs. This year's prize honours Ejeta's life-long work to improve the production of sorghum, one of the world's most important grain crops. It also honours his efforts to make his discoveries matter to the farmers who need them the most. 
Prof Ejeta has spent his entire professional life in research to reduce threats to Africa's food crops. He applied his talents to fighting a weed called Striga, or witchweed, which threatens crops that feed more than 100 million people across sub-Saharan Africa. Ejeta says the parasitic weed can ruin fields of sorghum, a major staple in hot, dry regions of Africa. 
Researchers had tried for years to control the weed without much success. Its seeds can lie dormant in the soil for decades. But Ejeta and his team at Purdue University discovered the chemical signals produced by the sorghum plant that "turn on" the Striga seeds and bred a line of Striga-resistant plants that thrived in many of African growing conditions. These new varieties produced up to four times more grain than local types, even in drought-plagued areas. 
With this research breakthrough, Ejeta immediately set about ensuring that his disease- and drought-resistant varieties were made available to the African farmers who needed them most. Once the new variety was developed in 1994, he worked with non-profit groups to distribute eight tons of seed to twelve African nations. 
Carrying research to the next level is typical of Prof Ejeta, who has always understood the importance of getting technology into the hands of African farmers. Just out of graduate school, he bred a high-yielding, drought-tolerant variety of sorghum. When the new hybrid variety was introduced in 1983, Ejeta worked with Sudanese farmer cooperatives to scale up production of his drought-resistant sorghum. 
Today, Ejeta is working with local partners to connect brewers, bakers, and flour millers with farmers growing the improved sorghum. By working along the entire chain, from farmers' seeds to consumers' plates, his work is helping to lift people out of poverty and hunger. 
Ethiopia's challenges and opportunities 
In his presentation, Prof Ejeta spoke about Ethiopia's role in enhancing science-based  development in Africa. Whereas most African governments have invested too little to create impact, he said, Ethiopia is an exception. 
"No other African country has committed more internal resources to agricultural development," Ejeta said. "I have grown positive about Africa lately. Ethiopia is at the cusp of a major agricultural revolution. Ethiopians are among the most resourceful people I know. They can focus and get it done." 
However, Ejeta expressed concern about uncoordinated national agricultural research frameworks and what he called the "seasonality and fragmentation of development efforts."  
"For too long we have relied on external funding," he said. He warned of the tendency of non-governmental organizations to lobby for boosting social service spending and the susceptibility of donors to embracing paradigm shifts, from sustainable agriculture in the 1990s, for example, to today's integrated value chain approach. Such frequently changing paradigms, he said, "have led to a series of failed starts and are partly responsible for our lack of traction on the ground in agricultural research for development." 
"African science-led agricultural development needs to be country led," he said. "Our country programs must be front and centre, with international agricultural research institutes and non-governmental organizations working to support them." 
Ejeta advised the Ethiopian agricultural research-for-development community to "Loosen up, be open and take risks" and to focus on three things: accelerating technological development, investing in institutions and pushing for policy and ownership. 
Panel on climate change and African agricultureIn a panel on the challenges for Ethiopian and African food producers in the face of climate change, Mr Mafa Chipeta, regional director for United Nations Food and Agriculture Organization in the horn of Africa said, "Climate change is likely to worsen our food security problems. Climate change could become just the latest excuse for Africa not to be food sufficient." 
"Africa must become master in its own house. It must stop feeling entitled to free assistance. It must invest its own resources. Only then will we get a future that we drive," he added. 
Dr Carlos Seré, Director General of the International Livestock Research Institute (ILRI), whose principal campuses are located in Ethiopia and Kenya, spoke of the need to enhance the capacity of societies to learn quickly and respond to climate and other changes.  
"I don't think there is a trade-off between climate change and food security," Seré said. "Agriculture and climate change have much in common. Agriculture must be central to climate change discussions." 
"There will be a lot of variability in how the climate changes. Ethiopia has greatly diverse farming regions. It has great biodiversity," said Seré. "How can we use cutting edge science to understand that diversity and use it better?" 
Lessons learned in one place may be valuable in another, according to Seré. "We need to empower people at the local level to provide solutions. Science can quicken this work. The centres of the CGIAR have been working side by side with the Ethiopian Institute of Agricultural Research and other institutions in this country. We stand ready to deepen our cooperation with the diversity of institutions in Ethiopia." 
Regular dialogue beginsDr Berhane Gebre-Kidan, one of Prof Ejeta's mentors, closed the dialogue with a call for more support to research institutions and the "land grant philosophy," which combines education, research, and extension in the development process. 
"I wait for the day," Gebre-Kidan said. "When this triangle is recognized in each of our colleges of agriculture. We are recognized as a country unable to feed itself. We have to change that image. We have a world-class scientist in the person of Prof Gebisa Ejeta, which we can exploit. We need to establish a think tank that will think outside the box about Ethiopian agriculture. We need to institute a regular dialogue to move Ethiopian agriculture forward."
Courtesy: ILRI.