By Keith Harmon Snow
Keith Harmon Snow is a war correspondent, photographer and independent investigator, and a four time (2003, 2006, 2007, 2010) Project Censored award winner. He is also the 2009 Regent's Lecturer in Law & Society at the University of California Santa Barbara, recognized for over a decade of work, outside of academia, contesting official narratives on war crimes, crimes against humanity and genocide while also working as a  genocide investigator for the United Nations and other bodies.
Rwandan Defense Forces Flown into Western Congo Defeated; Kabila Regime under Siege on Multiple Fronts
With the east of the Democratic Republic of Congo (DRC) engulfed in bloodshed and terrorism due to the secretive occupation and expansion by the Rwandan regime of Paul Kagame, Congo's President Joseph Kabila has reportedly requested an immediate emergency military intervention from Belgium to crush a growing rebellion sparked by resistance forces in the far western Congo.
A rising alliance calling themselves 'The Resistance Patriots of Dongo' (Patriotes-Résistants de Dongo) has gained currency and recruits after Congolese people learned that the Dongo resistance forces were fighting against Rwandan Tutsi troops in the little frontier town of Dongo.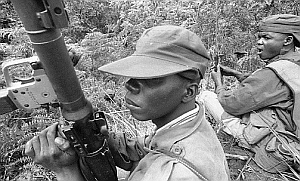 Armed Forces of the Democratic Republic of Congo in joint FARDC operations with United Nations (MONUC) troops in South Kivu. Photo keith harmon snow June 2005.
Sources in Congo's capital Kinshasa report that an emergency 'crises' meeting was convened in Brussels on Friday, November 28, 2009, after a distress call was sent by Congo-Kinshasa President Hypolitté Kanambe, known to the western world by his
alias
, Joseph Kabila Kabange. According to intelligence sources, the Belgian military attaché in
Kinshasa
has been instructed to lay the groundwork for the arrival of a detachment of elite Belgian Armed Forces (BAF) paratroopers as soon as possible, before mid-December.
Sources in Kinshasa report that in mid-November President Joseph Kabila secretly airlifted a battalion of Rwandan Defense Forces (RDF) across
Congo
to put down the small rebellion. The operation involved multiple flights in November and was supported by the United Nations Observers Mission in Congo (MONUC) and the U.S. Africa Command (AFRICOM). The RDF forces, moved to
Congo
from
Rwanda
exclusively for the operation, were uniformed as FARDC troops.
1
Pitched battles involving RDF occurred in past weeks on November 22-24 and November 26-28 in the Dongo region. Along with RDF regulars, MONUC troops from the supposed international 'peacekeeping' mission have been fighting alongside Tutsi Rwandan soldiers infiltrated by Rwanda, with the Kabila government's support, into the national army, the Armed Forces of the DRC (FARDC).
Equateur Province achieved a relative peace by 2004 and the majority of United Nations Observers Mission to Congo (MONUC) troops pulled out by 2005. Médecins Sans Frontières (Doctors Without Borders), the humanitarian organization that had worked in Equateur Province from 1992, disregarded their own reports about the state of the health emergency and mortality in Equateur and abandoned the population in 2006.2
On December 2, 2009 the remote strategic airport town of Libenge, near the Central African Republic, fell to the new rebellion, which is expanding and spreading with foreign backing. Towns in Equateur Province have been falling one by one to the rebellion, sending Kinshasa's elites into a scramble on December 3 and President Kabila into a security panic.
Now the entire
Congo
has been launched into a state of massive fear, warfare and insecurity—and the house of cards—propped up by western corporations and military—comes tumbling down.
The international media has completely blacked out this story, reporting only an ethnic conflict over fishing rights. Faced with almost two months of suppressing information about the Dongo crisis in Equateur, MONUC is faced with the prospect of full disclosure—or launching another massive campaign of damage control and disinformation.
Monuc Hides Equateur Conflict
The Tutsi forces in the FARDC include infiltrated RDF and 'ex-'CNDP forces from the National Congress for the Defense of the People (CNDP), the extremist terrorist militia that sprouted out of the Kivu Provinces, but is heavily backed by Rwanda and infiltrated with thousands of extremist Tutsis.
Thousands of CNDP militia forces were integrated into the FARDC military in 2009, in a strategic maneuver championed by James Kabarebe and Paul Kagame and their U.S. and U.K. backers. These 'ex-'CNDP wear FARDC uniforms, with some units commanded by FARDC officers—whose loyalty might first be to Congo, and not Kabila—while others are commanded by 'ex-'CNDP officers serving Kabila but loyal to Rwanda.
The CNDP is one of the pivotal causes of the massive destabilization of eastern Congo, along with the many other Rwandan and Ugandan interests maintained by the organized crime networks run out of Rwanda (Paul Kagame) and Uganda (Yoweri Museveni). The formal military integration process involving so-called 'ex'-CNDP forces is resented by many Congolese and Rwandan people as a logical step in the secret plan by Tutsi extremist forces to dominate both the Democratic Republic of Congo and the Great Lakes region.
Rwandan Defense Forces are not exclusively Tutsis, but are controlled and highly regulated by the secret extremist Tutsi network maintained by Paul Kagame, James Kabarebe, and others of the 40 top war criminals indicted by the Spanish court on February 6, 2008. Much ado is made in the international press, based on propaganda cranked out by the Kagame regime and its supporters that Rwanda's is a power-sharing government, that Hutu-Tutsi reconciliation has been a huge and lasting success, and that the RDF and intelligence services are comprised of non-Tutsi.
Anyone who remotely steps out of line, in or out of Rwanda, will immediately be targeted, accused of genocide revisionism, negationism or participation in 'the genocide' itself. 
President Kabila reportedly asked Central Africa Republic (C.A.R.) president Francois Bozizé to intervene and flank the resistance forces through the remote frontier town of Zongo, DRC, also in Equateur Province, across the border from Bangui, the C.A.R. capital. The two presidents share a common enemy, Jean-Pierre Bemba and ex-forces of the Movement for the Liberation of Congo (MLC). Jean-Pierre Bemba is under arrest at the International Criminal Court, thanks to Bozizé and Kabila, charged with war crimes in C.A.R.
Bozizé is occupied with his own insurrections and guerilla insurgencies in C.A.R., having come to power by force in March 2003 coup d'etat against Ange-Félix Patassé, C.A.R. president from 1993-2003. Patassé, in exile in Togo, will clearly be an interested party in the Dongo rebellion, given Kabila's relations with Bozizé. Military and intelligence from France, U.S. and Chad all meddle in C.A.R.
Kabila is reportedly furious at Congo-Brazzaville and its President Sassou-Nguesso for allowing veteran rebel guerrillas to attack Congo-Kinshasa on its western Oubangi River frontier (see map).
An Alliance Across the Vast Congo
The very first military intervention by U.N. Blue Helmets, anywhere, occurred in the Democratic Republic of Congo during the secession of Katanga Province (1960-63). The U.N. occupied Congo again in the 'Congo Crises' (1964-66). Both occupations involved Belgian paratroopers and other western mercenaries. The Congolese people were shafted.
These illegal foreign occupations by the 'international community'—under the guise of the United Nations—served to insure western control of the diamond, copper, uranium and cobalt mines of Katanga and Kasai. Billed as 'peacekeeping' operations, this misnomer set the stage for present day misunderstanding of the true MONUC role as an armed combatant protecting the corporate interests or predatory western capitalism.
Now, fifty years later, following more than a century of Belgian-Anglo-American-Franco-Israeli big business profits and slavery in Congo—with ten million deaths under King Leopold (1885-1908), with a brutal Apartheid dispossession and military occupation under Belgian colonial rule (1908-1960), with countless deaths under the U.N. occupations of 1960 to 1965, with tens of millions of deaths under the U.S. client state regime of Joseph Mobutu (1965-1996), with more than ten million deaths since the Pentagon-backed invasion of 1996—the Belgians are reportedly again planning to rescue their military client-partnership in Congo-Kinshasa.
The elite Belgian paratroopers would be deployed first to Bangaboka Airport in Kisangani, in Congo's eastern Orientale Province.
Kisangani is the site for the V.S. Naipal novel "A Bend in the River and the proverbial 'heart-of-darkness' outpost where Henry Morton Stanley organized the genocidal red-rubber and ivory pillage for Belgium's King Leopold. Today, western-owned plantations and logging companies reap their high profits through mass slavery of Congolese people in the Kisangani region.
To conceal President Kabila's illegal Belgian intervention from international public opinion, Brussels, Kinshasa and MONUC plan to dress Belgian paratroopers as 'peacekeepers' to be deployed out of Kisangani as MONUC 'Blue Helmets' bound for Equateur and Dongo.
The leaders of the rebellion in western Equateur Province have reportedly forged an alliance with other disaffected Congo-Kinshasa forces in the eastern Kivu provinces. This alliance is united against the Kabila regime and its allies, including MONUC and AFRICOM.
Sources in Kinshasa report that the Patriotic Resistance Forces of Dongo are now aligned with General Dunia, a Mai Mai leader operating against the joint operations of the RDF-FARDC-MONUC nexus in the Fizi and Barako areas of South Kivu.
Joseph Kabila is a black pawn in the great game by white foreigners and multinational corporations to control and plunder Central Africa. Like Congo's historic leaders Patrice Lumumba (1925-1961) and his paternal namesake, the former President Laurent Desiré Kabila (1939-2001), Joseph Kabila would quickly be assassinated if he diverged from the hidden agenda of western capitals.
Now however, internal hatreds and domestic disaffections threaten Joseph Kabila's regime.
"What is happening now in Dongo [Equateur] is the beginning of something that no one will stop," said one Congolese intelligence insider on November 25. "For sure, Kabila and his friends are sending Rwandan troops to kill people but the resistance movement says that Dongo will be the tomb of Rwandan troops and the beginning of the end of Kabila and his supporters. At this time, thousands of people—young Congolese men, ex-Mobutu fighters, Congolese FARDC—have joined the movement. I'm very sure that this Dongo movement was prepared for a long time."
To be continued.
Footnotes
1.For this report these RDF disguised troops will be designated 'RDF' to separate them from other FRADC troops with Rwandan allegiances.

2.Private investigations and interviews, Kinshasa, Equateur (Mbandaka, Basankusu, Bosondjo, Lisala) and Orientale (Kisangani, Isangi, Lokutu) Congo, 2004-2007.