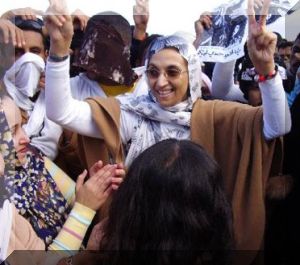 Haidar with her supporters         Photo courtesy
The late Mwalimu Julius Nyerere, the founder of Tanzania once said:  Africa won't be totally and truly independent until all African countries and Africans are free. His vision of freedom was not confined within boundaries and flags but the whole mankind. He leapfrogged almost all thinkers as far as independence is concerned.  To him, freedom was a necessity for everything any human being anywhere aspired to do. In a nutshell, freedom is life and life without it is worse than death for it. Another Kenyan doyen of freedom Dedan Kimathi averred: Better die standing than live kneeling.  All this aimed at highlating the essence and necessity of freedom. 
Now we're seeing Morocco colonizing Western Sahara (as-Ṣaḥrā' al-Gharbīyah) the same way Israel does to Palestine. Sadly though, no African country, not even the African Union is asking Morocco to let Western Sahara become free! It is as if Western Sahara does not exist and if it does, it is the region of Morocco! How silly this is!  
This former Spanish colony was garrisoned by Morocco since 1960 when many African countries were achieving their independence. Apart from its rich phosphate deposits and fishing waters, Western Sahara has few natural resources and lacks sufficient rainfall for most agricultural activities. There are rumours that there may be rich off-shore oil and natural gas fields, but the debate persists as to whether these resources can be profitably exploited, and if this would be legally permitted due to the non-decolonized status of Western Sahara. 
Western Sahara's economy is centred on nomadic herding, fishing, and phosphate mining. Most food for the urban population is imported. All trade and other economic activities are bridled by the Moroccan government. The government has encouraged citizens to relocate to the territory by giving subsidies and price controls on basic goods. These heavy subsidies have created a state-dominated economy in the Moroccan-controlled parts of Western  Sahara, with the Moroccan government as the single biggest employer. 
In other words Morocco is doing exactly what the Jewish nation has been doing for Palestine where it subsides and supports new settlements that cost poor Palestinians to live without a place to call home. 
The recent episode proving how AU is but a let down involves a Human Rights Campaigner, Aminatou Haidar who, by the way of hunger strike, returned home after suffering a lot of denial as she was returning from New York to receive a civil courage prize. 
Haidar, billed as the 'Gandhi of Sahara,' is renowned for her resistance without violence. Her theme-cum-sin is just to remind the Moroccan authorities to do the right thing- to stop occupying Western Sahara. As she completed a month-long tour of US, Moroccan authorities were pushed to the limits and denied her entrance after she arrived at the airport as her passport and Identity card were confiscated. Her sin, once again, was to state her home as Western Sahara instead of Moroccan Sahara. She was extradited to Lanzarote in the Canary Islands where she started a hunger strike.  
In November, after her case attracted international condemnation, Moroccan authorities offered to release her if she would publicly acknowledge Morocco's "sovereignty" over Western Sahara. She refused to do so but launched a hunger strike. Her health was at particular risk because she suffers from anaemia and a stomach ulcers. She was hospitalized thanks to the deterioration of her health. But again, neither Moroccan authorities nor African Human Rights groups saw this as a danger and a denial of human paramount right-life. What annoys is the truth that even countries that ratified the ban on capital punishment were but onlookers! 
After maintaining her hunger strike, the authorities later bowed and granted her the right to return back home. Staying put and upholding her right to return to Western Sahara, Haidar even rejected obtaining refugee status in Spain without travel documents, she's effectively confined to Lanzarote. 
Sadly though, Haidar is recognized by the international community excluding Africa. Women and Human Rights groups in Africa have nary agitated for her plight. Recent information has it that her accounts were broken into by the authorities and she is branded an evil person colluding with enemies to sabotage Morocco. Amnesty International sternly reprimanded Morocco and advised it to allow Haidar to return to her home. 
What Moroccan authorities did is tantamount to a death sentence to this true Human Rights activist. Death for her is better than life if her freedom is not granted. The treatment she received was just to relieve and calm the pain and Aminatou as she continued her hunger strike. This was said by her lawyer Ines Miranda who was recently quoted by Reuters news agency.  
Africa, that crows of  raising Nelson Mandela-the doyen of liberation in South Africa- did not pay any damn to the plight of Haidar whose health was deteriorating day by day! Why should African countries wait to enjoy the pride of having heroes like Mandela once they're through but betray them during the making? Some African  leaders such as former Malawian dictator, Hastings Kamuzu Banda used to collude with the apartheid regime in South Africa and considered Mandela a terrorist. 
One would think that this grave mistake was a lesson. But ask yourself, how many Africans know Haider or even bother to raise their voices for Western Sahara?  Ask them about Palestinians liberation fighters. They know most of them if not all!  
Spanish artists and film stars, including an Oscar-winning director, made a video promoting her cause that became popular on YouTube. British artists and intellectuals appealed to Prime Minister Gordon Brown to help. Amnesty International joined the urgent appeal to keep Haidar alive. The Robert F  Kennedy Center for Justice and Human Rights sent staff to be with her in the Canaries, and conducted an interview with her, also widely circulated. A growing number of legislators in Europe and the United   States have been issuing statements supporting Haidar. 
Even in East Africa, some of doyens Human Rights Fighters are forgotten simply because they're not in politics. Ask Kenyans where this magazine is published of Dr. Willy Mutunga, Prof. Makau Mutua and others that are not in politics. They're not known even highly regarded compared to politicians. 
Going back to Western Sahara, besides being shame-cum-challenge to AU, if it keeps mum, the whole meaning of the independence of Africa will become meaningless as per Nyerere. Once again, by sitting on this, AU's proved to be nothing but a let down. It's time that Morocco be forced to release Western Sahara the same way Boer South Africa did.  
It is upon Human Rights organizations in Africa, to sound the trumpet to see to it justice is done to Western Saharan people. It is time for freedom now for Western Sahara.  It is time for freedom for Aminatou Haidar. Human Rights campaigners must agitate for the banning of Morocco from the International community shall it keep its ears sealed or AU keep on gerrymandering about freedom for Western Sahara.