AU: Sudan Like a Powder Keg!
Published on 9th February 2010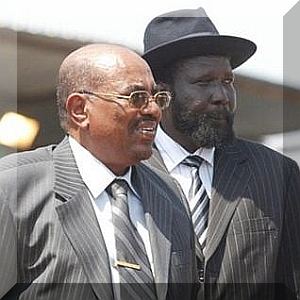 Will South Sudan come out of the shadows?
In an interview with French broadcaster RFI recently, AU commission chairman Jean Ping was quoted as thus: "We have a feeling that we are sitting on a powder keg."
It is true. But who's to blame in the first place?  AU has always sat on many a powder keg such as, Madagascar, Western Sahara, Somalia, Sudan and Zimbabwe, just to mention a few. Unfortunately, it hasn't learned from past experiences.
"Will the independence of Southern Sudan not lead other players in Darfur to seek independence?" Some ask. This is shallow thinking. Why didn't this happen when Eritrea seceded from Ethiopia? The people of South Sudan have to decide their destiny and so be it. Many opportunists would like to team up with Bashir to underrate the underdogs (Mayardit). But again, who knows? Today's top dog can become an underdog.
President Bashir, despite all, is upbeat. "We will work to make unity attractive to all Sudanese. We will respect the wish of southerners whatever the outcome. We will be the first to recognize such a southern state," he said at a rally marking the 5th anniversary of the peace pact that ended more than 20 years of civil war between the north and south on 21st January 2010. Is Musumar (nail) –as Darfuris would put it- eating him up? Is his Northerners-are-better-to-rule milieu turning against itself?
Bashir knows that he cannot stand in the way of the people of South Sudan to decide their future. He knows that shall he repeat the same mistake; they'll go back to the bush. He knows how determined they are. South Sudanese will not compromise their freedom and resources with anything.
African rulers ought to wish the suffering people of South Sudan well. If Darfur or Nuba Mountains becomes free, this will bring peace. It is better to have a peaceful fragmented country than a tyrannically united one. Those wrongly thinking that South Sudan and North Sudan will not make good neighbours should ask themselves: Why did the duo consent to end a two-decade war? New North Sudan won't attempt any aggression thanks to having no muscles. Methinks. North Sudan will be weaker than South Sudan politically and economically.
Time for the reconstruction and resurrection of South Sudan is indeed now. It won't pay off to stand in the way of this natural phenomenon. By metamorphosis or symbiosis South Sudan must exist and excel.
The Kenyan PM, Raila Odinga, aptly capture these sentiments in the just ended AU conference in Addis Ababa:  "Given the unprecedented advances the CPA entrenched in promoting democracy, it has been distressing to learn that senior-most officials in the two organisations (UN and AU) oppose the referendum's option of creating a sovereign nation in the South."
The PM did not mince his words. He added: "Having done so much to advance this historic process of self-determination, it is preposterous that anyone would now seek a predetermined outcome." South Sudan should not maintain its abusive and exploitative marriage with the North.