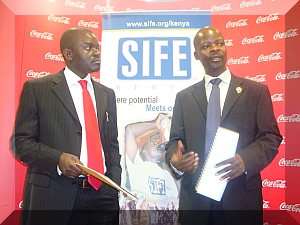 Bob Okello, Coca-Cola's Public Affairs and Government Relations Manager  with James Shikwati, SIFE Kenya Country Director
Nairobi, February 11, 2010… Entrepreneurship projects generated by members of Students In Free Enterprise (SIFE) Kenya have received a boost from Coca-Cola East and Central Africa to the tune of Ksh. 1.8 million this year. 
The move will see the beverage giant underwrite the costs of profiling and publicity of entrepreneurial ideas and projects generated by SIFE members, who are mainly university students.  This is the fourth year that Coca-Cola, through its Africa Foundation, has supported this initiative.
SIFE Kenya draws membership from 14 local public and private universities and an estimated student membership totaling 600 who participate in an annual national business and entrepreneurship competition, with the winner representing Kenya at a global fair dubbed SIFE World Cup. This year's event will be held in Los Angeles USA in October. 
Bob Okello, the company's Public Affairs and Government Relations Manager, pointed out that the partnership is a continuation of the beverage maker's commitment to developing sustainable communities through entrepreneurship.
"In East Africa, small scale entrepreneurs who set up Coca-Cola kiosks and distribution centres have all positively contributed to the success of the company," he said.  "By partnering with SIFE, we seek the early creation of entrepreneurs and business leaders as we tap into new innovative ideas from students," he said.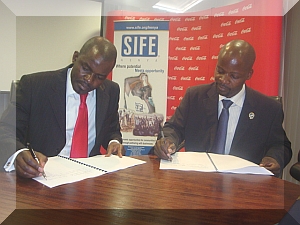 Coca-Cola and SIFE Kenya seal the deal
Mr. James Shikwati, SIFE Kenya Country Director said the partnership with Coca-Cola East & Central Africa will introduce students to a platform that enables them to start their own business and if they end up in formal employment, be able to deploy the practical skills of running successful ventures. 
"Our continued partnership with Coca-Cola is an avenue for both organizations to address unemployment in the country, since students are encouraged to come up with projects that address needs in their communities."  Shikwati added that the partnership would also give an opportunity for students to showcase their ideas and for the beneficiaries to talk about what they will have learnt from the projects.
Since October 2006, The Coca-Cola Africa Foundation has partnered with SIFE in Egypt, Morocco, Tunisia, Ghana, Nigeria, Senegal, Kenya, Swaziland and Zimbabwe to instill an entrepreneurial experience among tertiary students, thereby positioning them for greater success as entrepreneurs.
Through the partnership, over 3,000 tertiary students from over 100 tertiary have benefitted annually, with 350 community projects impacting over 400,000 people being undertaken every year.  Over $100,000 has been created in new economic opportunities per annum.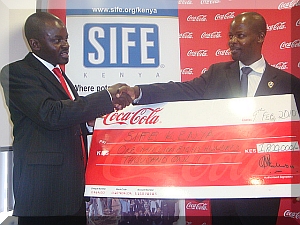 Coca-Cola hands over the cheque to SIFE Kenya
SIFE looks to individual philanthropists, corporate, NGOs and development organization to come together to support various development agenda by working with student groups to build a veritable business sector through its key focus areas namely; business ethics, financial literacy, sustainability, market economics, environmental sustainability, and personal success skills.
SIFE Kenya, which was launched in 2003, is the local chapter of SIFE International which is focused on mobilizing university students around the world to make a difference in their communities while developing skills to be socially responsible business leaders. 
About The Coca-Cola Company
The Coca-Cola Company is the world's largest beverage company, refreshing consumers with nearly 500 sparkling and still brands. Along with Coca-Cola, recognized as the world's most valuable brand, the Company's portfolio includes 12 other billion dollar brands, including Diet Coke, Fanta, Sprite, Coca-Cola Zero, vitaminwater, POWERADE, Minute Maid and Georgia Coffee. Globally, we are the No. 1 provider of sparkling beverages, juices and juice drinks and ready-to-drink teas and coffees.
Through the world's largest beverage distribution system, consumers in more than 200 countries enjoy the Company's beverages at a rate of nearly 1.6 billion servings a day. With an enduring commitment to building sustainable communities, our Company is focused on initiatives that protect the environment, conserve resources and enhance the economic development of the communities where we operate. For more information about our Company, please visit our Web site at http://www.thecoca-colacompany.com/
About Students in Free Enterprise (SIFE)
SIFE brings together a diverse network of university students, academic professionals and industry leaders around the shared mission of creating a better, more sustainable world through the positive power of business. By contributing their talents to projects that improve the lives of people worldwide, SIFE participants are demonstrating that individuals with a knowledge and passion for business can be a powerful force for change.