Fiber-Optic Technology in Africa: The Race to be Connected
Published on 26th April 2010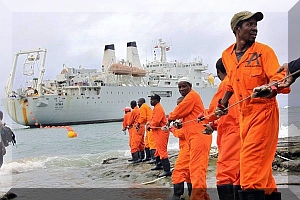 Workers lay a sea cable                                 Photo courtesy
As the installation of fibre optic infrastructure intensifies in parts of Africa, excitement is growing among the business community who see information technology as a spring board for development. With Kenya benefiting from fiber-optic cable networks already operational in the country, projections are being made that the country could be one of the fastest outsourcing destinations on the continent. Countries across Africa are strategically positioning themselves in the race to be connected to the fiber-optic super information highway, with China stepping in to provide the necessary infrastructure. 
How will all this change Africa? The installation of undersea cables that link Eastern  Africa to Southern Africa will reinforce interregional integration which could boast the economic clout of the continent and enable Africa to take it's place in the global business community. It is expected that we could see an improvement in the fortunes of the unemployed as it becomes gradually easy for entrepreneurs to create internet startups by taking ideas from the global stage and localising them to African needs. 
According to an economic report by the African Union released recently, unemployment was at 8.2 percent in 2009, slightly better than the 8.5 percent before the global economic crisis. There is optimism that this could be sustained as commodity prices remain "high by historical standards." However, given the shortage of skills one can not expect the floodgates for job opportunities to open due to the installation of communication infrastructure. Developing Africa's bright minds will be vital in order to see meaningful growth in this sector.
Most countries on the continent are slowly waking up to the fact that underinvestment in human resources, creates a climate that does not foster increased performance. Many also argue that phenomenal growth should not be expected so soon as the price of internet connectivity remains relatively high. Because most service providers try to protect their revenue, the price of being connected is still not realistically affordable. The growth of ICT in Africa is therefore, expected to be gradual. With a considerable number of countries landlocked, it may not be a stretch to say that the benefits of fibre optic technology will take a while before they reach these countries. The geographical location  as well as investment in communication infrastructure have  enabled  some countries to achieve growth in a short space of time.  
Kenya, by some measure, is among the few African countries with highly ambitious plans in the tech sector. Alongside South Africa, it is one of the biggest investors in telecommunication infrastructure with a huge chunk of shares in Safaricom and Telkom Kenya. Of course, to what extent the impact of technology results in economic growth depends on the interplay of a number of issues, from political stability, removal of bureaucratic red tape to creating an irresistible climate for investors.  
The power supply situation in a large number of countries will have to be resolved in order for businesses to flourish. Fresh ways of thinking and the sharing of expertise between industry, governments and society will be needed to build a more sustainable technology infrastructure. 
Lessons can be learnt from Uganda where the project to install undersea cables to link 20 major towns in the country has gone horribly wrong. Reports coming out of Africa indicate that the project being handled by a Chinese company went ahead without a tender or proper feasibility study. Installation of fiber-optic cables continued despite warnings by local and international experts that the wrong cable was being installed and that this could result in the whole project being a "white elephant." The project cost a whopping $106m which will have to be paid over a period of 20 years. This turn of events has been clearly illuminating. The much celebrated trading partnership between China and Africa is not quiet what it seemed. In this instance, the Ugandan government has clearly been strong-armed into entering an agreement that is disadvantageous. 
As the race to jump on the technology bandwagon continues, African countries need to improve their economic diplomacy and engage in economically beneficial exchanges where countries on the continent can enjoy comparable advantage. Good governance with a clear vision of what Africa wants from foreign investors will help the continent make substantial gains. Countries like Australia, Vietnam and Malaysia have kept their eye on the ball when it comes to their relation with China and have done quiet well. 
If Africa is to move ahead in the new capitalist world of the 21st century, a long-term view will have to be taken when it comes to investing in infrastructure, by working towards reducing their reliance on funding for projects. This will give countries on the continent more room to maneuver from "the dependency syndrome" and lessen the grip some economies have over Africa. The challenges are many but the potential for the continent to surge ahead is equally huge. 
By Kabukabu Ikwueme,  
Freelance writer.