Africa's Century: Is the West Changing Tactic?
Published on 27th July 2010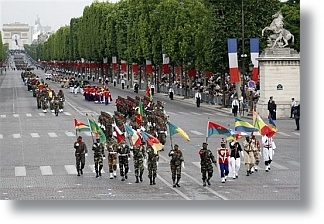 African troops hold flags during the annual Bastille Day military parade on The Champs Elysee Avenue in Paris. Photo courtesy
France's July 14 Bastille Day military march included troops from 13 African Countries. On July 21; President Barack Obama signed into law financial regulation ushering in new law on conflict minerals that is meant to safeguard women and children from Eastern Congo against rape and effects of war. Former United Kingdom Prime Minister Gordon Brown declared in Kampala the same week that: "Future growth in the world economy, and future jobs in the developing world, will depend on harnessing both the productive potential and the pent-up consumer demand of this continent [Africa]…"
The inclusion of African troops on France's Champs Elysees parade under the direction of Culture Minister Jacques Toubon a Gaullist could be a pointer that nothing is changing in Europe. Gaullists (after France's Second World War Resistance leader Charles de Gaulle) have always held a philosophy of a strong control of France's colonies, they abhor subservience and reliance on any foreign country for survival. Very admirable tenets the French have for themselves. In a BBC article "How France is maintaining its grip on Africa" (May 21, 2010); Prof. Stephen Smith points out that France has intensified efforts to manage African migration through bilateral treaties with states of South Sahara aimed at "joint management" [emphasis in original article] of migratory movements.  France's foreign direct investment is reported to have dropped from slightly over 30% in 1989 to below 5% in the first decade of this century. Africans should be wary that their interests are not in France's long term plans – it's the old game clothed in sumptuous parties. France benefited from migration to be where she is, African states should resist the temptation to have their citizens locked up in national Petri dishes that Western powers use to experiment policies on.
Barack Obama on his part has given Africa a foothold at the door which we ought not to let go. For years, commentators have pointed out that conflict and war in Africa had a lot to do with external interests than internal. It defied logic that people supposedly living on less than a dollar a day could afford bazookas, expensive phones and machine guns. United States of America President's signing into law a legislation that requires companies to certify whether their products contain minerals from rebel-controlled mines in Congo and surrounding countries is a great step for Africa. In comparison to stomping troops in Champs Elysees, this is a legislation that if Western powers adopted a similar approach will put to an end rape cases against our daughters and women; it will give families stability to take their children to school; reduce armed conflict; promote genuine governance in Africa and nurture a culture of sound business environment.  Africans should be aware that this is but a foothold – the door is not open yet.  Africans must seize this opportunity and invest in addressing the causes of conflict on the continent instead of being duped to chase secondary causes of instability.
I could not agree more with Gordon Brown that this is Africa's moment. African scholars, think tanks, business, policy makers and political leaders ought to keep track of the renewed interest on the continent. Check this out, the World economy is in doldrums and Africa experiences a surge of interest and even praise. Asia, Latin America, and the West seem to know something about our continent that we don't.
The re-emerging and the old powers are through their actions, stating that the African continent holds the key to stabilizing the world economy. Are we ready? Are we going to fall for stomping in Bastille Day parade the way we did with the political flags our nations received at independence? Are we going to be satisfied with the foothold the Obama administration has accorded the continent to address minerals (our wealth) as the main source of our misery? It is Africa's time but only if we consciously work to make it so.
By James Shikwati.
Mr Shikwati james@irenkenya.org is Director of Inter Region Economic Network.