China's Surge Challenges Africa's Worldview
Published on 17th August 2010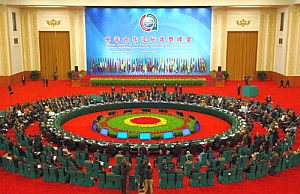 Sino-Africa forum: Is Africa learning anything?
China's economy now valued at $ 1.33 trillion has surpassed Japan's $1.28 trillion to position her as the second largest economy in the world after United States of America. Of interest to Africa is the fact that China, still largely a developing country, is already a major power in global politics. Could China be building on its ancient infrastructure that has been dormant over the years?
One need not go far in search for an answer. Kenyans have been treated to startling news of Siyu village in Patte Island that has Africans of Chinese descent. The Chinese have already taken some of their "relatives" from this place for university education in their country.  Mzee Baraka Badi Shee, whose daughter Mwamka Sherriff currently studying in China, is said to be linked to some of Zheng He's crew whose ship sunk off the coast of Kenya 600 years ago.
Recent reports by International Energy Agency based in Paris indicate that China has already surpassed U.S.A in energy consumption. China's total energy consumption in 2009 was equivalent to 2.265 billion tones of oil compared to U.S.A's 2.169 billion tones in the same year. China – Africa trade has surged from $55.5 billion in 2006 to $106.8 billion in 2008 largely in raw material imports from the continent.  In Kenya alone 44 Chinese companies have already invested in the country, 12 of which have joint Kenya – Chinese ventures.
China's surge in global economic and political prowess is likely to impact on Africa's world view and recorded history. Those who have visited the Kenyan coastal towns are treated to Arabic and Portuguese connection to East Africa. The ongoing excavations led by a team of archeologists from Peking University might turn around what schools have taught over the last century about East African history. Vasco Da Gama's pillar that towers over Malindi coast might soon get dwarfed by that of Zheng He (1371 – 1433), who is reported to have arrived earlier than Europeans.
Historians might soon open another battlefront on China's role in understanding the world's geography. Already debate is ongoing on whether it was Ferdinand Magellan (1480 – 1521) who circumnavigated the earth first or the Chinese. For Africa, what is important is the point that China is not an ordinary "developing country." China has a development infrastructure that predates some of the modern developed nations. Economists will have to grapple with China's central command "market economy" and political scientists with its one party democracy among others. Unlike their Western counterparts that invest heavily in media-good-look drives; the Chinese move in hushed steps.
The Chinese could simply be "modernizing" their ancient power unlike Africa whose development script is largely not connected to the continent's past. The African script is dictated by outsiders making it extremely difficult for individuals to strategize for the future.  African scholars and those in Diaspora that have attempted to connect the continent to its past for purposes of launching momentum for the future rarely get attention.
China is more appealing to Africa due to its "developing economy" status and its policy of non interference in internal politics of other countries. A little peep into Chinese history reveals just how Africa uses prejudiced scripts to judge its partners. Africans have a humongous task to seek to understand themselves, the Chinese and their traditional allies from the West. Unearthing Africa's trade and political past; re-writing history books to help put geopolitics in perspective and pushing for the reorganization of the global market system among others are some of the steps to take. China's surge in the global arena is good for Africa… only if Africans take advantage of the fresh air it offers.
By James Shikwati
The author  james@irenkenya.org  is Director of Inter Region Economic Network.