AGOA is Alive and Kicking
Published on 31st August 2010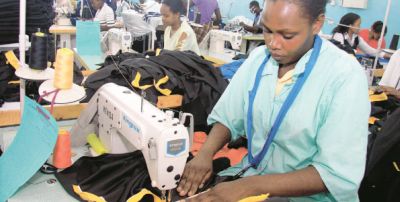 A worker in an EPZ firm                                Photo courtesy
I find it troubling that declaring Agoa's achievements a 'disappointment' has gained currency in so many policy circles. It leverages a pernicious line of thinking, one that belittles the significant achievements African countries have made over the last 10 years and perceives polices that support African economic growth as zero-sum. This thinking threatens to undermine what I believe is one of the United States' most successful and cost-effective development assistance programs ever.
I, for one, am not disappointed in the progress made under Agoa over the past 10 years. Exports from Agoa-eligible countries grew over 300% from $21.5 billion in 2000 to $86.1 billion in 2008. Of that, $28 billion was in non-oil exports - automobiles from South Africa, apparel from Lesotho, cut flowers from Kenya, jams and jellies from Swaziland. None of these counted for much in 2000, but now, thanks to Agoa, they and a host of other nascent industries are beginning to make a significant contribution to Africa's prosperity.
That this progress in combating poverty in Africa has been made with a US investment of just $2 million annually in reduced non-oil tariff revenues is an astonishing return on investment. Contrast that to the estimated $6.5 billion in foreign aid to Africa that the US has spent on average each year for the past 50 years - for a total, according to the OECD of $324 billion.
I am struck that the accepted benchmark for judging Agoa's success or lack thereof - repeated by both Alan Beattie in the Financial Times (August 8, 2010) and Secretary Clinton at the Agoa Forum earlier this month - is the disproportionate dominance of petroleum products among Africa's exports. This metric should cause one to question the nature of analysts' 'expectations.' Given both the political and economic realities of our world, there is no way that Africa – or any other region for that matter - can grow non-oil sectors that rival its oil sector in just 10 years. No other major oil exporter has done so. Moreover, it sweeps under the carpet clear progress. Beattie himself points to the 52% increase in Agoa-supported textile and garment exports in 2009 alone - only to dismiss them as insignificant within the context of the U.S. economy.
One benchmark Agoa should be judged on - but seldom is - is its incredibly positive role in redirecting US policy away from the aid-centered patronage that has long characterized our relationship with Africa. Agoa pushed US policy to focus on partnership with African nations instead of on patronage and to understand the wisdom of country-specific, country-led strategies. By resisting a recipe for countries' development, by creating industries that make sense given a country's resources, and by creating the space for countries to expand their economies, Agoa has helped the U.S. work with Africa to grow its own prosperity.
Another benchmark is our ostensible partners' perspective on Agoa's success. African leaders like Kenya's Minister of Trade, Amos Muhinga Kimunya, acknowledge that more can be done to achieve Agoa's full potential. Yet none of them have, or would, term Agoa
a failure. What's more, their aspirations for what a fully-realized Agoa could accomplish are not 'modest.'
While I am encouraged by Secretary Clinton's verbal support for Agoa in her speech at the Agoa Forum, I am disappointed in the Obama Administration for what seems to be a broader demotion of Agoa's role in US/Africa trade policy. Agoa was never meant to be a panacea - in fact, additional initiatives that address very real trade capacity constraints would be broadly welcomed.
This Administration is the first since Agoa's passage not to offer or back further enhancements; so far, the Administration's protests around 're-launching' and 're-imagining' Agoa have yielded no concrete or constructive policy recommendations. Instead Obama Administration officials seem, at best, content to tread water on Agoa and, at worst, to view US/Africa trade policy as a zero-sum game.
On the tenth anniversary of this monumental policy, many African leaders complained about the Administration's tepid treatment of Agoa's achievements, as well as the African leaders who enabled those achievements. In what was widely seen as a rebuke to current leadership, African Ministers and Heads of State were shut out of White House celebrations marking the 50th Anniversary of many African countries' independence. Stunningly, even the African Ambassadors credentialed to the U.S. were excluded from the White House fete marking this important milestone in Africa's history.
I think it's time we lay to rest the idea that Agoa's results are 'disappointing.' The results are decidedly not disappointing to the 300,000 people who now have steady employment as a result of the legislation, who are consequently able to provide a better future for their dependents. They are not disappointing to those African governments that have made significant progress in laying the groundwork necessary to grow stronger export sectors. They are not disappointing to Africa's growing entrepreneurial and managerial classes who are benefiting in a host of ways from the incentives offered by Agoa. They are not disappointing to foreign investors who continue to bring their capital and skills to Africa precisely because of the promise offered by Agoa. And they are not disappointing to the American taxpayers, who should be confident that their return on investment - which is only a couple of million dollars annually – far outgains the billions spent each year on the aid-industrial complex that has emerged in Washington.
Agoa is working. Those of us working on the ground in Africa know this. By mischaracterizing Agoa as a disappointment, the Obama Administration diminishes its opportunities to build on Agoa's achievements.
I recommend the Obama Administration translate its concerns about Agoa into action and build on what President Bill Clinton, President George W. Bush and African leaders worked so hard to achieve. The Administration could enhance Agoa with tax incentives and credits to US companies who invest in sustainable, job-creating sectors in Africa, such as agriculture and manufacturing.
They can increase support to the Overseas Private Investment Corporation (OPIC) and make Agoa permanent, as it is due to expire in 2015. Agoa's expiration would otherwise cause a massive hemorrhage of the region's jobs and much-needed capital. These, along with other proposals, have been put before the Administration by African leaders, the Agoa Action Committee and other stakeholders. A definitive response to these excellent recommendations would be a good first step in the right direction for the Obama Administration.
By Rosa Whitaker,
President and CEO of The Whitaker Group.