Ivory Coast: Unlocking the Impasse
Published on 14th March 2011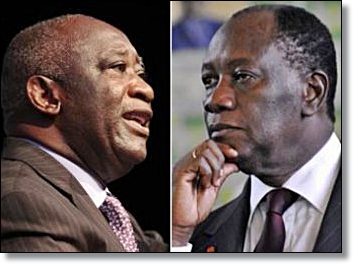 Gbagbo and Ouatarra: Which way for Ivory Coast?
The succession impasse in the cocoa-rich nation of Ivory Coast is now decidedly becoming deadly. The recent mowing down by security forces of six unarmed women carrying out a peaceful public protest in the embattled country is a case in point. Ivory Coast now has two "presidents."  Alassane Outtarra is the internationally recognized president-elect and Laurent Gbagbo is the incumbent who lost the presidential run-off election in November 2010. At least 400 individuals have lost their lives in the struggle for political supremacy between President-elect Alassane Ouattara and outgoing President Laurent Gbagbo.
Ivory Coast appears on an unstoppable course to a second civil war within a decade. The richest cocoa producing country in the world is yet to recover from the 2002 civil war that led to rebel troops controlling the northern part of the country and the government managing the southern areas. The slippery route to further bloodshed and hardship is not inevitable. Peace can be achieved in Ivory Coast and genuine national reconciliation undertaken if five immediate steps are taken.
The first step is the need for African political leaders and the international community to recognize that the struggle in Ivory Coast is beyond the personalities of Ouattara and Gbagbo. The fight in Ivory Coast is about religion, economic dichotomy and political marginalization. Citizens of the predominantly Muslim North of Ivory Coast feel aggrieved over perceived long term economic and political marginalization. Citizens in the predominantly Catholic South fear political domination by the Muslim North. Until these fears are assuaged, Ivory Coast will not have enduring peace. The short term key to minimizing religious, economic and political fear in Ivory Coast is a government of national unity. In present day Ivory Coast a government set up without specific recognition and nod to the deep religious, economic and political divide is a non starter.
The second step is that the African Union, the United Nations and other international entities should take specific steps to ensure that the legitimate winner of the 2010 presidential elections assumes his presidency. This effort should be undertaken irrespective of perceived personal and professional differences with the legitimate winner of the election. Alassane Ouattara is still president-elect instead of president, spending his days in an Abidjan hotel protected by United Nations forces and rebel troops. The internationally recognized loser of the election, Laurent Gbagbo is still president instead of ex-president, comfortably ensconced in the presidential palace. It is noteworthy that the African Union has invited Ouattara and Gbagbo to meet in Addis Ababa. However, beyond official recognition of Ouattara as the winner of the election and economic sanctions against Gbagbo and his entourage by US, France and the European Union, no further action has been taken to legitimize the undisputed winner of the election.
The third step is for known perpetrators of violence since the presidential elections to be publicly identified and charged for their crimes. Top and key officials of the Ivory Coast armed forces responsible for the massacre of innocent citizens should be publicly identified and charged for crimes against humanity. Elements within rebel troops that have participated in atrocities should also be held publicly accountable. It is evident a sense of impunity pervades within the armed forces and rebel ranks regarding potential crimes against humanity. There is no evident threat of an international manhunt for the key planners and decision makers that order killing of innocent civilians and peaceful protesters. No politician or political ideologue spewing hate and inciting violence in Ivory Coast is afraid of future repercussions either in Ivory Coast, Africa or around the world.  
The fourth step is that the Presidency of Alassane Ouattara should make an international undertaking to rebuild national confidence in an undivided Ivory Coast. For this to happen, Alassane Ouattara must demonstrate that he is not a hostage to radical elements within his rebel troop entourage; end perceptions of being beholden to powerful foreign interests; ensure that all key positions in government are distributed with sensitivities to religious, economic, political and geographical divides; promote religious freedom; verifiably implement fair and equitable spread of infrastructure projects in all regions of the country; support the emergence of national, issue oriented civil society organizations to serve as government watchdogs; strengthen national institutions that support statecraft, the private sector, sustainable development and cultural renaissance; and, implement wide ranging political and economic reforms.
The final step is that President Allasane Ouattara should publicly commit to a single term in office as part of the necessary sacrifice to create a new, more egalitarian Ivory Coast. Ouattara, Gbagbo, former president Bedie and a large number of current political leaders in Ivory Coast have been within the corridors of power for the past 35 years or more. They are now "big men" with large, fanatical, often poor supporters.  These supporters through years of state and personal patronage are eager to do the bidding of their "leaders." These leaders have served their country to the best of their abilities. However, they now represent narrow tendencies in a country desperate for national unity, national forgiveness and national reconciliation. 
The future Ivory Coast requires new crop of national leaders committed to a democratically strong, economically viable and equity based nation. In the 21st Century, a resource rich nation must expand its political space, promote economic opportunities for all and adhere to the rule of law to remain viable. Any attempt to continue the era of big men, economic despotism and political chicanery will condemn Ivory Coast to permanent instability, economic ruin and blood civil wars.     
By Dr. Chinua Akukwe.
The author is the former Chairman of the Technical Board, Africa Center for Health and Human Security, George Washington University, Washington, DC. He has written extensively on health and development issues, including five books. He can be reached at cakukwe@att.net