9th IREN EA Media Training: A Participant's Voice
Published on 15th March 2011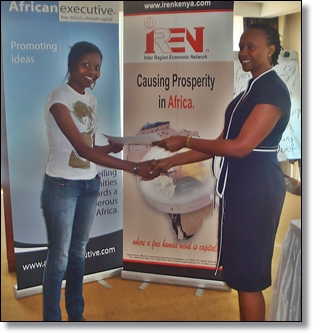 Angela (left) receives a certificate of completion  from Veni Swai (Programme Officer, FNST East Africa office) during the 9th IREN Eastern Africa Media Training. 

Angela Mutheu presents some observations she gleaned from the just concluded 9th IREN Eastern Africa Media Training.
Is Eastern Africa ready for China, India and Europe? This is the question Eastern Africa media practitioners attempted to answer during the 9th annual Inter Region Economic Network (IREN)  Eastern Africa Media Training forum. The event brought together members of the fourth estate from Uganda, Tanzania, Southern Sudan and Kenya. Its core agenda was whether Africa is ready to create indepth networks with China, India and Europe to invest in the third world countries and the role of the Eastern Africa media in it.
The delegates agreed that some key stakeholders need to be involved to shade more light on the issues concerning Africa's relationship with the East and Europe.
It emerged that The East African Community (EAC) has a vital role to play in crafting a concrete agenda that will ensure the region effectively engages with China, India and Europe. The EAC should guarantee the media access to information related to partnerships to enable the media articulate this. 
Eastern Africa governments were asked to recognize the media as major stakeholders in public diplomacy and development agenda.
It was pointed out that institutions teaching journalism should review their curriculums to suit international standards and address respective nations' and region's core interest. Journalists must also be trained and sensitized on modern technologies and new issues arising so that the African media is at par with the international standards.
Media organizations and individual journalists were asked to strive to put patriotic, national and regional interests before their own.
Lack of resource mobilization and allocation of funds emerged as  an issue that the media owners need to solve in a timely manner.
 Journalists discussed the need to make personal efforts to understand issues affecting the Eastern Africa region and Africa as a whole and be objective in coverage. They counselled themselves against focusing on negative news at the expense of  positive news as well as politics at the expense of development issues.
The journalists called for the need to observe personal ethics and code of conduct in journalism with a view to spur high standards and credibility. They counselled each other against abusing press freedom.
It came to light that bribery is rampant among journalists hence compromising objective reporting. It was agreed that this vice ought to be stopped. 
Journalists discussed the need to create a regional umbrella body that is inclusive, transparent and purpose driven to champion their voices. This will also help in raising the standards of the profession in ensuring that training institutions meet the desired levels of training to mark compulsory basics and address issues of unscrupulous practitioners and institutions.
Specialization was encouraged to have several journalists covering special beats such as  issues on development within and without East Africa.
On the other hand, upcoming journalists asked the editors of news stories to assist reporters make stories take a human interest angle and allow for dissemination. As the gate-keepers, they have the last say on what goes out for public consumption.
It was pointed out that Media houses must contribute a certain percentage of space/airtime within their news reporting  to accommodate development agenda not only on features but headlines or main briefs.
The business/private sector and external stakeholders were asked to engage the media to promote specialized reporting with regard to development and assist in holding forums such as the 9th IREN Eastern Africa Media Training that seeks to train and inform both parties on how best to cover such initiatives.
The bigger question is whether China provides a unique and productive opportunity for Africa to realize its development aspirations as is anticipated by the joint statement from the Beijing summit of forum on China-Africa Cooperation in November 2006.
With proper coverage on ties between Africa and china, India and Europe, the public will be able to judge for themselves what kind of a relationship and if we (Africa) are ready to maximize the benefits that arise from our relationship.
As a young, budding and upcoming journalist the forum, it  was particularly a challenge for me to take up reporting in development issues, an area that has been neglected. 
 
By Angela Mutheu.
Student of Journalism, Kenya Institute of Mass Communication.