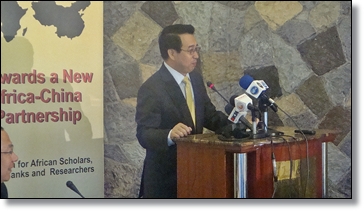 H.E Liu Guangyuan at the Towards a New Africa-China Partnership conference 
Let's talk freely and creatively like friends, brothers and sisters. No barriers, no restrains, no hesitations. What we expect is fluent flow of minds and thorough interaction of thoughts so that finally, everyone's perspectives are broadened and inspirations lightened.
China – Africa Relations
The China – Africa relation has enjoyed profound tradition and is now in the green wood. In the ancient times, China and Africa countries already initiated official interactions that are proved by many archaeological facts. In the contemporary and modern times, the common historical fate and experience in fighting colonialism and striving for national independence brought us together. It was in this period that our deep - rooted friendship was developed by the old generation of state leaders of both sides. It is this friendship that we have been benefiting from all this years and will continue to be the banner guiding our way to common prosperity in the future.
In the past few decades, especially the past ten years ever since the establishment of the forum on China – Africa Cooperation (FOCAC) in 2000, China - Africa relations have continuously been achieving new progress. Most remarkably, leaders of both sides keep close contact and visit each other like relatives do. Our two - way trade reached USD 127bn billion in 2010, up nearly 40 % year on year; more that 2000 Chinese companies have set up their branches in Africa and our cooperation in other major developmental areas are flourishing as well. Both China and Africa are committed to jointly establishing a new-style strategic partnership marked by political equality, mutual trust, economic win – win cooperation, cultural exchanges and mutual learning. Tremendous achievements have been made and the momentum of our common development is the trend.
Challenges and opportunities
We cannot deny that challenges and problems do exist, but our cooperation is filled with hopes and opportunities. China still remains the largest developing country of the world while Africa is the continent with the greatest number of developing countries. Many developmental problems and challenges that are impossible to avoid or ignore lie in front of us. Back at home, we face the same challenges of transforming economic development patterns, improving people's livelihood, expanding domestic demands and promoting harmonious coordination of economic and social development. On the international front, we face the same tasks of fighting for equality and the right to choose our own development paths. In a word, we have much in common to share, to fight and to strive for.
However we must see that the overall situation of peace and stability for both China and Africa has never changed. We both survived the international financial crisis and have been enjoying strong economic rebounding. Nowadays the whole world is looking at us. We shall not let them down.
We are happy to see that our African friends are very enthusiastic about cooperating with us. We feel the responsibility that we can by no means fail our African brothers. Many potential areas of sustainable cooperation need to be exploited. For example, entrepreneurs from both sides should interact more with each other; China should boost Africa's efforts in building regional integration and cultural and media cooperation should be enhanced so that people from both sides can understand and communicate with each other better. Speaking of understanding and communication, elite have a big role to tell the truth to our people and influence their minds.
Suggestions on further promoting China – Africa relations
At such a historical starting point with abundant hard – won opportunities, people with insights must feel obliged to offer generous visions of suggestions of how to further promote China – Africa relations. And here are some of my personal suggestions.
1. Stability comes first. This is the principal we should always uphold. Both China and Africa suffered colonialist invasions and internal disorders. That's why we value national reconciliation and social stability so much. No stability - no development. This is an eternal truth we finally come to agree after fierce bloody struggles. Harmony is  a concept we Chinese have always treasured and are so desperately willing to share with our African friends in our common endeavors to seek our own development paths. Without stability, China could not become what it is today. Without peace, human beings have no hope to be better – off. So my dear friends, let's start to vigorously advocate peace and harmony, without which a country can never be strong, prosperous, confident, independent, contented and well-off.
2. Our traditional friendship is the solid foundation and mighty advantage in further developing China – Africa relations. It is our historical task and responsibility to inherit and further enhance such a valuable heritage. Some in the world seem not to be very comfortable to see China and Africa mingle so well. They say that China is no longer a developing country and no longer needs Africa. Some have gone so sensational as to claim that China is repeating the colonial path of exploiting Africa. Well, I shall not trouble myself to explain anything, because it is totally unnecessary. I believe our African friends are so wise that they can definitely judge and tell the right from the wrong. Treating each other on an equal footing, mutual benefits and win – win strategy are the unswerving principle of FOCAC.
3. Promote all around pragmatic cooperation. We should make full use of each other's advantages to strengthen cooperation in various fields such as economy and trade, infrastructure, energy, culture, healthcare, education, science and technology and agriculture, among others. Meanwhile, both sides should strengthen collaboration on jointly tackling challenges brought by economic globalization and international financial crisis. We should also keep contact on a series of major issues such as: climate change, food security and environmental protection. Speaking of cooperation, we shall not miss the cooperation between the think – tanks and media from both China and Africa. It is my sincere wish that both sides could visit each other frequently and interact more and more, so that they can inspire each other and exchange ideas and visions. Through this, the world can be told the true "Chinese story."
4.People's welfare is the priority. We must ensure that the achievements of China – Africa cooperation do benefit our people. Let the people feel and see. Only through this can they be made an active part in such an excellent relationship. Only through this can China – Africa cooperation be long – standing and gain inexhaustible driving force. On this front, we must also try our best to enhance people-to-people exchanges so as to melt the concepts of our friendship and cooperation into everyone's heart. It's my belief that the people's wisdom and strength is essential for the development of China-Africa relations.
As I mentioned at the beginning of my remarks, we need free thinking and creative speaking. And this is the very purpose of the "China-Africa Joint Research and Exchange Programme."  We need something fresh from experts specialized in various fields.
By H.E Liu Guangyuan
Ambassador of China to Kenya.