Adding Value to Vice Presidency
Published on 21st March 2006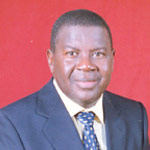 Aliu Mahama - Vice President of Ghana
Ghana's Vice President, Aliu Mahama, is using
Ghana
's democracy to fire a new development re-think. The development problem in
Ghana
and Africa has been pinned on whether leaders understand their environment. As
Ghana
's democracy and human rights develop, leaders of all kinds are sprouting, freed from years of fear, intimidation, harassment and coercion created by one-party regimes and brutal military juntas.
The unassuming Vice President of Ghana, Aliu Mahama, is fast emerging as one with thorough grasp of the leadership challenges confronting Ghana. Ghanaian television networks constantly show him either helping to clean filth in urban areas, challenging elites to re-think Ghana's progress from within her values or making Ghanaians aware that certain aspects of their culture.
All year - roaming the country-side, sleeping and talking with the rural poor, confronting development challenges - Aliu has been working at hammering together inevitabilities - enjoining the politically obsessed Ghanaian media to look more and more at challenging development issues such as sanitation. Not so long ago, the idea of looking at inhibitions within the Ghanaian culture. Leaders talked big but did not understand the cultural currents wheeling Ghana's process. In Mahama, the era of anti-imperialism has given way to looking within the Ghanaian/African environment for solutions to their problems.
As democracy and human rights open up the development fields, heralding the increasing democratization of communications and the right to communicate, the question of whether certain aspects of the Ghanaian culture have been holding back the country's progress, elites understand this and whether they are bold enough to confront them is constantly unraveling.
With full grasp of democratic characteristics and sometimes blur of headlong energy and rough creativity, Mahama is increasingly transforming both the office of the Vice President and Ghana's nascent democracy. It has been an amazing performance and a display of discipline, seeing him help clean the filth at Ghana's two top cities - Accra and Kumasi. He is increasingly making Ghanaians aware that their development problems need to be understood holistically from within their experiences, history and culture.
Since Ghana got independence from the British in 1957, democratically elected governments have been few compared to one-party autocratic regimes and brutal military juntas. As such the work of the Vice Presidency apart from some few constitutionally mandated functions has not been open practical to Ghanaians. It has been in the dark, overshadowed by the enormous weight of the Presidency, making it more or less a suit-and-tie thing, with big talk and less action.
Armed with his training as a building technologist, Mahama is increasingly overturning this, soiling his hands and interacting with the rural folks and deliberating with them about their development challenges. Mahama envisions a Ghana that is clean, healthy, fully connected to the Information Age and the rest of Africa, holistic, balanced and disciplined. A country where traditional values connect to the future, the inhibitions within her culture are refined in order to free the people from long-running ancient ignorance, fear and erroneous thinking in their progress. Mahama hopes to get to a place beyond poverty, violence and moral decay.
Which came first - Mahama's vision of the future? Or his calm personal ambition? Which one drives the other? How can we know Aliu Mahama from Aliu Mahama. Mahama may decide to run or not to run in 2008 for the Ghanaian Presidency. Public opinion of him succeeding his boss, President John Kufour, is not very high in a ruling party with high cabre leadership candidates. Whether or not he becomes Ghana's next president in 2008, he has transformed the Ghanaian Vice Presidency, dispelling the notion that the Vice Presidency is an inferior office. Whatever his fortunes in his bid for the Presidency, he has the Ghanaian genius for reinventing himself.
Two years into the expiry of his office, Mahama has proved himself an impresario of leverage in using the Vice Presidency to enrich Ghanaian democracy and open up her development process, a sort of hothouse genius. Ghanaians may discover in 2008 whether Mahama can evolve outward - as truly popular leader in the hot Ghanaian air.