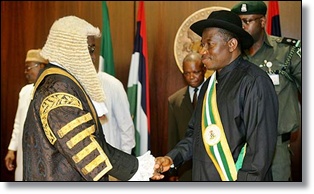 Goodluck Jonathan after swearing in  Photo courtesy
Nigeria, according to domestic and international election observers, conducted a credible national election in April 2011. The incumbent president, Dr. Goodluck Jonathan, who assumed office a year ago following the death of his predecessor, was elected to a new four year term starting May 29, 2011.  For the first time in decades, it appears Nigeria has crossed the Rubicon regarding free and fair elections. Now, the "giant of Africa" faces looming challenges. The most populated country and the second largest economy in Africa must now deliver dividends of democracy to its long suffering citizens. I briefly discuss these challenges.
Looming Challenges
Nigeria during the next four years faces challenges that are not for the faint of heart. Nigeria faces the challenge of a country that reinforced unsettling ethnic and religious divide during the just concluded election. During the presidential election, the incumbent, Dr. Jonathan won overwhelmingly in areas he was 'expected to win.' He won in the mostly Christian southern part of the country where he comes from and did exceeding well in the Christian minority areas of northern Nigeria. His main challenger, Muhammadu Buhari, a former military head of state, won in the overwhelming Muslim states of northern Nigeria. He barely registered in southern Nigeria.
Second, ethnic, religious, political and communal violence remains a deadly menace in Nigeria. More than ten thousand Nigerians have lost their lives to violent attacks since the country returned to civilian rule in 1999. Most of the time, these well, coordinated violent attacks appear to catch security agencies unawares.
Third, Nigeria is simultaneously grappling with two Pandora Box issues that can lead to widespread, grassroots discontent: a growing population youth bulge with little or no employment opportunities and pervasive, intractable poverty. There are very few legitimate opportunities for young, educated Nigerians to get decent public or private sector jobs. Nigeria is ranked 142 out of 169 countries in the 2010 composite development index of the United Nations. With this ranking, Nigeria barely edges out Ivory Coast (ranked 149), a country that until few weeks ago had two presidents and had endured a decade of widespread political and economic instability.
Fourth, infrastructure development in all sectors of the economy leaves much to be desired. In the 21st century, Nigeria is yet to have fast rail service and functional inland sea ports. Today, uninterrupted electricity supply for 24 hours is a thing of joy and marvel in Nigeria.
Fifth, multiparty democracy is yet to take root in Nigeria. The ruling party bestrides the country like a colossus while opposition parties have deep ethnic, religious or geographical roots. Political parties in Nigeria are neither known for their dynamic ideas nor for their detailed plans to transform the country. 
Sixth, the decade old reforms of government operations in Nigeria  remains a work in progress, with the public sector struggling to fulfill its policy making, regulatory and operational mandates. Around the world, Nigeria continues to have image problems regarding perceived official corruption, public sector inefficiency, public safety concerns, erratic regulatory frameworks, unstable macroeconomic environment, a private sector unduly dependent on government patronage for survival, lack of sustained continental leadership on key issues and lack of boldness on emerging global issues.
Nigeria at home and abroad face major challenges. However, unique opportunities to transform Nigeria abound. I briefly discuss these unique opportunities.
Unique Opportunities
Dr. Jonathan, the newly elected president has publicly stated that he will vacate office after one full term in office, by 2015. For the first time in Nigeria's democratic history, its president will be free of the pressure of a bruising reelection campaign and will have the luxury of spending a significant proportion of his time on state matters. In addition, by foregoing a reelection campaign in 2015, the Nigeria president can broaden the base of bipartisan support for sustained electoral, political and economic reforms. At the core of electoral, political and economic reforms should be the institutionalization of free and fair elections in Nigeria, an unwavering commitment to the rule of law and a determination to improve the operations of government services. Nigeria's president and other political leaders within the next four years can lay a durable foundation for a multi-ethnic, multi religious, multi party democratic Nigeria anchored on liberty, equity, justice, fair play and the rule of law. This quest for a durable foundation of a great Nigeria will neither tolerate nor condone political, ethnic or religiously inspired violence.
Another opportunity is that the government of Nigeria can take decisive steps to meet the basic needs of Nigerians. Life in Nigeria can be difficult due to challenges in moving around transportation networks, fear regarding personal and community safety, peripatetic electricity supply and struggling, shambolic health and education systems. The government can surprise Nigerians by delivering on basic infrastructure support within the next four years. The government should focus on two infrastructure words: rehabilitation and completion. The government should rehabilitate existing infrastructure in the following sectors of the economy: transportation, health, education, public safety, power, oil/gas and agriculture. In addition, the government should complete approved infrastructure projects already in the pipeline.
Flagging public sector reforms should be revived and completed. The executive, legislative and judicial branches of government should complete reforms that improve operational efficiency and effectiveness as well as strengthen institutional transparency and accountability. In addition, reforms should extend to private sector regulatory frameworks that promote sustained economic growth and can put Nigerians to work. It is important to state that public sector reforms should be a partnership between the government and the organized private sector, civil society, professional organizations and other stakeholders actively engaged in the quest for better service delivery in Nigeria.
Nigeria can utilize the international respect garnered from the credible 2011 national election to launch a muscular restructuring of its foreign policy operations. Since the late 1970s, Nigeria has not implemented a decisive, action oriented foreign policy. Nigeria's foreign policy operations should be proactive, dynamic and results oriented. It should be based on quality preparation and effective representation. Nigeria's political and administrative leadership should be cognizant of Nigeria's natural leadership role in Africa, its expected role in helping reshape emerging global issues from an African perspective and the understanding that Nigeria can become an economic and political powerhouse in global affairs.  
It is no secret that Africa and the international community have been waiting in vain for Nigeria to emerge as a leading power in the world. What is unclear is how long this wait can last. The next four years will be crucial in the process of transforming Nigeria into a country that meets the modest expectations of its citizens as well fulfilling its limitless potential among the comity of nations. 
By Dr. Chinua Akukwe
Former Chairman of the Technical Board of the Africa Center for Health and Human Security at the George Washington University, Washington, DC. He has written extensively on health and development issues.