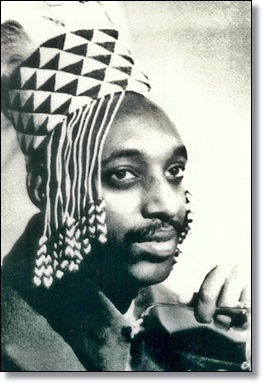 King Kigeli John Baptist Ndahindurwa V
"My people did not choose to end the monarchy in Rwanda, that was imposed on them by the (Belgians)," is the firm response from the man who ruled Rwanda until 1959.
His hands may have slid off the wheel of power that steered this tiny East African country but exiled Rwanda King Kigeli John Baptist Ndahindurwa V maintains a traditional and cultural supremacy in the country. Talk of "A Man of All Seasons" and "The Last Man Standing," King Kigeli John Baptist Ndahindurwa V will fit in all.
The most distinctive aspect in his life is his grandeur to taproot simplicity and love for his country. Though his shaky deep voice reveals signs of an advanced age, visibly worn by decades of trials and tribulations in exile, the Rwandan king never staggers off his point. If it means extending a hand to the poor, he rests after giving hope to the least fortunate. That explains the detail of incentives in his Washington palace.  
King Kigeli was awarded the Gold Star by the International Strategic Studies Association for outstanding contributions to Rwandan refugees in Africa. This, he earned, without foregoing his routine at the church. 
For a noble of his calibre, Rwandans and friends of Rwanda would be working hard to earn honours from him but King Kigeli has instead harvested scores of honours from his toil. 
An orientation at his office would be like strolling through a compartment of treasures. All the gold and the silver medals dangle in their majestic imperial and royal orders. To Mr Kigeli, they are merely tokens of appreciation. But to a person stepping into the dignified lifestyle, the regalia breathe a life of nobility.   
He adorns The Knight from the most Prestigious Brotherhood of the Most Blessed Sacrament of the Noble City of Lisbon (Portugal), Order of Saint Michael of the Wing (House of Braganza), Order of the Immaculate Conception of Vila Viçosa (House of Braganza), Order of the Queen of Sheba (Imperial House of Ethiopia), Military and Hospitaller Order of Saint Lazarus of Jerusalem. From the Ethiopian empire to the royal houses of Georgia and Egypt, the orders and decorations are so many you can easily lose a count. 
Perhaps they may be seen as mere decors. For a man once a supreme instrument of power in the history of Rwanda, however, they are an inspiration. They are well earned.
They shed a light into King Kigeli Ndahindurwa V's personality. A man who garnered huge fame from obscurity. He once dropped his royal robes to chase for Rwanda's independence at a time when the country was going through turbulent days.
From 1897 to 1918 Rwanda was first colonized by Germany. After World War I, Germany handed over the territory to Belgians— first under a League of Nations mandate and then as a United Nations Trust from 1918. The Belgians found King Yuhi Musinga on the throne but forced him into exile in Congo because he was allied to Germany.
'RPF desperate measures'
They replaced him with his son, King Mutara III who later died under mysterious circumstances from an injection administered by a Belgian doctor.
Later King Kigeli V ascended to the throne on July 27, 1959 — against the will of the Belgians. It was quick and precise because under the laws and customs of traditional Rwanda, a King cannot be buried before a new Mwami (King) is announced.
After taking office, Kigeli V asked the Belgian Governor, Jean Paul Harroy to facilitate his visit to the United Nations Secretary General, the late Dag Hammarskjold, who was visiting Kinshasa in DRCongo. They met, talked and decided to take the briefing further to the United Nations General Assembly in New York. While in the United States, Belgians soldiers were deployed at all corners of Rwanda's borders to block his return.
The King wasn't shaken. He stayed in Kinshasa enjoying a royal treat from his friend, the then DRC Prime Minister Patrice Lumumba. He later went to New York to brief the UN General Assembly, asking for Rwanda's independence.
At the General Assembly, Kigeli V was successful and the vote for independence was endorsed. The Assembly also attached three directives to the Belgians: repatriation of all Rwandan refugees, re-instating King Kigeli V and granting Rwanda her political sovereignty.
King Kigeli recalls that as the Assembly spelt out its resolutions, the Belgian government was, as well, spreading its plan on the table. They pretended to have their own understanding of the New York outcomes. At the end of 1961 they rushed to proclaim Rwanda a republic.
When the Rwandan King attempted to return to the country to oversee the first elections, it was not as easy as landing. Belgian guards at all borders had orders to arrest the King if he attempted to re-enter the country. Mr Kigeli landed in Tanzania and decided to re-enter the country through Burundi.
It's never been easy to opt for an uncertain path especially for a man of distinctive power, authority and the right of way. The King, however, pushed back all his significance, taking extreme measures.
From Burundi, he crossed into Rwanda with the help of a woman in her advanced pregnancy. In fact, she played her cards so well that Belgian paratroopers thought she would give birth there. They would have persisted anyway but a crate of beer compromised their loyalty. As the Belgian soldiers drank profusely, King Kigeli V crossed the border into Rwanda.
The return of the King was all over in Kigali. People celebrated. After all they believed their King had all the powers to return whether under normal or supernatural circumstances. But his welcome was short-lived; the Belgians arrested him, airlifted him to Bujumbura and placed him under house-arrest.
As soon as former President of Tanganyika (now Tanzania) Julius Nyerere heard of the arrest, he sent a telegram to the Belgian governor of Rwanda and Burundi, Mr. Jean Paul Harroy, asking him to send the King immediately to Dar-es-salaam or risk having all Belgians in jail. He obliged. This was the last time King Kigeli V was on the Rwandan soil.
In 2007, he expressed an interest in returning to Rwanda if Rwandans were prepared to acknowledge him as their constitutional monarch. He had met President Paul Kagame to discuss conditions of his return and was counting on that dialogue.  But little did he put at the back of his mind that the military leader was a seasoned man who takes such small courtesy with ultimate seriousness.
Mr Kagame did not object to the idea. He listened and promised he would consult his government, and get back to him. This is the response that would determine whether or not Kigeli could return. It is not forthcoming.
And now as Maj. Gen. Paul Kagame's support dwindles, and anti-RPF politics campaigns surge across the globe, his decision on King Kigeli's return is not a priority. In his confidential letter to Mr Kagame that The African Executive Magazine has seen, the King reminds the Rwandan military leader that the conditions set for his return during the meeting weren't befitting of a King. It was a clear signal to Kigali that a title of a King is non-negotiable. Once a King, always a King.
But the ruling Rwanda Patriotic Front (RPF)'s military ideologues cannot take such a gamble. RPF's view is that Rwanda's problems cannot be solved by a mere return to the monarchy under Kigeli. Actually, the ruling party's former secretary general, Dr Charles Muligande, once said: "It is not as if the king has a magic wand which he can wave over Rwanda and its problems would vanish."
The King has ignored such political talk, asserting his traditional significance to which most contemporary 21st century Rwanda may not be familiar with. Despite the silence on both sides, pressure is building on the debate over the return of the King.
The pitiable republican leadership in Rwanda; of impoverishing the masses, massive vasectomy of the poor, greed, corruption, gluing into power, extrajudicial killings, persecution and moral decadence has left no trace of legacy in the country.   
Rwandans are now shifting loyalty fast and easily. King Kigeli V may not have the guns and the political authority to return forcefully to Rwanda but his surging popularity is sweeping through Kigali and amongst the Rwandan diaspora. It is visibly driving change. Mr Kagame, out of desperation, is allegedly hunting down opposition members with a view to incarcerate or execute them.
The political landscape in Kigali, however, is sweeping Kagame's government below its feet. One day, Rwandans will wake up to columns headed to Rwesero hill, Nyanza, the old royal Palace now turned into an Art Museum to welcome the return of an equal opportunity era in Rwanda. They will see the son of King Musinga Yuhi V and queen Bernadette Mukashema put to life his own promise of ending a current RPF form of modified "Ubuhake" a clientele system of servitude that once existed in monarchical Rwanda. This will make the words; "A king is like a father to the nation...All the tribes are like his children" clear.
PROFILE:
King Kigeli V John Baptist Ndahindurwa was born in Kamembe on 29th June, 1936. From 1956 to 1958, he served as an Officer in the Belgian administration of the Astrida territory. In 1959, he was promoted and became Sub-Chief of Bufundu with two sub-territories Kami and Rukondo. King Kigeli V John Baptist Ndahindurwa reigned as Rwandan Constitutional monarch after King Mutara Rudahigwa's mysterious death from 27th July, 1959 to 1961.
In 1961, King Kigeli V went to Kinshasa for a meeting with the UN General Secretary Mr. Dag Hammarskjold. He was forbidden from returning by Belgian authorities.
 
The Rwandan King fled to Tanganyika in 1962 and lived in Dar es Salaam. From 1963 to 1971, he relocated to Nairobi, Kenya and later to Kampala, Uganda from 1972 to 1978. He returned to Nairobi where he lived from 1979 to 1992. In July 1992, he was granted political asylum in the United States.
The Rwandan King made his First public declaration of intention to return to Rwanda in August 2007 as a Constitutional monarch.
By Robert Mukombozi.
The author is a Rwandan journalist exiled in Australia.
He can be reached at RMukombozi@gmail.com