Agriculture: Don't Disparage the Hoe!
Published on 4th July 2011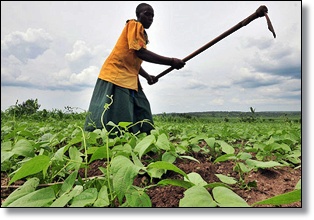 Photo courtesy
When I read the article
Hoeconomics: From Farmers to Diggers!
In last week's issue of
The African Executive
and learnt that the author, Morison, is a coffee farmer, I saw the problem of Agriculture in the face.
I am a 'digger' as Morison prefers to call my lot. I still use the hoe because people like Morison believe to employ innovations and technology on your land, you need to have a bank account, probably an air conditioned office and praise the incumbent political party. This attitude has drawn us back on efforts to improve ourselves.
My three acre farm in Opedede Village, Osukuru Sub County does not suffer from the hoe disease but rather the arrogance of elite leaders who wish to suffocate us under their bosoms. The Government and some scrupulous investors wanted to throw us off our land in order for them to produce phosphates that occur in millions of tones in Osukuru. They were arrogant to the extent of referring to us as mere monkeys that are not optimally productive.
But just what impedes our efforts? A small example: I had planned to cultivate two acres of onions at the start of March 2011 with an expected turnover of ten million Uganda shillings‐ using the hoe and no fertilizers at all. Come the seventh day of March 2011, I decided to take part in the election process in my sub county (Osukuru) as a monitoring agent for one of the candidates, just to ensure free and fair elections.
This turned me into a threat to the incumbent LC3 chairman who happens to have turned Osukuru Sub County into a personal estate. I was assaulted and the money meant to better my farm grabbed, making me to lose that season's farming plan. I was robbed in what turned out to be a well planned move by the local leaders, business people and the police. A suspect was caught and released because he was willing to compensate another victim of the robbery but not me, the 'digger.'
I strongly believe that our best tool NOW is the hoe. But we need an enabling environment so that we can quickly upgrade to the ox plough and then the tractor! It is sweeter jumping on to the tractor and reaping billions that will go to enrich individuals who will then go further to build mansions across the globe as successful farmers from Uganda and yet they do not constitute the majority of the agriculture resource.
I agree that farmers need to be mobilized into cooperatives in order for them to optimize their input and output. However, the government on various occasions has frustrated these efforts through interventions that are not well planned and implemented.
It is this elitist approach to intervention in Agriculture that made Hon. Frank Tumwebaze to score so low as Chair of the farmers association. Many of us still view him as just another ambitious young elite who wanted to get the attention of the president rather than helping improve agriculture. Time is proving us right, because when the attention did not come in sufficient quantities to inflate his ego, he ducked away from the 'diggers' forum.
By Dominic Okecho
Rich Hills Farm
Opedede Village, Osukuru Sub County, Tororo, Uganda.