Health: Physical Activity Good for Your Health
Published on 8th July 2011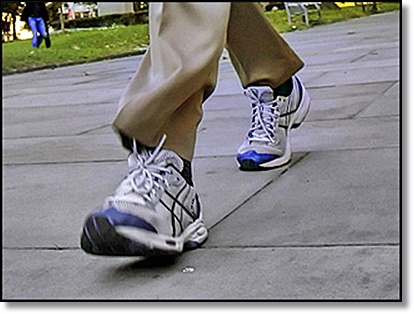 Exercise improves health                         Photo courtesy
My close friend shared her story of her exercise practices with me. At the beginning of each year, she writes out her new year's resolutions. Among them is the strong desire to shed off the extra weight that she gained during the December festive season. However, this practice came to an end last year when she got a leg injury during her jogging. She tripped during a chilly day and acquired a soft tissue injury. Nevertheless, she still continues to exercise but in a different way.
Many people resolve to exercise but back out a little too early without experiencing the benefits. Why is it so difficult to follow a physical activity regime? The answer is simple: our regime is boring and tedious. It does not give us the motivation to go on. It does not arouse our enthusiasm after several days of physical activity. When trying to increase your physical activity levels, always remember to make it enjoyable.
The recommended physical activity for adults is 30 minutes of moderate activity five times in a week. Attaining this target is easy and can take little effort if you make your activities enjoyable. Different people enjoy different things. Some enjoy running on a treadmill and lifting weights for an hour while others do not. 
Many people say they lack time to do physical activity. You can take your physical activity in smaller chunks of 10 minutes or 15 minutes each time for 30minutes in a day. It is important to increase the level of activity in intensity and length of time as days go by. This means also reducing the amount of time you stay sedentary either sitting or lying down.
Many jobs now involve sitting for long periods while leisure time is spent watching television or using a screen, such as surfing the internet or playing computer games. Try not to spend long periods just sitting down. Get up, walk around, and think of ways in which you can actively spend your leisure time.
Below are several suggestions on how you can incorporate physical activity into your daily routine, make it enjoyable, and happily reach your 30 minutes a day for more than 5 days a week.
1. Short walks – Walking is good exercise. It helps to improve the body blood circulation, breathing and increases your concentration at work especially in the afternoon. Take a 15 minutes' walk in the morning or evening. Park your car at a far enough place to allow for a short walk to and from the office. Get off the bus at a far location and walk the rest of the way to your destination. Take a short walk during your lunch break. Do you email your colleague at work instead of walking to their desk? Well, its good practice to get up and walk there once in a while and stop emailing them. Take a walk during your free time just to discover new places like your estate, your town, or the surrounding areas. It helps you to keep fit as you enjoy the discovery of new things.
2. Walk with a group of people, friends, or colleagues. Organize weekly or fortnight walking excursions and exercises. This is a great way to catch-up as you maintain physical fitness. 
3. Join a gym. Enroll into aerobics classes, fitness classes, or yoga
4. Enroll into a dancing class. You will enjoy great music as you have fun exercising. You will also meet and make friends in the process.
5. Join a local sports club – learn and practice a new skill in a sport for tennis, badminton and other local sports
6. Try gardening activities for more than 30 minutes every day. It takes effort and expense of calories to do gardening. It is a great way to make your backyard beautiful as you keep fit.
7. Take part in doing house chores. Doing activities around the house helps you to keep busy as you use some of the calories.  Most effective house chores for expense of energy are doing laundry and mopping, among others.
8. Play with your children or organize outdoor activities with them. Playing football, riding a bike and other activities help you to let loose a bunch of calories.
 9. Organize weekend activities with your colleagues from work or school, for example, a tennis tournament.
10.Go swimming with friends or your children once or twice a week. Swimming is good exercise for every part of the body that helps to keep you physically fit. A routine 30 minutes swim daily is a great way to start or end a day.
11. Take the stairs instead of the lift
Try this and you will enjoy incorporating your physical activities into your daily routine. Have Fun!
 
By Kagendo Rugendo
The author is a Health Researcher.