Kabarak University - SIFE Kenya's Flagbearers in Malaysia
Published on 12th July 2011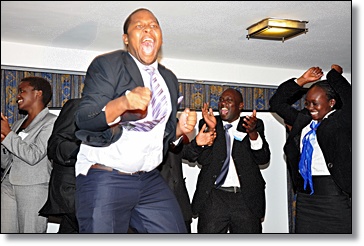 Jubilant SIFE-Kabarak University students
Kabarak University SIFE emerged winners of the 2011 National University Business & Entrepreneurship Competition  organised by Students in Free Enterprise - Kenya (SIFE Kenya) at the PanAfric Hotel and proceed to Kuala Lumpur, Malaysia in October later this year for the SIFE World Cup. The team spent 384 hours in projects that impacted over 300 families. The SIFE Kenya National 2011 Champion received a cash award of Ksh 50,000 from POSTBANK. They were closely followed by University of Nairobi - SIFE and Moi University - SIFE respectively.
Egerton University - SIFE (Nakuru Campus) and Narok University College SIFE received the Rooky Award and Kshs 10 000 each for being first – time participants.  Catholic University of Eastern Africa - SIFE received a Kshs 10 000 Award for having the highest number of SIFE registered members.
Over 300 students from 14 Kenyan public and private universities competed for the top prize to represent Kenya in the upcoming SIFE World Cup to take place in Kuala Lumpur, Malaysia in October later this year. Jomo Kenyatta University of Agriculture and Technology (JKUAT) - SIFE participated as observers.
The day-long competition saw the students make 24-minute multimedia summaries of 43 projects that they developed and implemented in various parts of Kenya throughout the year. The students were judged by a panel of 33 judges drawn from 16 corporate institutions in Kenya.
Andy Watt, Chairperson of the SIFE Kenya Business Advisory Council lauded competing teams for their innovative ideas that attract investment, positively impact communities and inculcate business skills amongst member students. He acknowledged the support of faculty, university administrators, SIFE secretariat and SIFE Board members for nurturing over 3000 young business leaders and implementing over 400 projects and urged business leaders present to support SIFE Kenya programs and use SIFE projects as incubators for their businesses.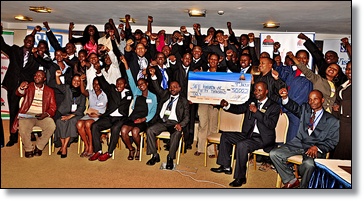 The winning team with the SIFE secretariat and cheque from POSTBANK
Robert Onyango, Senior Manager Business Development, KPMG expressed satisfaction that each year, SIFE projects are demonstrating remarkable improvement.  He advised participating teams that the world is fast changing and they have to learn to factor this in their projects. He revealed that SIFE has a lot to offer students in terms of Corporate Mentorship; Guest Speaker opportunities and Training Opportunities among others. He also asked the business fraternity to join SIFE in nurturing young business leaders and hailed companies that have already absorbed SIFE Alumni in their workforce.
The SIFE Kenya Country Director, James Shikwati hailed participating teams for being entrepreneurial heroes in their respective communities. He noted that with persistence in being business minded, the young business leaders would convert the country from being a consumer society to a producer society. He also noted that SIFE had adopted a "substance focused" judgment criteria that called for real, working and original projects. Mr Shikwati expressed his hope that the winning team would bring the SIFE World Cup home this year.
The projects that earned Kabarak University SIFE this year's title included Project Honey helped Upendo Women group in Mogotio package and differentiate honey that saw them experience a 49.8% increase in sales profit.  In Project Maridadi, the team reduced school absenteeism rates by not only enabling school girls to manufacture their own sanitary towels, but also produce others for sale. Other projects included Project Trash to Cash and Project Maji ni Uhai.
University of Nairobi SIFE spent 3007 hours and directly impacted 153 people in their projects: Garbage to Gold; Make it Rain and Commercial Village. Moi University SIFE spent 4530 hours to implement their projects: Cycle of Light; Financial Freedom & Planning and Roots.
The 9th SIFE Kenya National Business Competition was supported by Coca Cola Central, East and West Africa Business Unit, Chartis, Syngenta East Africa Ltd, POSTBANK and Inter Region Economic Network (IREN).
About SIFE Kenya
SIFE Kenya was launched in 2003 following an M.O.U signed between SIFE International and Inter-Region Economic Network (IREN Kenya). SIFE Kenya mobilizes university students to make a difference in their communities while developing their skills to be socially responsible business leaders. SIFE International targets university students in over 1,500 universities in 47 countries. The Kenyan program has expanded from 5 universities in 2003 to the present 16 and has implemented an estimated 400 projects.