South Sudan to Beat Swords into Ploughshares
Published on 16th August 2011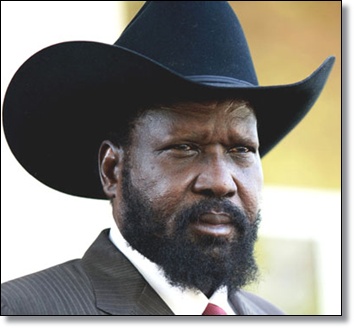 HE Salva Kiir
For over one month today, our people and their friends worldwide are still celebrating the end of the longest civil war in Africa. What we have achieved has given hope to many in our region and beyond. South Sudanese are free at last and can now walk tall without any fear. They fought to defend and regain their human dignity.
As our flag has now been raised high both in New York at the UN and  in the Capital of the African Union, Addis Ababa, the major challenge is for us to live to expectations. South Sudan assumes its rightful place in the AU during this month of August, which also marks the beginning of the struggle in 1955 when the first bullet was shot in Torit, Eastern Equatoria State.
South Sudan has potentials with abundant resources that when harnessed will have positive effects on the region. This will depend on the actions and the conduct of the people of South Sudan. It will also depend on their tenacity, their determination, and their absolute commitment, which led to the achievement of freedom, justice and equality.
The atmosphere of joyous optimism that accompanied the dawn of our independence has been remarkable. The spontaneous outpouring of support we have received from every corner of the globe has warmed our hearts. We will strive to sustain the spirit that has electrified all corners of South Sudan, even as we turn soberly to the hard tasks and myriad of challenges ahead of us
We will join in the footsteps of those countries that went before us to put in practice our ideals in order to realize the expectations of our people for lasting peace, stability and socio economic development. We will not reinvent the wheel but we will follow the inspirations and deep convictions of legendary African icons like Nkurumah, Nyerere, Senghor, Kaunda and Mandela. Many African Countries stood with the people of South Sudan on the long struggle for freedom and we will strive to build this new nation to the satisfaction of all our friends.
We are fully cognizant of the fact that this independence is but the beginning of greater challenges – the challenge of building a nation, for example, is a challenge of ensuring that every citizen of our beloved land is afforded the opportunity to develop to their fullest potential. It will be incumbent upon the Government of the people of the Republic of South Sudan to ensure delivery of the services needed for the prosperity of all our people.
We are also aware that maintaining the peace and stability that we have so hard fought for is no easy task. This peace is now our possession and we intend to guard it jealousy. Reconstruction and maintaining peace will call for hard work in the days, months and years to come.
I pay tribute to all our friends who stood with us throughout the long years of the struggle. I start with the people of this beautiful country, Ethiopia, whose firm support and solidarity has enabled us to become what we are today. The people of South Sudan are deeply grateful to all those who supported us without hesitation – IGAD countries and their friends, the East African Community, Southern Africa countries, North African Countries, indeed the whole continent and the friends worldwide. There are no befitting words to thank you!
I once again reiterate my remarks to the IGAD Heads of State and government on Sudan a few weeks ago in this city of Addis Ababa, when I reaffirmed my commitment to live in peace with our brothers and sisters in the republic of Sudan. I would like to reassure my brother President Bashir and the Northen Sudanese that my leadership and people of South Sudan will live in harmony and fraternity with you. I strongly believe that the future of the two nations is greater than our individual aspirations and ambitions. I said it last time and beg to repeat here that we as leaders will one day exit this nature dictates while future generations will continue. This future generation deserves better life and this should be our ultimate legacy.
We were overwhelmed by the number of guests we received during the occasion of the declaration of our independence on July 9th , 2011. We have apologized for any inconveniences that all our honored guests may have experience on that momentous day.
We do not take the Declaration of independence of South Sudan as an end in itself; instead we have received it as the beginning of a new struggle. We will make no mistake to take anything for granted and we will continue to do everything possible to realize a smooth and successful transition in this part of Africa.
We will not only consolidate the gain and sacrifices of our martyrs but we will also maintain good relations with all our friends and mobilize regional and international assistance for the development of this new nation. The core values of our struggle compel us to pursue peace both internally and externally. We will uphold our commitment to maintain cordial relations with all our neighbors and extend similar friendship even beyond the frontiers of our continent to the rest of the world.
Finally after many years of our struggle and untold suffering, we are ready to beat our swords into ploughshares and spears into pruning books. We will turn all our energies to till the land and produce our own food. Our focus is to use our oil money to fuel agriculture and to transform our rural population.
As a new nation, we will need every bit of support to move forward. We will count on all of Africa for support and we will mobilize and motivate our population to work hard. In fact our rule life in South Sudan now is to work.
By Gen Salva Kiir Mayardit.
President of The Republic of South Sudan.